This is the third beef stew recipe I've posted and it's equally delicious.  It's a staple in our house cause it is just so easy.  Dump ingredients in crockpot, check. Turn crockpot on, check. Enjoy a bowl of hearty stew when I come home from work, check and check! And, I turn the leftovers into Shepherd's Pie. Glory!
The only problem with stew in fact is that it is just not that pretty.  No matter how I style or snap, it just doesn't look that great.  Tastes amazing, looks eh. It's like those guys with great personality… sorta. Except, this is a recipe.  Way less commitment.
This stew has big chunks of lean beef, baby carrots, and bright sweet potatoes. The broth is sweetened with apple juice, but I also added Worcestershire and Soy Sauce to enhance the savory side.  Jason and I paired it with crackers and bam! Delicious!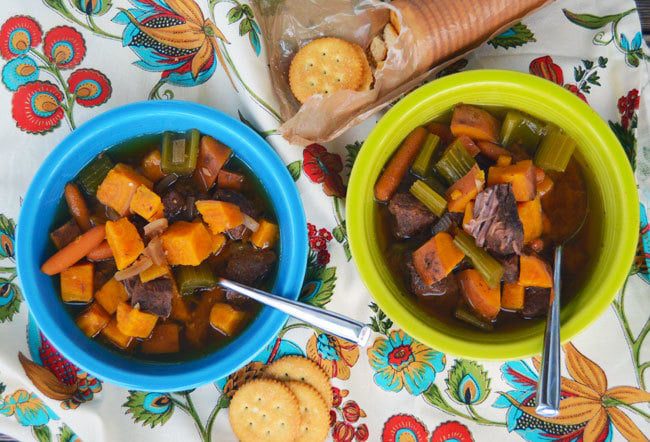 Beef & Sweet Potato Stew
Ingredients:
2 pounds stew meat or chuck, cut into cubes
1 whole medium red onion, diced
3 cloves garlic, minced
1 teaspoon dried rosemary
1 teaspoon dried thyme
1 teaspoon dried oregano
1/2 teaspoon sea salt
1 tablespoon Worcestershire Sauce
2 teaspoons Soy Sauce
2 sweet potatoes, peeled and diced (About 2 cups)
About 20 baby carrots
4 celery stalks, minced
4 cups beef broth
1 cup apple juice, unfiltered and unsweetened (such as Martinelli's)
Prep Time: 15 minutes
Cook Time: 8 hours on Low, 4 on high
Yields: 6 servings
Method:
1. Place beef and vegetables in crockpot. Add garlic, Worcestershire, soy sauce, and spices.  Stir until veggies and beef are well coated.
2.  Pour beef broth and apple juice in crockpot.
3. Cook on low for 8 hours or until beef and veggies are tender. Curl up and enjoy a big bowl with your cutie.