French Toast on Homemade Challah
This morning was french toast morning at my house. I had made some homemade challah bread the day before just for the french toast. Challah makes the best french toast ever. Challah bread is the perfect texture for french toast or bread puddings.  Challah bread is typically braided but it doesn't have to be. Making breads are one of my favorite things to bake in the kitchen. There is something about mixing the yeast, flour and water together and watching it turn into a glorious loaf of bread.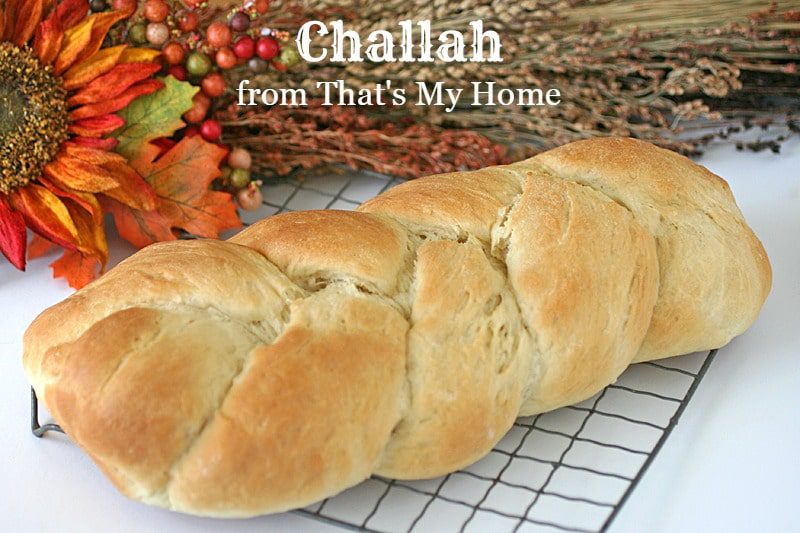 If you want to make french toast after baking the loaves, cut into 1 inch pieces. For every 2 pieces of bread use 1 egg and 3 tablespoons milk mixed together to soak the bread in.  Fry bread in butter or oil until golden brown. I served mine with a mixture of some of the Apple Pie Jam I made the other day with half syrup. It was heavenly!
Challah Bread
Prep Time: 10 minutes
Cook Time: 30 minutes
Total Time: 45 minutes
Yield: 2 loaves of bread
Firm textured soft egg bread best describes this challah bread. Perfect for french toast or bread puddings.
Ingredients
1 1/4 cup warm water
1 packet yeast
1/4 cup honey
2 tablespoons sugar
1/4 cup oil
1 egg, 2 egg yolks
1/2 tablespoon salt
4 1/2 cups flour
Instructions
Proof the yeast in the water with the sugar in your mixing bowl. When it starts to bubble, add the honey, eggs and oil. Mix together.
Add the flour and salt to the mixture. Using a dough hook mix until the mixture comes together. You may need to add a little additional flour if the dough seems too tacky.
Continue to beat the dough with the dough hook until the dough is smooth and satiny looking.
Put dough in a greased bowl and cover. Let dough rise until doubled. Punch down and let dough rise a second time.
Divide dough in half. Divide each piece into 3 pieces. Roll into a 12 inch rope. Braid the 3 pieces of dough together. Place on a greased baking sheet and repeat with second piece of dough. Cover and let raise until doubled.
If desired brush a little heavy cream on top of the loaves before baking or do an egg wash with 1 egg and a couple of tablespoons water if you want the tops shiny. You can also sprinkle with sesame or poppy seeds if desired.
Bake at 350 degrees for about 30 minutes. Check at 25 minutes. When loaves are done remove to a wire rack to cool.