This is the first time that my hamentaschen have stayed sealed during baking. For that alone, this recipe deserves high marks.I've seen lots of tips (sometimes conflicting ones) about how to get those stubborn corners to stay closed. What I like about these chocolate candy hamentaschen is that they don't call for any special folding or sealing tricks. If you roll out the dough to a quarter-inch thick and use the right number of chocolate-covered raisins in the center, you should be fine. I was.

I love the idea to fill hamentaschen with raisinets, and it's not just because it's a fun twist on a classic. Most hamentaschen use either a fruit filling or chocolate chips — but these manage to get away with using both, and it totally works. Chocolate chips in a chocolate dough would be too much, but chocolate-covered raisins in a chocolate dough just ends up being a lot of fun.
Of course, it helps if your chocolate melts properly during the raisinet-making part. I don't know when it will finally sink in that white chocolate chips just do.not.melt. I've tried so many times, and it never works. And yet I persist in trying again.
I should just use a bar of white chocolate. And I probably would have this time, if not for the fact that my freezer and cabinets are way too full, considering that it's only six weeks before Pesach. I'm really trying not to buy any extras at this point.
So I used the chips, they didn't really melt, and they didn't really coat the raisins. Otherwise, that's my favorite way to do a chocolate candy hamentaschen: a snowy white center against the chocolatey brown edges. It's all about the color contrast.
(The other reason raisinets work so well as a filling is that they'll never leak out of their cookie bases. Score.)
Also high on the list of things I liked about this recipe? It succeeds in being dairy-free without resorting to margarine. A cookie dough that uses oil as its fat and has no trouble holding together definitely gets extra points.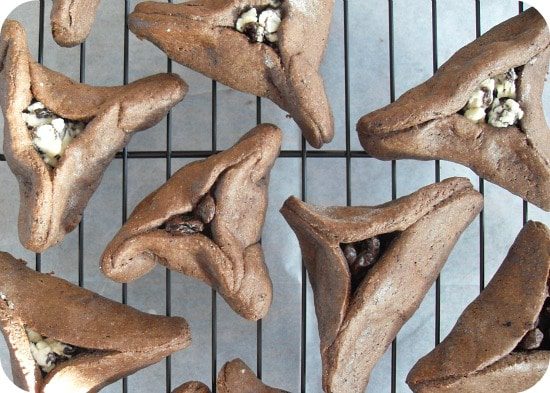 I do have two small complaints, though. The first is the teaspoon of orange juice. I figured that if I was going to test these hamentaschen, I ought to follow the recipe precisely, so I bought an orange, squeezed its juice, and tossed a teaspoon into the batter. Did it make a difference? Not that I could decipher.
If orange juice shows up in a cookie recipe, I want to know that it does something. I want to taste the difference. If it could be left out of the ingredients and not even be missed, what's the point?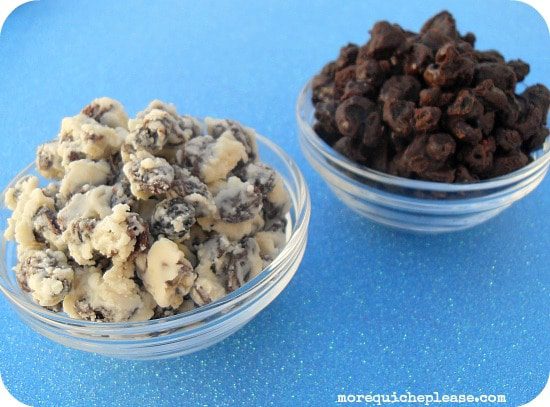 My other problem is with the storage instructions. Paula says they can be kept covered in plastic or in an airtight container at room temp for up to five days (or in the freezer for three months). I decided to put that to the test by baking on a Monday and planning to put a plate of hamentaschen out after the seuda on Friday night.
Were they stale by the fifth day? No. But they were significantly softer, and the chocolate in the dough came through more strongly, during the first three days. Our Shabbos guests thought they were great, and I know they weren't bad. It was just that they could have been so much better.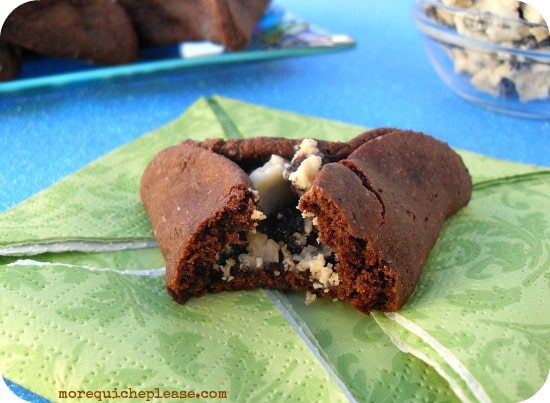 You can trust me on that one. Who else do think takes the bites out of everything at my photo shoots?
Recipe at a glance:
Accessible ingredients? Yes. Almost entirely pantry items!
Multiple steps required? Nothing too complicated. And you can always buy raisinets instead of making them if you want to eliminate that step.
Left with lots of dirty dishes? Just the stand mixer bowl and paddle attachment for the dough, and the double boiler for the raisinets. Okay, and the baking sheets. But it's definitely not bad.
Taste worth the effort? Yes!
Make again? Yes, but I'd serve them within three days of baking. And I'd get white chocolate that melts properly…
One year ago: Brown-butter apple galette with a caramel drizzle
Print This!
Chocolate candy hamentaschen
From Paula Shoyer's The Kosher Baker


Yield: 22 three-and-a-half-inch hamentaschen
Ingredients
3 eggs
1 cup granulated sugar
½ cup canola oil
1 tsp orange juice
1 tsp vanilla extract
1 Tbsp baking powder
2¼ cups all-purpose flour, plus more for rolling out the dough
¾ cup unsweetened cocoa powder
1 cup chocolate-covered raisins*
* I made a half-batch with regular chocolate and a half-batch with white chocolate, and there was plenty left after all of the hamentaschen were filled. Make less if you like, but it never hurt to have some extra raisinets lying around, did it?
Directions (Paula's technique with my running commentary)
1. Preheat the oven to 350 F/180 C. Line a baking sheet with parchment paper.
2. In a large bowl, beat together the eggs, sugar, oil, orange juice, and vanilla. Add the baking powder, flour, and cocoa powder and mix until a dough is formed. (You can make the dough with a stand mixer, a hand mixer, or even by hand.) Divide the dough in half.
3. Place a sheet of parchment paper on your work surface and sprinkle it with flour. Place one of the dough sections on the parchment, sprinkle that with flour, and then cover it with another sheet of parchment. Roll the dough this way, sandwiched between two sheets of parchment, until it is about a quarter of an inch thick (if the dough seems to stick to the parchment, just peel back the top layer and sprinkle with a little more flour). The thickness is hard to eyeball and can be annoying to measure. I find it easiest to mark a toothpick at the quarter-inch point and stand it up by my dough as a guideline as I work.
4. Use a cookie cutter or round drinking glass to cut circles out of the dough. Paula said she got about 4 dozen hamanetaschen with a two-to-three-inch diameter; I got 22 with a three-and-a-half-inch diameter. Be aware that your yield will vary depending on what you use to cut the circles. Remember to re-roll your dough scraps for maximum yield.
5. Place 4 raisinets in the center of the smaller dough circles and about ½ Tbsp raisinets in the center of the larger ones. Fold the sides inward to form a triangle, joining the corners together. As long as they stay closed once pinched (and as long as you didn't over-fill them or go way off with the thickness), they should stay closed during baking.
6. Place hamentaschen on the baking sheet about an inch apart and bake for 13 minutes. With dark cookies, you can't rely on the "golden brown" thing, but they will look done after 13 minutes and they'll settle a bit more as they cool. Let them sit on the baking sheet for 2 minutes before carefully transferring to a rack to cool the rest of the way. For best results, store in an airtight container for up to three days (they'll be okay for up to five days, but definitely better on the first three).