Hello friends and happy earth day!
It's been a while I know since I last posted but I have been making recipes but have been just too busy to think about uploading.
Anyways today I am coming at you with a super simple yet delicious recipe. It is sweet on its own but the addition of a tad of natural sugars makes it taste especially decadent yet it is healthy enough to have for breakfast!
Ingredients:
1 apple
1 teaspoon cinnamon
1/4 teaspoon nutmeg and ground ginger
Pinch of salt
1 teaspoon vanilla extract
1/2 teaspoon honey/coconut sugar/agave (can omit)
Optional for topping: Shredded coconut, oats, yogurt, chia/hemp seeds, nuts, etc.
Serves 1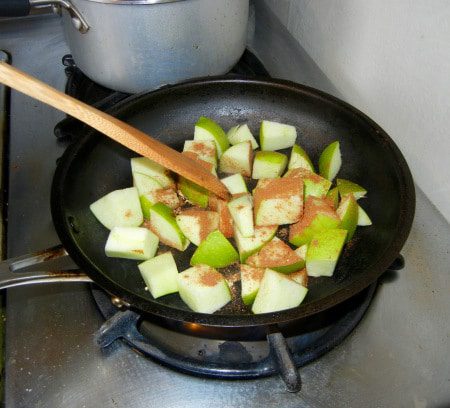 Directions:
Chop your apple into about 1/2 inch cubes.
Place cubes into a skillet heated to medium heat (if you're worried about sticking spray with some coconut oil).
Add in spices and stir around to coat.
Cover apples to allow them to soften for 1-2 minutes.
Lift lid and continue to stir occasionally.
Meanwhile in a small bowl mix vanilla, salt and sweetener of choice with a tablespoon if water and drizzle it over the apple mixture and stir.
Once browned and coated, remove apples from skillet and top with toppings of choice!