I have had the most relaxing and bestest weekend ever. Max made me breakfast both mornings, I have slept in, hung out with the fur babies, went out for a fancy yummy romantic dinner, had a board game night, received a juicer (thanks Sara! (juice recipes to follow..)) and baked this delicious banana loaf.
My true secret for having had such an awesome weekend started on Friday night at 8PM while playing board games; I decided to join Max in having a cup of coffee (with some Bailey's, duh). After the games finished up around 11PM, our friends and Max decided to go out downtown for a boy's night. I stayed home thinking I'd go to bed and then suddenly realized that I was wide awake-I usually can't sleep after a cup of black tea at 4PM let alone a full-blown coffee at 8! What was I thinking?! So, I decided to clean. Fast forward to 2AM when Max returned; the bathrooms were scrubbed, floors vacuumed and mopped, trash taken out, the whole house dusted, and the cupboards wiped down. I was a machine. Moral of the story: if you have nothing to do on a Friday night, have some coffee and a couple of Caesars, crank up the music and clean the house. In the morning it will feel like some drunk hyper fairy came in and cleaned the house leaving you to two glorious, chore-free days!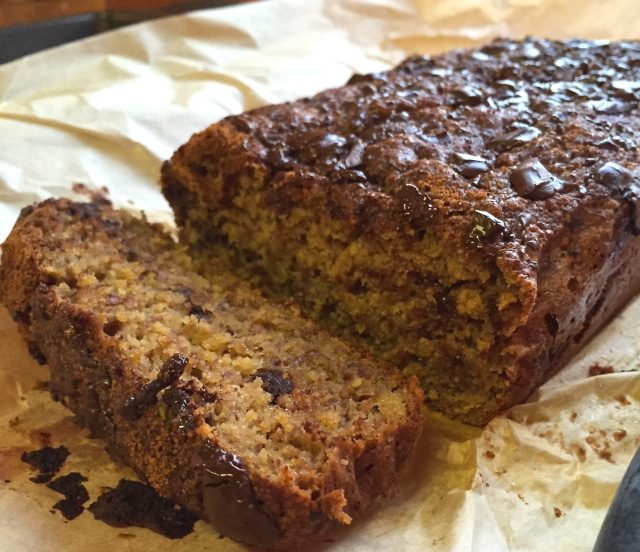 Anyway, back to the main event here: banana bread. When Max and I started dating I asked him what he'd like me to bake when I was baking something, his answer was "something banana and chocolate". And ever since that time, he has not asked for anything else since. I don't even bother asking him anymore because I already know the answer. So on came the double chocolate banana muffins, the banana and chocolate ice cream birthday cake, the copious amounts of banana loaf with chocolate chips, banana chocolate cookies. Finally, on my birthday this past May, I found out the source of this banana and chocolate fixation: Max's mom has made him this banana chocolate chip cake for his birthday every year since he was a child, and it is good. It's dense and moist but not heavy, it's spicy with just the right amount of sweet-it is everything. I have tinkered with it upon receiving the recipe on a hand written note card, and came up with a slightly healthier version that packs the same wow punch. My reason? It disappears embarrassingly fast in the house, I honestly just black out when I'm around it. So, I figure if I adjust a bit of the ingredients, it will make me feel just a little less guilty. Right? Right?!
So, here's to sunny weekends, banana loaf, and magical cleaning fairies.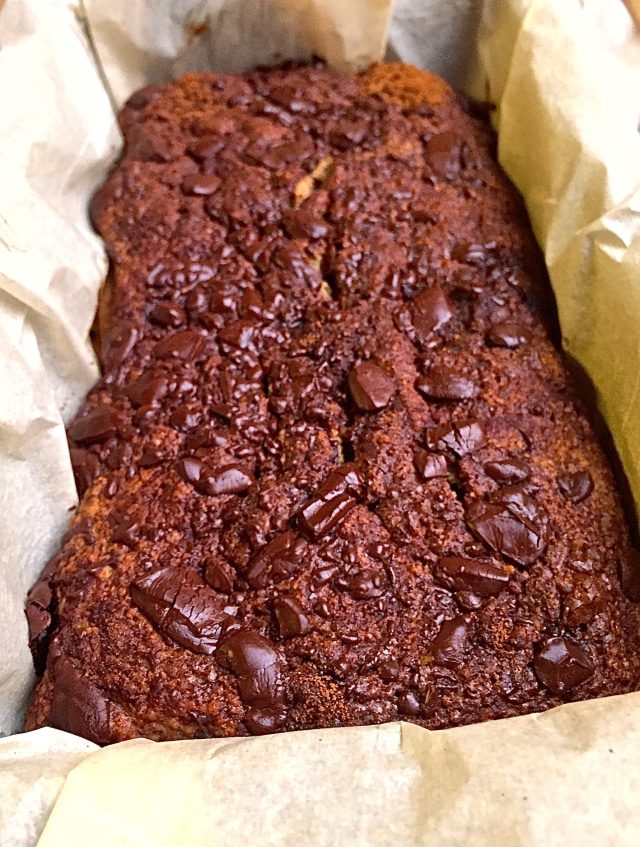 Banana Chocolate Chip Loaf Cake
½ cup coconut oil (melted and slightly cooled)
1/3 cup organic coconut palm sugar
1 egg (lightly beaten)
½ teaspoon vanilla
1 ¼ cup bananas, peeled and mashed (about 3 large ripe bananas)
1 ½ cup oat flour
1 teaspoon baking soda
1 teaspoon baking powder
½ teaspoon salt
½ cup yogurt (goat, cow, coconut, oat, etc.)
¼ cup dark chocolate, chopped (70% or higher)
2 tablespoons organic coconut palm sugar
½ teaspoon cinnamon
Preheat oven to 350 F, oil a 9×5 loaf pan, and line the pan with parchment.
Blend together coconut oil and sugar. Add the egg and beat. Add vanilla and mashed bananas. Beat well.
In a separate bowl, whisk together all dry ingredients.
Add half of the oat flour mixture to the banana mixture. Beat. Add in the yogurt and blend again. Add in the last of the flour mixture and beat until just combined. Do not over mix the batter.
Add half of the batter to your loaf pan. Sprinkle with half of the sugar and cinnamon mixture and half of the chopped chocolate. Top with the remaining batter, and repeat the sugar and chocolate topping.
Bake for 60 minutes. Loaf will be done when a toothpick comes out clean.
Note: the original recipe is double this, so if you want a big birthday cake sized banana loaf, double this baby and stick it in an 8×13 pan.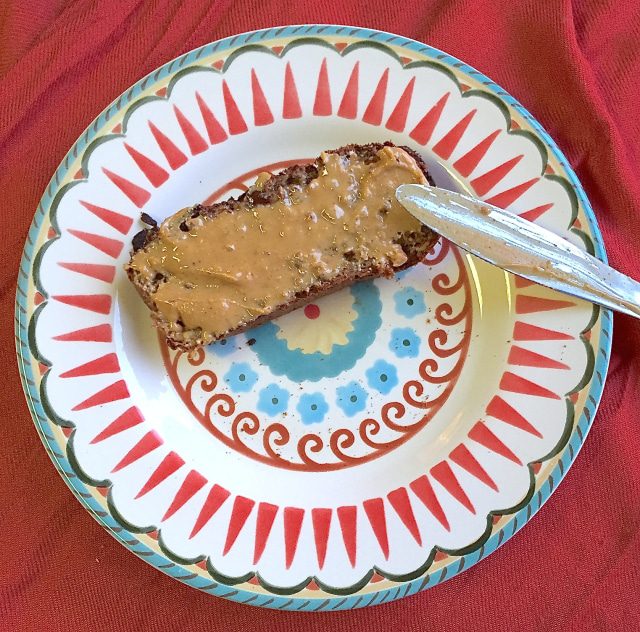 Slather it with nut butter and gobble.