There's a dray of playful squirrels I watch scurry around in my backyard every morning. They provide a far better start to my day than any news station or radio could offer. Some mornings, as the snow gently falls and they joyfully leap about, I find myself consumed by a peace I would have surely missed had my gaze been elsewhere.
I'm trying to slow down. My thoughts, my actions, my life. I have a tendency to attempt to cram every bit of life into a single day, to force every idea or project into fruition the second it comes to me. I catch myself trying to fill every moment with something – avoiding rest, avoiding stillness, it's exhausting! I'm fighting through this anxious habit, constantly allowing myself more space for quietness and calming those worried feelings of what I'll uncover in time spent alone. It gets easier each time I surrender to the silence. I've realized most of the stress I carry is self-imposed, there's a serenity in the quietness I've tried so hard to ignore, and I can finally embrace the fact that while I may be by myself I'm never truly alone. I admit, it's not a journey I willingly ventured down, but one born of necessity for my health – and I'm so thankful for it. It's been challenging, it's been difficult, it's been freeing, and it's been absolutely wonderful.
Baking from scratch allows my mind to casually wander back to simpler times, a tangible link to the women of our pasts who didn't struggle with slowing the pace of their lives. Actually, that's a grossly romanticized idealization of history, but for now, I'll cling to baking as my momentary escape and means of pumping the breaks on time.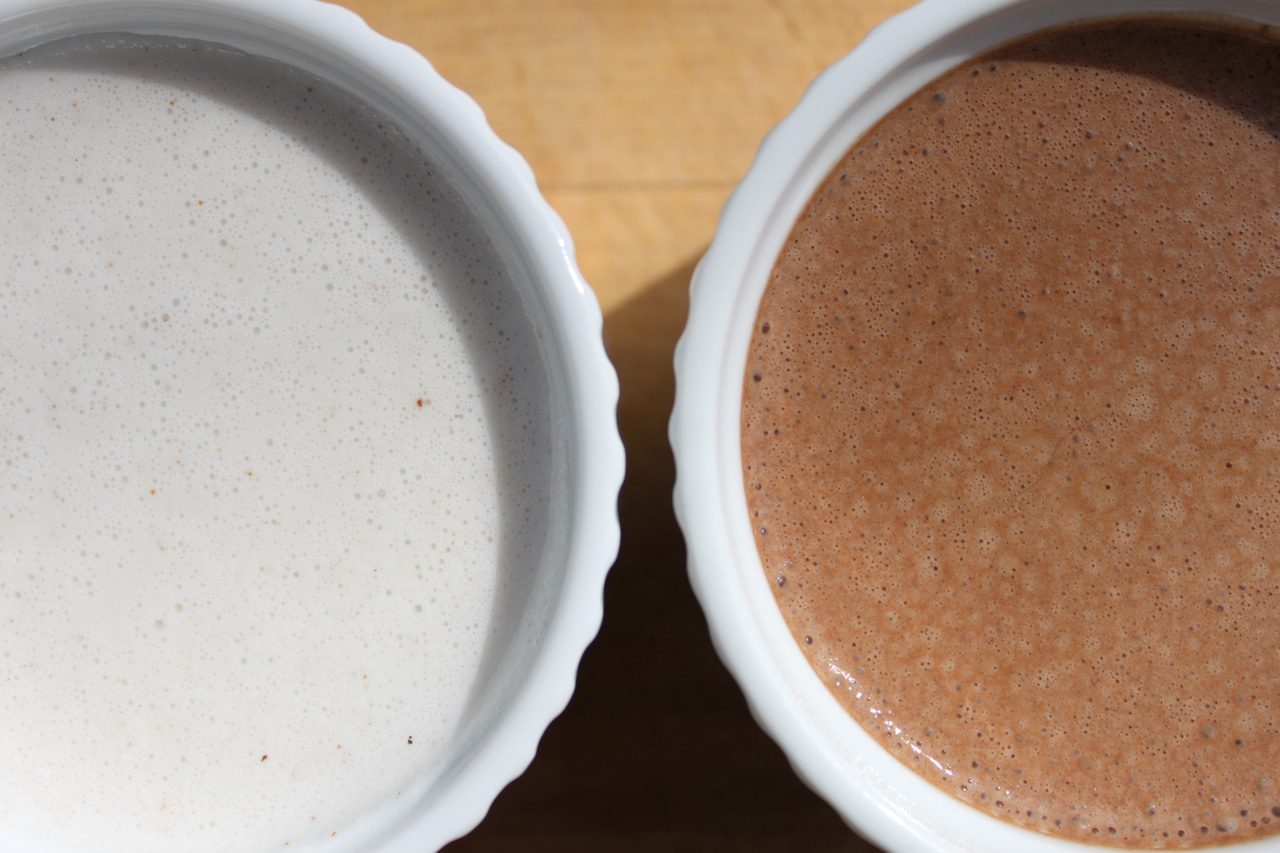 Now, let's talk about this Cremé Brûlée, shall we? It's a lot easier to make than it's traditional egg-filled sister and every bit as delicious. It goes rather quickly, so gather the troops. Coconut milk, gelatin, honey or maple syrup, cinnamon, salt, and (the optional) cocoa powder.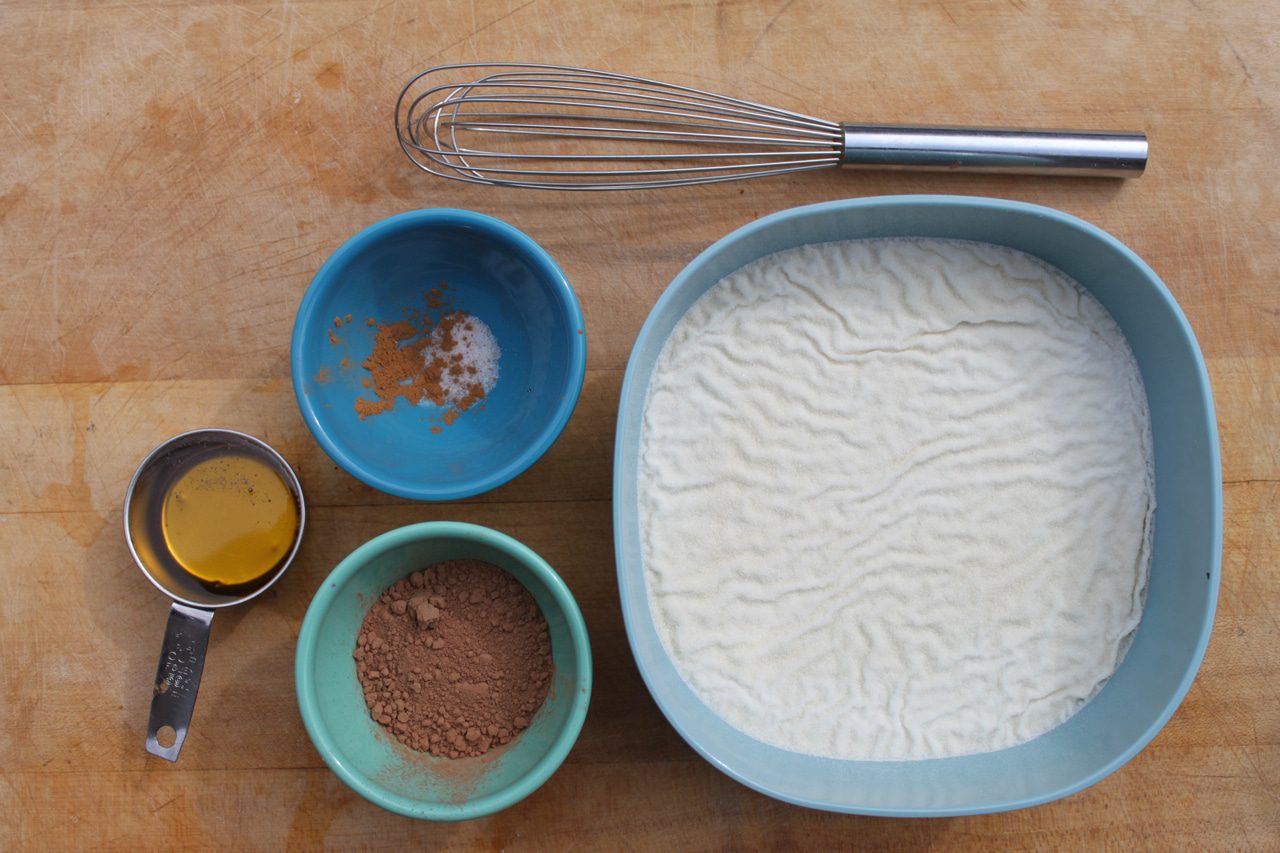 Sprinkle the gelatin over the milk to bloom for 5-10 minutes, then give it a good whisking.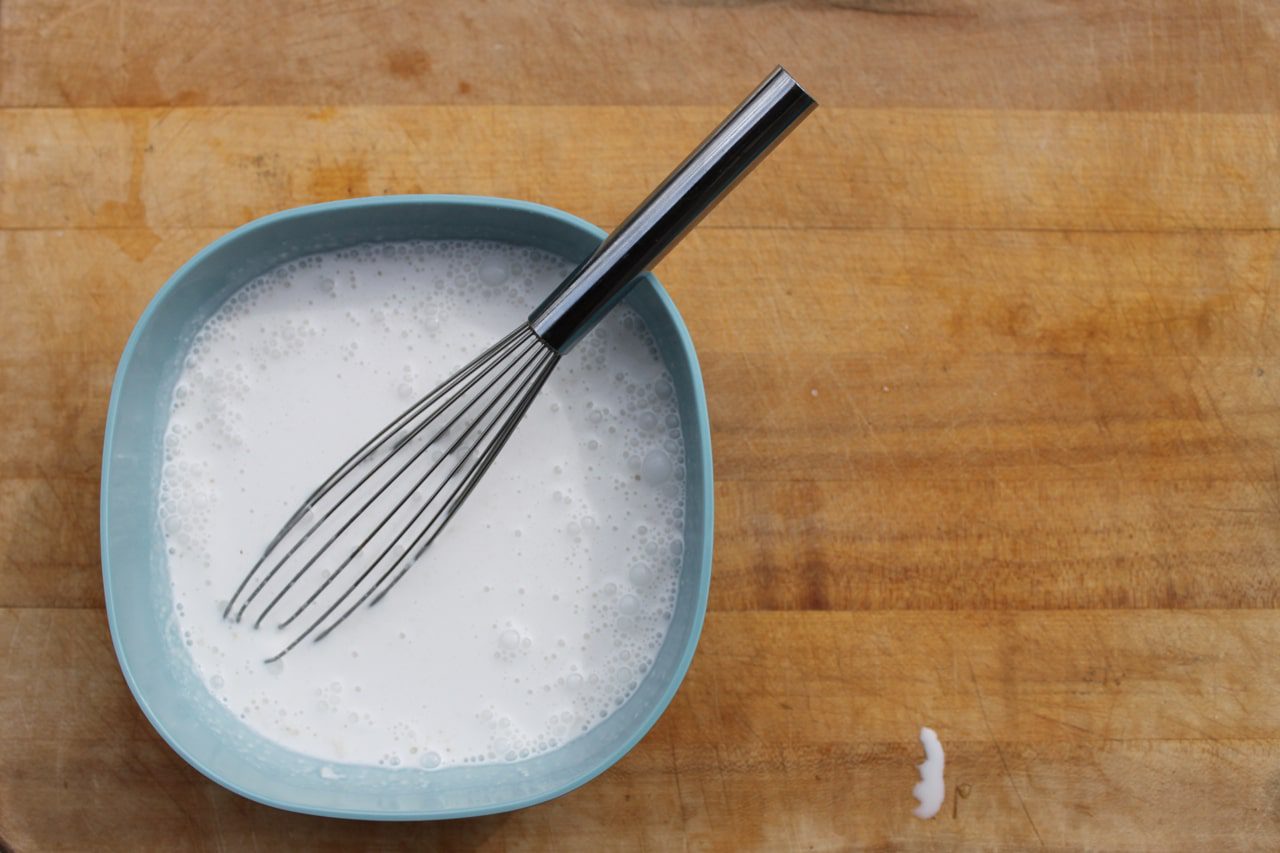 Throw everything into a sauce pan and heat until gelatin is dissolved, about 10 minutes.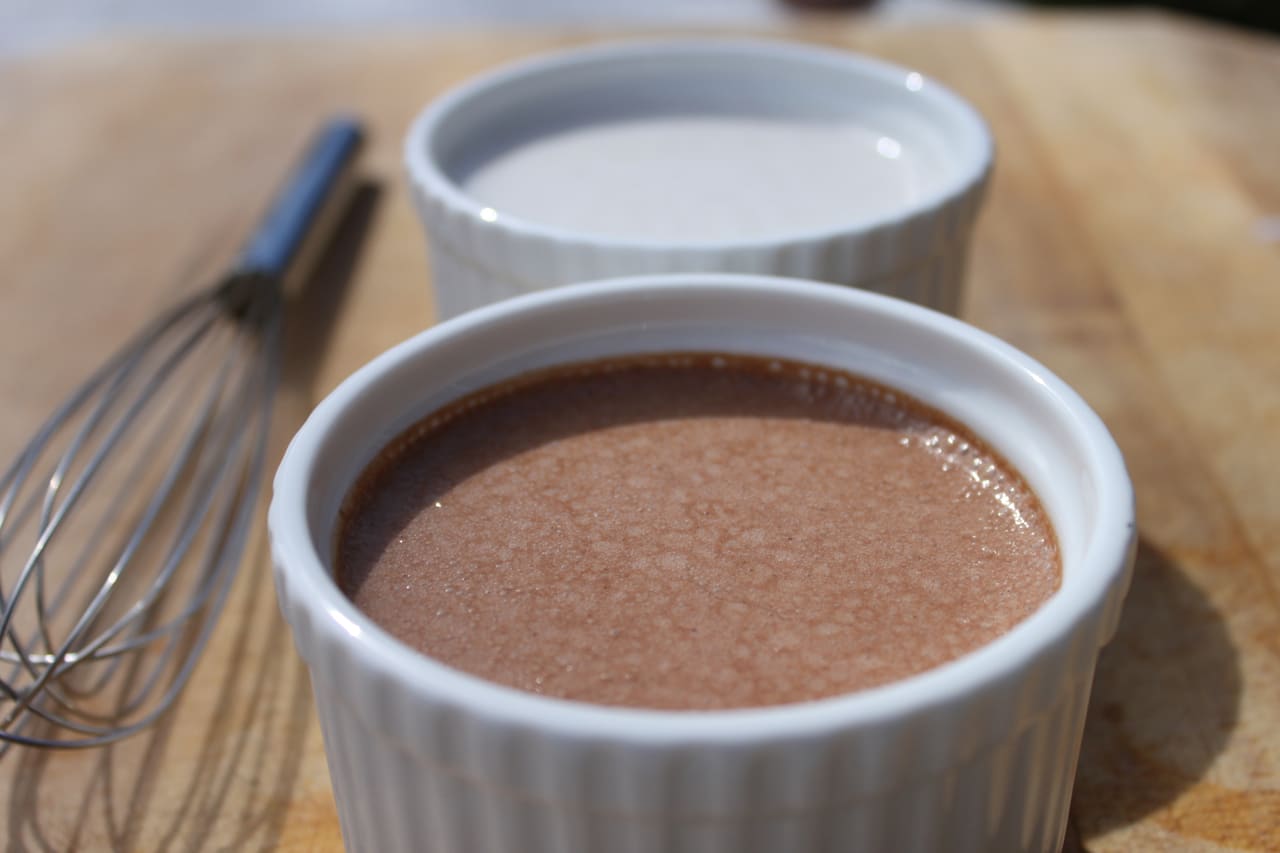 Pour into ramekins and refrigerate until set.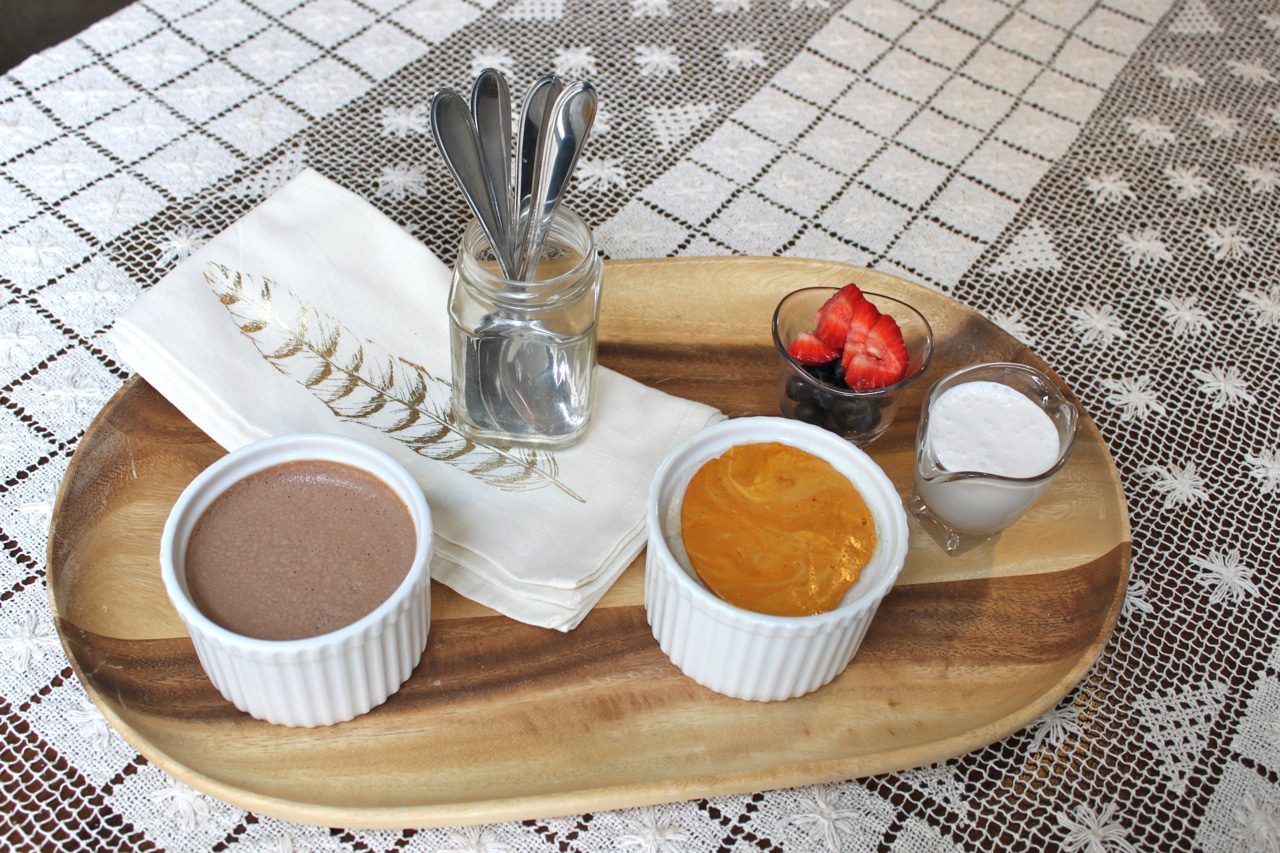 I love these "custards" and hope their dreaminess can be a bit of well-deserved solace in your day, causing you to take pause and give thanks. If that's not a reason to make dessert, I don't know what is!
Crème Brûlée
Yields 2, 1cup servings or 4, 1/2 cup servings
2 cups Coconut Milk, canned full-fat
1/2 oz Powdered Gelatin, 1 pouch
1/4 cup Honey or Grade A Maple Syrup
1/4 tsp Salt
1 Vanilla Bean, scraped (or 1/2 tbsp Vanilla Extract)
dash of Cinnamon (optional, but I believe anything can be improved with the addition of either cinnamon or garlic)
Chocolate Pots de Crème
Yields 2, 1cup servings or 4, 1/2 cup servings (omit brûléed topping)
2 cups Coconut Milk, canned full-fat
1/2 oz Powdered Gelatin, 1 pouch
1/4 cup of Cocoa Powder
1/4 cupClover Honey or Grade A Maple Syrup
1/4 tsp Salt
1 Vanilla Bean, scraped (or 1/2 tbsp Vanilla Extract)
dash of Cinnamon (optional)
Brûléed Topping
1/2 cup Clover Honey
1 tsp Vanilla Extract
1/4 tsp Baking Soda
dash of Salt
Special Equipment: 2-4 Ramekins/Dessert Bowls (or one giant dish if you're a Greedy Gus and don't want to share!), Candy Thermometer
Pour coconut milk into a cool medium-sized sauce pan and sprinkle in the gelatin – give a little stir with a whisk and allow to bloom for 10 minutes.
Whisk in the honey/maple syrup, scraped vanilla bean, salt, dash of cinnamon (if using), and cocoa powder (for chocolate pots de crème), place over a burner on medium heat, while continuously whisking. We're not trying to boil or scold, just heating enough to get the gelatin to dissolve, about 5 minutes (it supposedly takes twice as long in milk, but I haven't noticed much difference.). Test for readiness by touch/sight – coat the back of a spoon with the mixture, it should look and feel smooth, not grainy. If you have trouble with lumpy cocoa powder, blend with an emersion blender, regular blender, food processor, or electric mixer, until just incorporated.
Remove from heat and pour into dishes, cover with plastic wrap, and refrigerate until set – a few hours or overnight.
When you're ready to make the Brûlée, lightly oil aluminum foil placed on a baking sheet and set aside. Pour the honey into a small sauce pan, add the salt, and place over medium high heat. Attach (or hold) the candy thermometer so that it's submerged into the syrup mixture but not touching the bottom of the pan. I stir the syrup continuously with the thermometer. We're aiming for a target temperature of 300* F, or the "hard crack" stage, so keep a close eye on things – this should take around 10-15 minutes. Once the syrup has reached 300*, immediately remove from heat, and dump in baking soda and vanilla extract (if using). Please be careful – hot syrup is not only HOT but sticky too, a bad combo for burns!
With a metal spoon, scoop out a small amount of syrup and carefully drizzle into a thin circle (a little smaller than the diameter of your dishes) onto the oiled aluminum foil. Make a few extra – some may shatter when you try to pick them up. Allow to fully cool and set, then lift off the baking sheet with a thin spatula or carefully remove with your fingers.
Just before serving, add the Brûléed Topping and garnish with fresh fruit and whipped coconut cream!