You must already have your very own version of spaghetti & meatballs to pamper your love ones at home, but how many of you actually try it stir fry. Stir fry spaghetti is another level of fun food.

When I have only 15 minutes to make Yaseen's lunch box and he wants it to be spaghetti and meatballs, the only way I see fit in such situation is stir frying.
This express recipe gives a good mix of your favourite flavours in tender spaghetti so instantly. While I cooked spaghetti, which usually took about 10-12 minutes, I mixed salt and pepper into ground meat and made bite-size balls. I dropped meatballs into boiling pot of spaghetti and let them cook only for few minutes before removing them and kept aside for further use.
By the time spaghetti was cooked, we were ready to stir fry.
Stir Fried Spaghetti & Meatballs

Ingredients: (2-3 Servings)

100 gm dried spaghetti

200 gm minced chicken

1 tbsp minced garlic

1/2 tsp salt

1/2 tsp pepper

1 tbsp soy sauce

1 tbsp oyster sauce

3 tbsp tomato sauce

Few celery leaves- chopped

1 tbsp oil

Preparation

Bring a large pot of water to boil and cook spaghetti as per package instruction.
While spaghetti is cooking, combine minced chicken, salt and pepper and form bite-size meatballs. Drop chicken meatballs directly into the pot of boiling pasta and cook for 2-3 minutes. Remove from the pot and keep aside.
When spaghetti is cooked, drain and rinse in running water. Keep aside.
Heat oil in the large pan over the medium heat and add oil. Sauté garlic until aromatic, add meatballs, soy sauce, oyster sauce and tomato sauce. Stir for few second.
Dump spaghetti in and stir fry further for 1 minute. Throw in some chopped celery leaves and serve hot.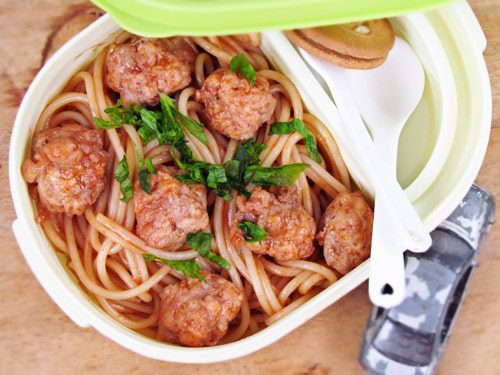 Yaseen adored stir fried spaghetti, he especially loved biting on those juicy meatballs and let the hot juice lurking in his mouth. The pasta was tender and perfect. The savoury, glossy sauce coated every strings of spaghetti and made them look irresistible.
So if you haven't stir fry spaghetti, grasp a wok and try… you won't be disappointed!
Have a beautiful weekend