I think this is one of the best dishes I have ever made!!

The sweetness of the craisins mixed with the tartness of the lemon juice and yogurt combined with the pungent flavor of the garlic is just amazing, it's like an explosion of flavors in my mouth!

Not only is it delicious, it looks beautiful too. If you want to impress guests at your next dinner party or are going to picnic or pot luck, this is without a doubt the best dish to make.

I can not take credit for coming up with this recipe. I found the original recipe inVegetarian Times, but I did tweak it just a bit and my recipe is the one below.

Ingredients

¼ cup sliced almonds

1 ½ cupsquinoa, rinsed and drained

3 cups water or vegetable stock

2 cups spinach leaves

2 cups chopped dried cherries or craisins (or fresh cherries, pitted and halved, whenin season)

½ cup chopped snow peas

1 cucumber, peeled, seeded and diced

½ cup red onion, finely chopped

¼ cup Greek yogurt

2 ½ tablespoons olive oil

2 tablespoons fresh lemon or lime juce

1 ½ – 2 teaspoons garlic, depending on your love of garlic

15 ouncesedamame or canned chickpeas, rinsed and drained (optional, I prefer edamame)

salt and pepper to taste

Directions

1. Preheat oven to 350 degrees F. Spread almonds on a baking sheet and toast 7-8 minutes, shaking pan occasionally, until golden brown. Cool.
2. Bring 3 cups water – or vegetable stock to add a little more flavor (not that you need it) – to a boil in a pot over medium high heat. Sir in quinoa. Reduce heat to medium low, cover and simmer 15-20 minutes, until all the liquid has been absorbed.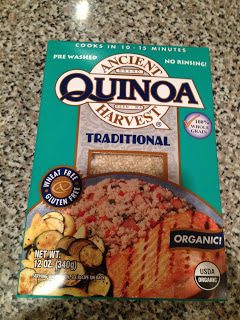 3. Remove from heat and cool.
4. Lay 5 or 6 spinach leaves flat on top of one another on a cutting board. Roll tightly into a cylinder and then slice into slivers. Repeat with the remaining spinach.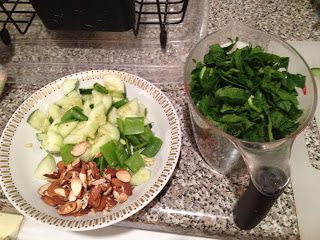 5. Whisk together yogurt, olive oil, lime juice and garlic in a small bowl.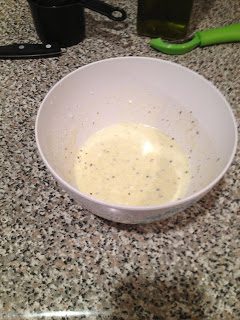 6. In a separate bowl toss together the quinoa, almonds, spinach, pea pods, craisins, cucumber, red onion and chickpeas or edamame if using these.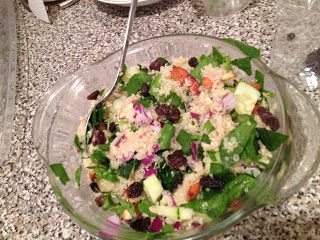 7. Pour dressing over vegetable and quinoa salad, and toss to coat. Season to taste with salt and pepper. I never use salt when I cook but in this dish I did add a dash of salt and a few dashes of pepper.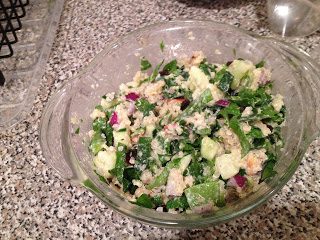 8. Chill for 30 minutes to allow all the flavors to fully develop, then serve.
It can easily be tweaked to your own liking. I always like to make a little extra dressing and keep it on the side for leftovers. The dish does not get soggy in the fridge over night, but do not add extra dressing and let it sit over night, it will get soggy. This is why I make extra and add it as I eat it.