It's November!  Just last week, kids (and many adults, myself included) were getting their costumes ready to dress up as something other than themselves for one day, and now it's time to prepare for Thanksgiving.  While there are many inventive recipes for the season (e.g. pumpkin pie is too ordinary, it should be salted caramel pumpkin macarons or something snazzy like that instead), I am pretty eager for the traditional turkey, stuffing and pumpkin pie.  Creativity is certainly appreciated, but maybe there's a part of me that wishes life didn't change so much or so quickly, that we could still hold on to some part of our memories and customs and not worry about trying to do something unconventional or new all the time.  Holidays like Thanksgiving and Christmas are like that for me–a kind of sentimental time for reflection–and food is such a significant experience in celebrating that I can't help but associate it closely with the symbolism of the season.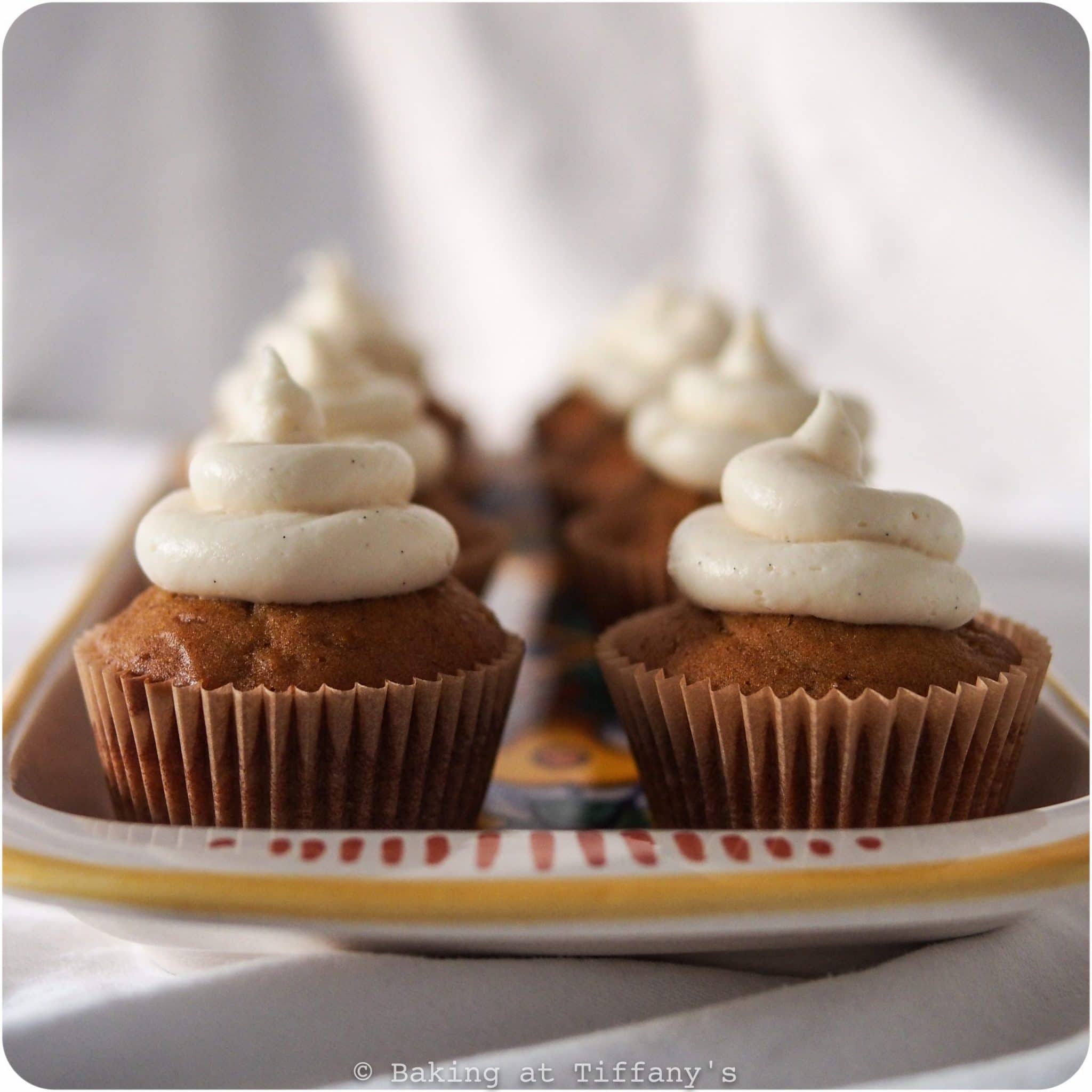 But I digress.  I made these pumpkin muffins to bring to a dinner before Halloween with some friends and their kids.  Despite the many pumpkin desserts on all the food blogs out there, I'm still not sick of pumpkin yet.  And even though muffins are typically a breakfast item, the cream cheese frosting gives it the right touch to make them a delight after a warm meal on a chilly evening (for us in California, that means below 70 degrees).  There is nothing fashionable or innovative about this recipe; they're pretty much your customary pumpkin muffins.  But they are gratifying, and when sharing with good friends, there isn't a whole lot of reason to mess with a good thing.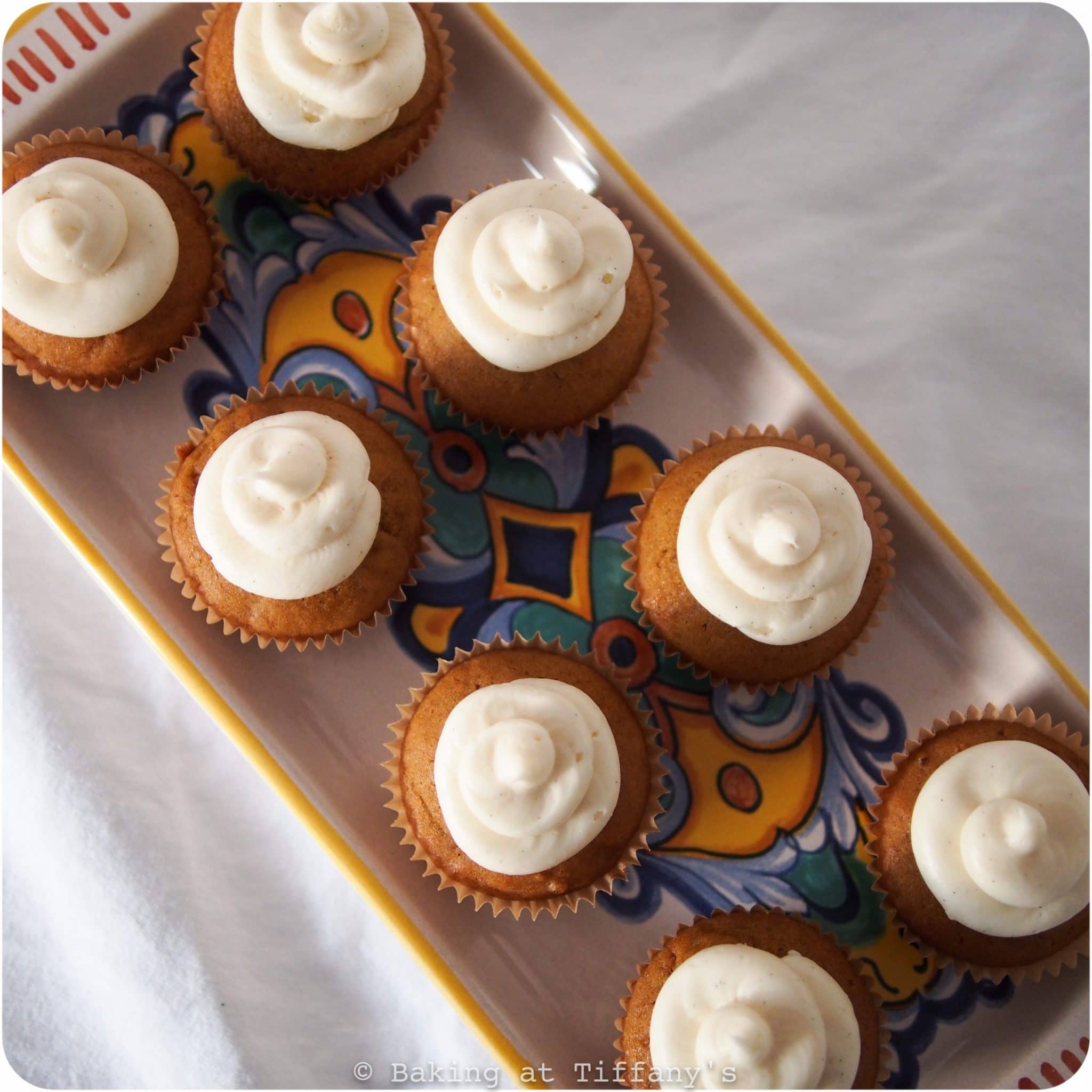 Recipe notes: While this recipe is simple, the Bouchon Bakery cookbook does recommend letting the batter rest overnight, which will allow the flavors to develop.  Given all the spices in this recipe, that's a good idea, so that when they come out of the oven, you can have warm muffins with more matured flavors.  My friends also thought they muffins could be a little sweeter–which is surprising, since I find most recipes to err on the side of being too sweet.  (I could tell that the kids weren't that excited about the muffins, which is a sure sign that something isn't sweet enough).  The proportions I provide are what I used, but you can try adding just a little sugar if you're not having the muffin with the frosting (which would also add sweetness).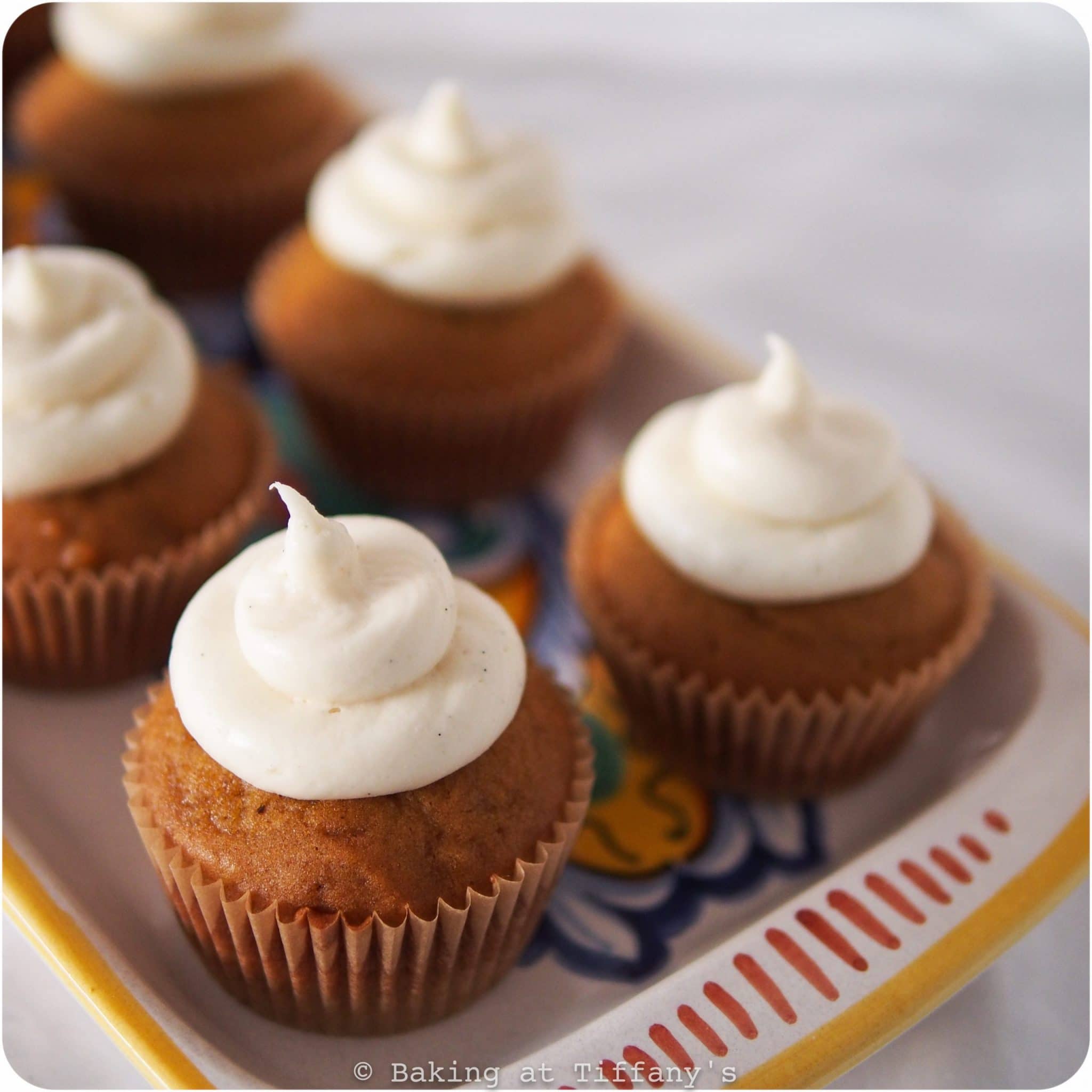 Ingredients
Muffins
200 g unbleached all purpose flour
1/2 t. baking soda
1 t. ground cinnamon
1/4 t. ground cloves
1/2 t. grated nutmeg
pinch of ground allspice
1/2 t. sea or kosher salt
222g granulated sugar
100g canola oil
210g pumpkin puree
2 large eggs, at room temperature
Frosting
226.5g (8 oz. package) cream cheese, at room temperature
76g powdered sugar
1 t. vanilla paste or extract
Preparation
Muffins
Sift together flour, spices and salt in a medium bowl.
In the mixing bowl of a stand mixer with the whisk attachment, mix together the oil and sugar for about a minute.
Add the pumpkin, mixing on low-medium speed, until combined and smooth.
Whisk in the eggs on low, one egg at a time.
Add the flour mixture in 2 additions, mixing each in on low until just combined.
Scrape sides and bottom of the bowl and cover the bowl with plastic wrap. Allow to rest in the refrigerator overnight.
When ready to bake, preheat oven to 425F degrees.
Line a 12-cup standard muffin tin with paper liners, and evenly distribute batter among the muffin wells, leaving about 1/2 inch from the top.
Place the muffin tin in the oven and reduce the oven temperature to 350F degrees. Bake for approximately 20-22 minutes, or until muffins are firm to the touch and a tester comes out clean.
Allow muffins to cool in the tin for 5 minutes, then transfer to a cooling rack to cool completely.
Frosting
Using the paddle attachment on the stand mixer, beat cream cheese on low until smooth and creamy.
Mix in powdered sugar on low speed until combined, and add in vanilla. Continue mixing until smooth.
Fill a piping bag with a 1/2″ round tip to pipe frosting on completely-cooled muffins (or you can use a spatula to spread it on).