Carraba's is one of our favorite restaurants.  Not only is their food amazing, but they have a kick-ass gluten-free menu… Scallops, shrimp scampi, chicken marsala… yes, please! One of my favorite dishes their is Mama Mandola's Sicilian Chicken Soup.  At Carraba's, if you are gluten-free, they just leave out the pasta. But, what's chicken soup without pasta? I mean classic comfort soup needs the noodles, especially if you aren't making a three course meal. So, my mom and I decided to take a stab at it with gluten-free pasta.  The result? Brilliance. Warm, savory chicken soup with tons of flavor that's still nice and filling. A perfect one pot meal.
Sautéed chicken thighs, onions, and garlic make up the base of the soup.  Oregano, parsley, and rosemary add depth and flavor to the broth. Carrots and celery bring that classic chicken soup feel while zucchini mixes things up.  (If you wanted to keep things super healthy and still filling, double the zucchini in the recipe and eliminate the pasta.) It's a cozy, filling ending to a crisp, October day.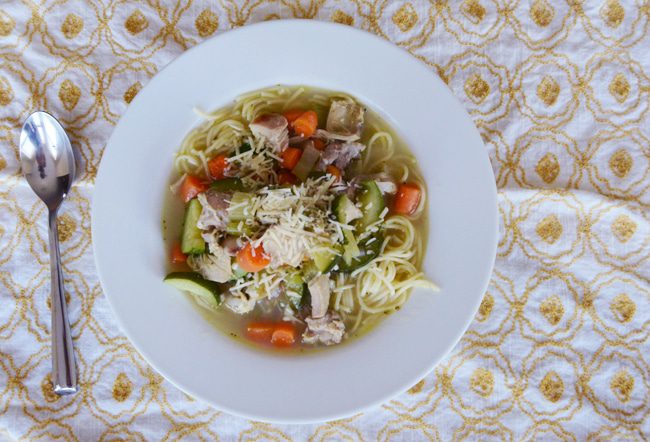 Carraba's Copycat Sicilian Chicken Soup
Click here for a printable recipe!
Ingredients:
2 lbs chicken thighs
2 tablespoons olive oil
Salt and pepper
1 small onion, diced
3 cloves garlic, minced
4 cups chicken broth
1 teaspoon Italian seasoning
1 teaspoon dried parsley
2 teaspoons dried rosemary
2 teaspoons oregano
2 cups water
10-12 baby carrots, diced
3 celery stalks, diced
2 zucchini, diced
4 ounces gluten-free pasta
Shredded Parmesan (for serving)
Prep Time: 20 minutes
Cook Time: 35 minutes
Yields: 6 servings
Method:
1. In a large stock pot, heat olive oil.  Add chicken thighs.  Salt and pepper to taste. Sauté until cooked on both sides, about 4 minutes per side.
2.  Add onion and garlic to pot.  Cook for three minutes or until onion is slightly translucent.
3.  Add broth, spices, and water.  Bring to a boil.  Add carrots and celery.  Reduce to a simmer and cook for twenty minutes.
4.  Add zucchini and increase the heat so that the soup begins to boil.  In the meantime, remove the chicken and shred or chop into bite-sized pieces. Toss back into the pot. Once soup is boiling, add pasta and cook according to package directions.
5. Sprinkle with shredded Parmesan and serve immediately.