Banana fritters (Kluay Kaek) is an ultimate Thai street sweet snack. The usual scenes of the women selling and deep frying this crunchy treat are the common sights on the busy footpaths or street markets in Thailand. It is quite fascinating how these ladies manage to cook these delicious bananas on spot and sell them hot to the customers. The super crispy, crunchy, hot bananas were usually sold in paper bags that we can just grasp and go.
A perfect Thai banana fritters are really easy to achieve at home. The smoky coconut flavour dispersed from hot oil cozies your home up waiting for the sweet crispy fritters to arrive on the serving plates.
Thai banana or Nam Wa banana is used in this recipe. The banana which is ripping and not fully ripe is perfect for deep frying. The hot oil cooked through the soft meat and turns it to golden brown collation mellowed with the perfect sweetness.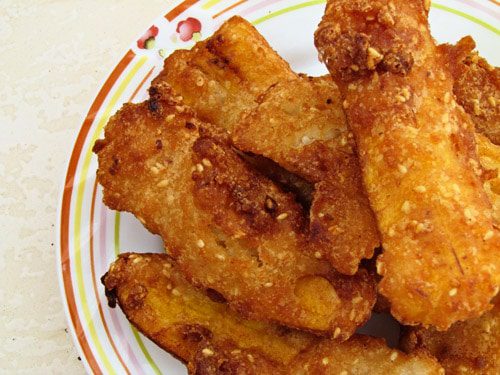 Banana fritters can be served as breakfast or snack. I've seen Thai restaurant in the west served hot banana fritters with vanilla ice-cream, I don't know why and I haven't tried. I guess the contrast of hot and crispy bananas to the soft smooth cold cream bring out the beautiful pleasing bites.
Thai Banana Fritter

Ingredients (6-8 servings)

6 Thai Banana (Nam Wa banana)- peeled, thinly sliced lengthwise

1 cup rice flour

1/3 cup flour

1 tsp baking powder

1/2 cup grated coconut

2 tbsp sugar

3/4 tsp salt

2 tbsp sesame seed

1 cup water

Oil for deep frying

Preparation

Sift rice flour, flour and baking powder together in the mixing bowl.
Add salt, sugar, and gradually add water and mix well to create a smooth batter.
Add sesame seed, coconut, and stir well together.
Heat oil in the pan over the medium heat.
Dip banana slices in the batter and deep fry them until golden brown. Serve hot.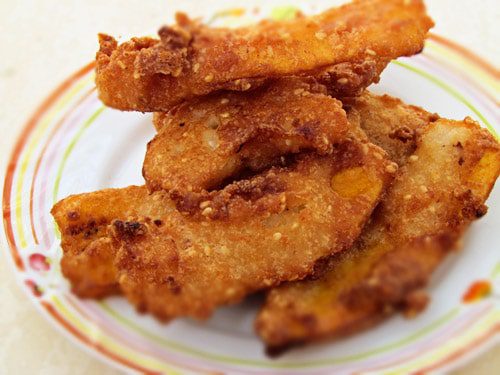 Our banana fritters were the beautiful brittle chunks of joy with golden brown in color. The sesame seeds and coconut added more crunches in every bite. They were hot, sweet and not oily at all. It was such a simple recipe, very easy to make, that make my family very happy
Have you ever tried banana fritters before?
Take care,