Our chickens have been laying eggs for sometime now. We usually get 5-6 eggs a day. I know you're probably thinking WHAT!!! That seems like a lot. Well two of our chickens lay smaller eggs which equal about half the size of a regular egg. Regardless we still get a ton of eggs. We give some to our neighbor whos fence is next to the chickens area. We like to think of it as a peace offering. We also bake and make these delicious breakfast cups to use up all the delicious organic eggs.

These egg cups couldn't be easier. We absolutely love them. They're completely customizable, which is my kind of recipe! When I make these I usually just chop up various vegetables I have in the fridge and use those. Today I'm using kale, sweet peppers & zucchini. Also not pictured was some green onions I added at the last minute.  
Chop up your vegetables so they're pretty small. They need to all fit in the muffin cups.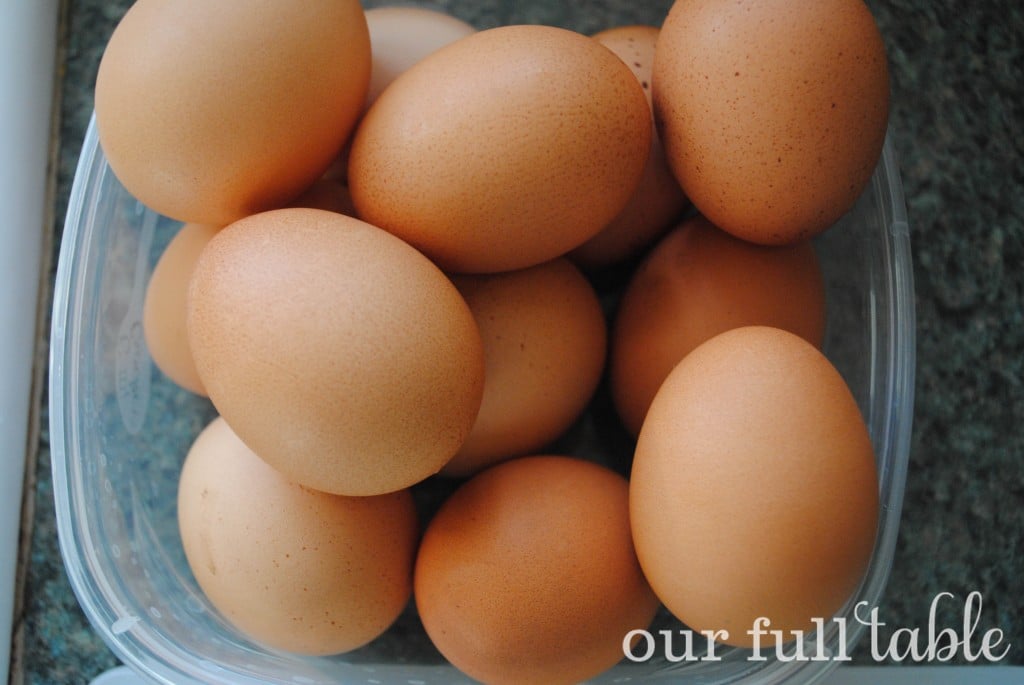 Crack a dozen eggs into a measuring cup
. I recommend using something with a spout for easier pouring. Season the egg mixture  with salt, pepper & garlic powder.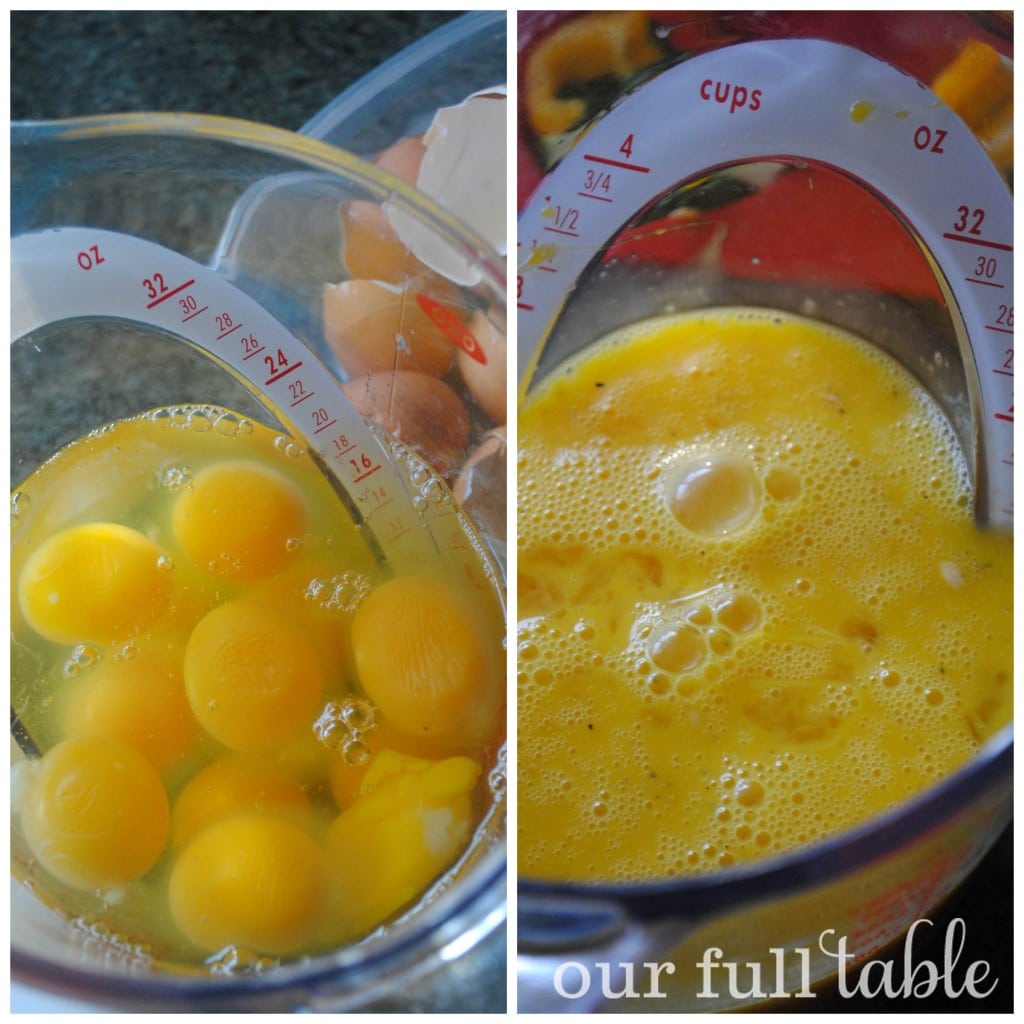 I'm using a silicone muffin baking pan but you can certainly use a regular metal muffin tin. Make sure you spray it with non stick spray before adding your ingredients to the pan! I lightly sprayed my silicon muffin pan just for good measure. Oh and don't make the same mistake I did. Since your silicon pan is flimsy you'll want to place it on a baking sheet before you start filling. I forget to do this every time I use it. You'd think I'd learn by know but nope! It happens EVERY TIME!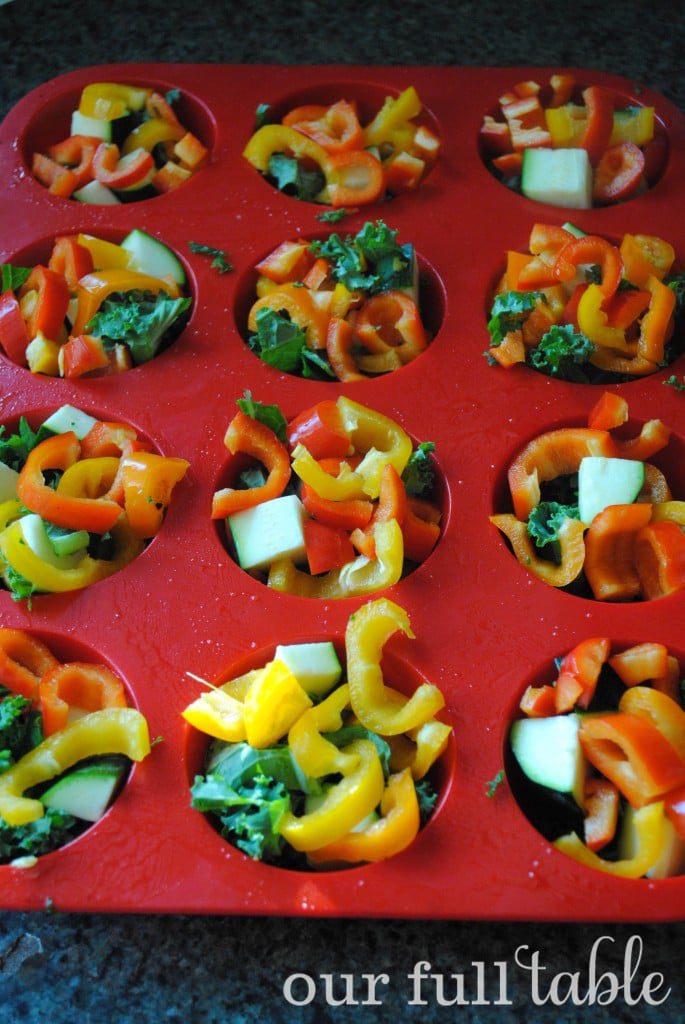 Add your veggies to each cup. Don't worry if they're over flowing.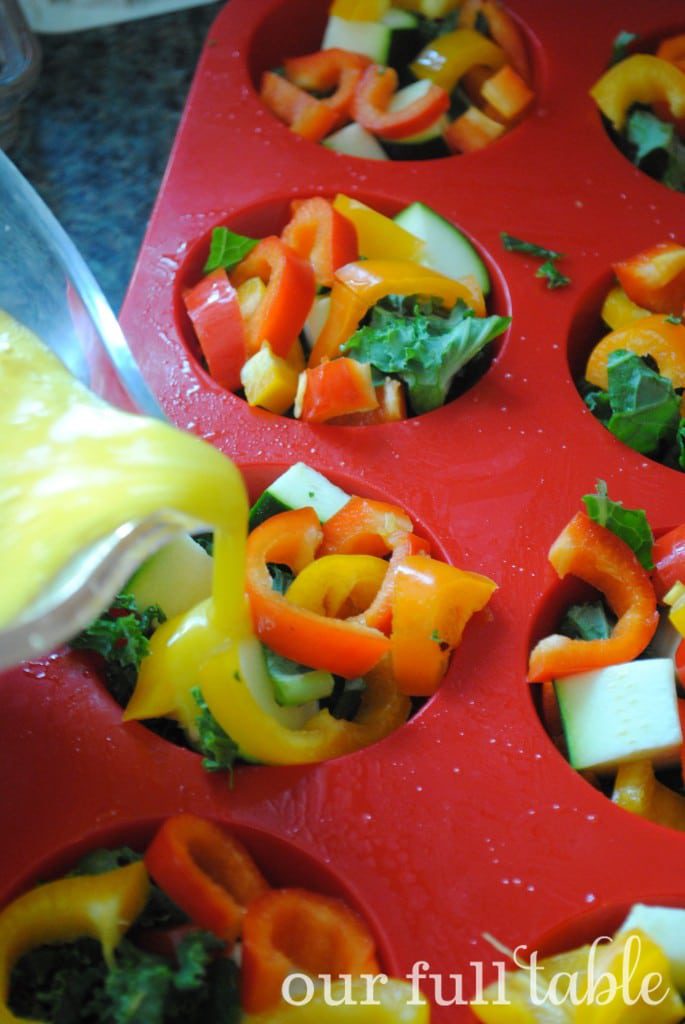 Gently pour the egg into each cup. I put about 1 eggs worth of in each one.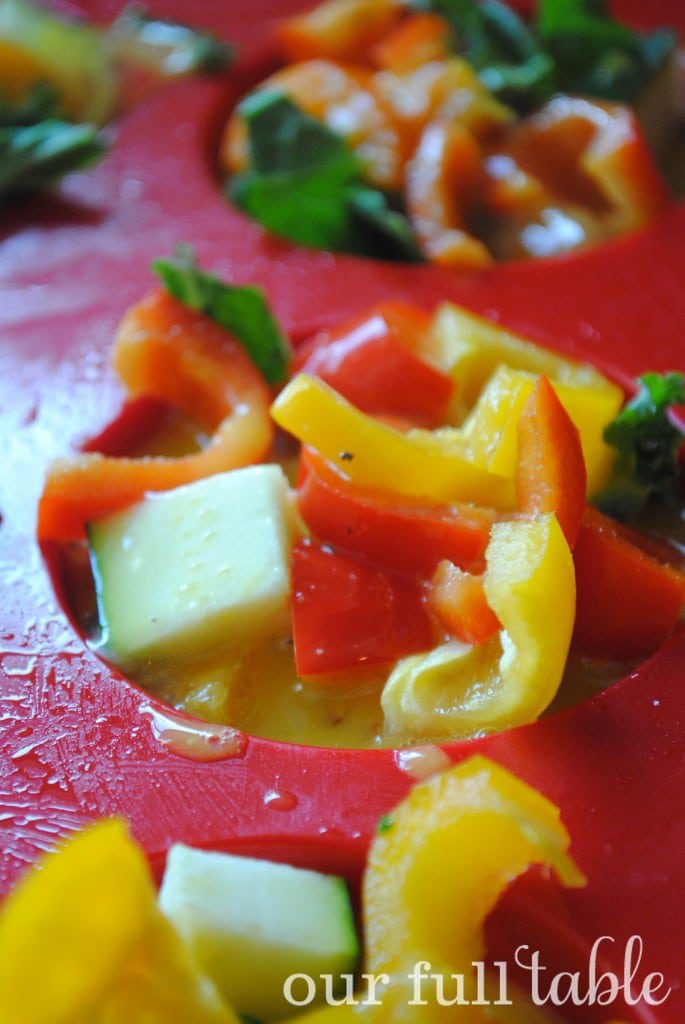 About this much!
Now bake for 25-30 minutes or until the eggs are set. Let them cool before removing them from the pan. Don't skip this step. This ensures your eggs are fully set and you don't risk them falling apart.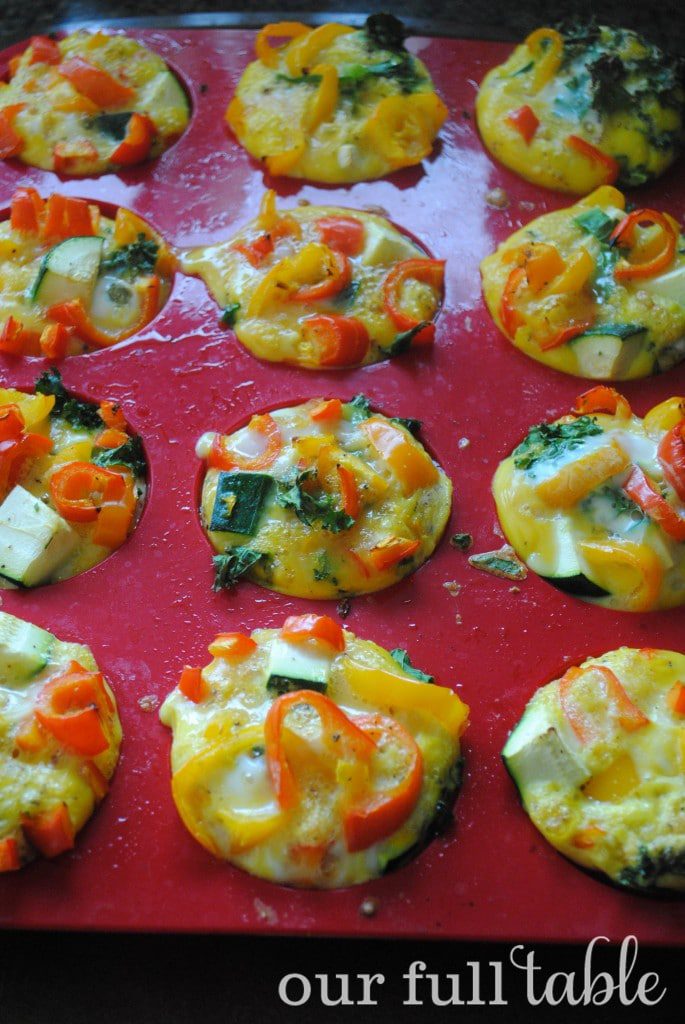 These are so delicious! They keep in the fridge in an air tight container for about a week. Heat them up for 30 seconds in the microwave each morning.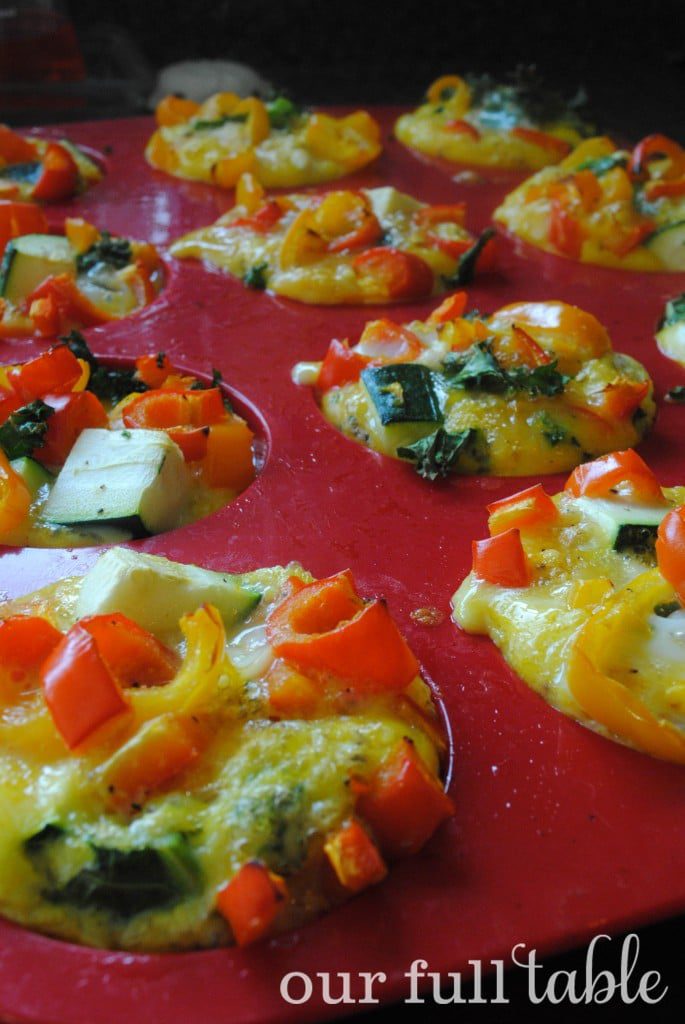 I also like to make a couple batches at a time and freeze them.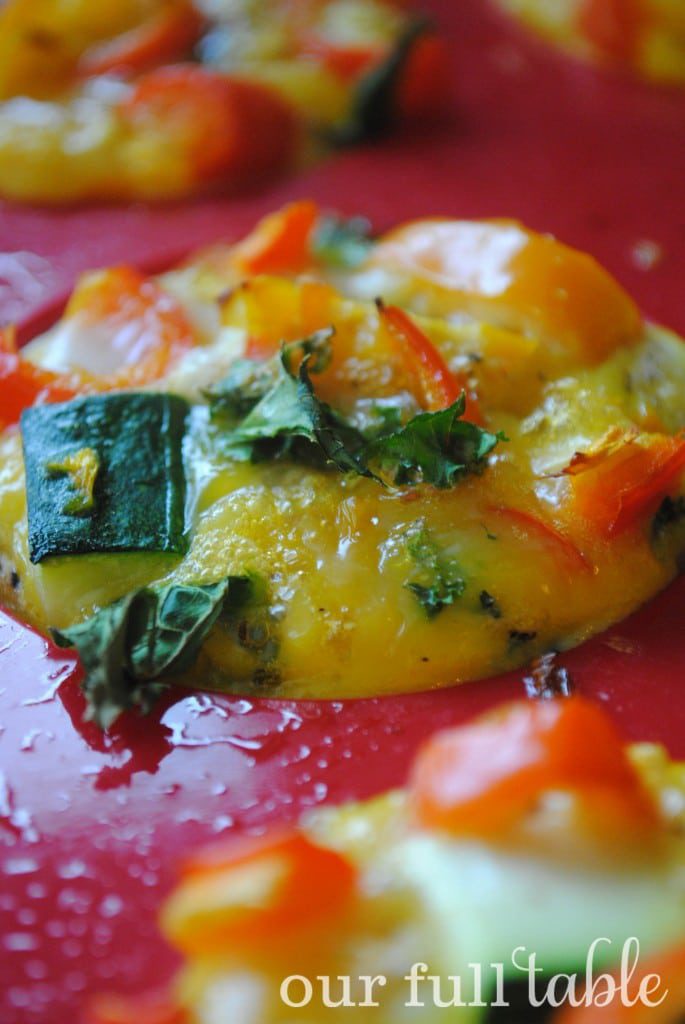 They're great to toss in your husbands lunch pail for a quick breakfast.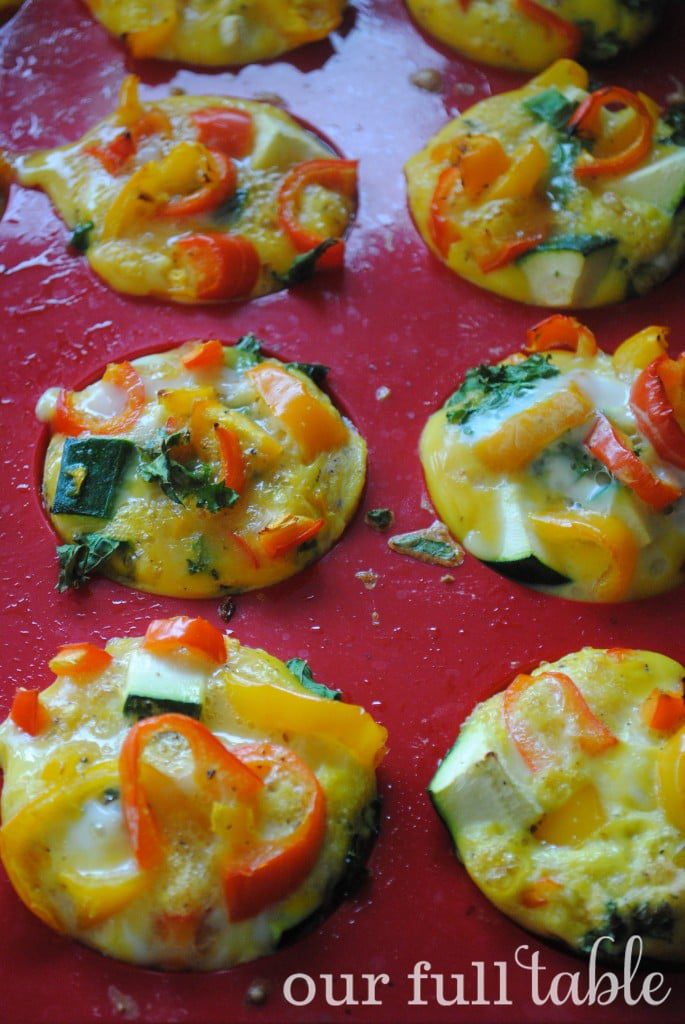 Eating just two would be the perfect breakfast. Also I have to admit I could eat about six. They're so delicious!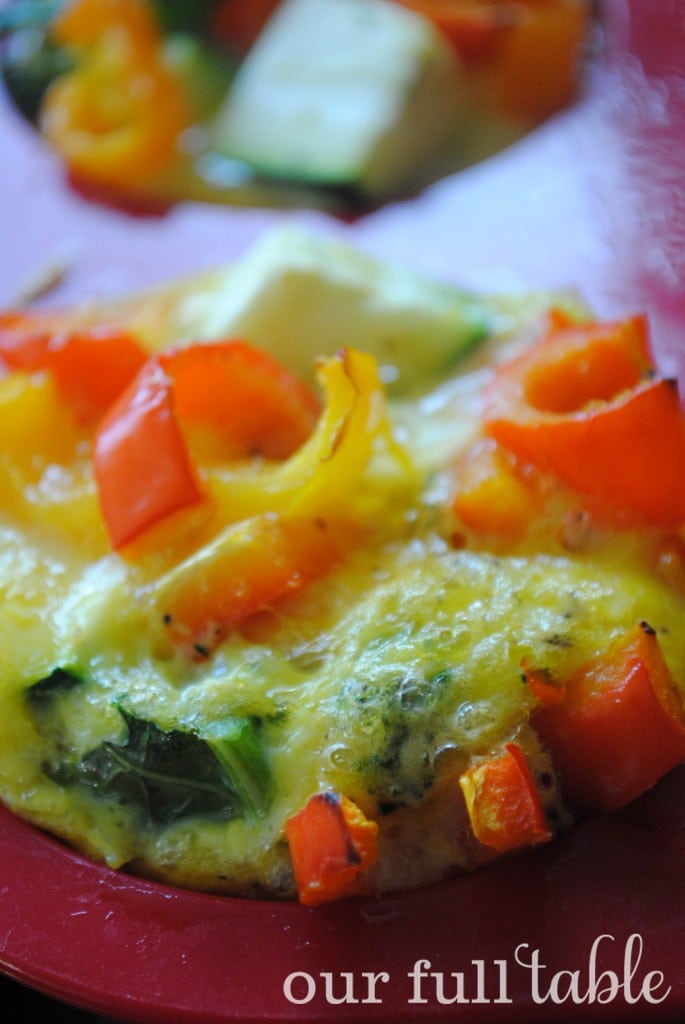 What are you waiting for. They couldn't get any easier! Go make these today!
Vegetable Egg Breakfast Cups
Yields 12
A healthy breakfast thats quick, easy and loaded with fresh veggies.
Ingredients
1 cup kale, roughly chopped
1 cup sweet peppers, roughly chopped
1 cup zuchini, cut into 1/4″ pieces
14 cup green onions, roughly chopped
12 large eggs
1/2 tsp. black pepper
1 tsp. salt
1 tsp. garlic powder
Instructions
Start by preheating your oven to 350 degrees.
Chop your veggies into smaller size pieces.
Crack a dozen eggs into a large measuring cup. Add your salt, pepper and garlic powder. Give it a good whisk.
Lightly coat your muffin tin with a non stick spray.
Evenly distribute your veggies in each tin. Next, pour the egg mixture in each tin. About one eggs worth in each one.
Bake for 25-30 minutes or until the eggs are set. Let them cool completely before removing them from the tins. This allows them to set so they don't fall apart.