Chicago-style pizza in your own home with this quick and easy Deep Dish Skillet Meatball Pizza!
Another Sunday rolls around and today's #SundaySupper theme is Meatballs! I love meatballs. Mostly as a quick and easy appetizer for tailgating. My friends never complain when I bring my Microwave BBQ Meatballs, Baked Buffalo Chicken Bites or Cherry Chipotle Meatballs to Arrowhead Stadium for a Chiefs game! Usually I don't have any left to bring home
For this event I thought I might go the easy route and make it a pizza night! It's really a simple recipe and once you find out how simple, frozen pizza won't be on your grocery list anymore! Even though you do have to proof the crust.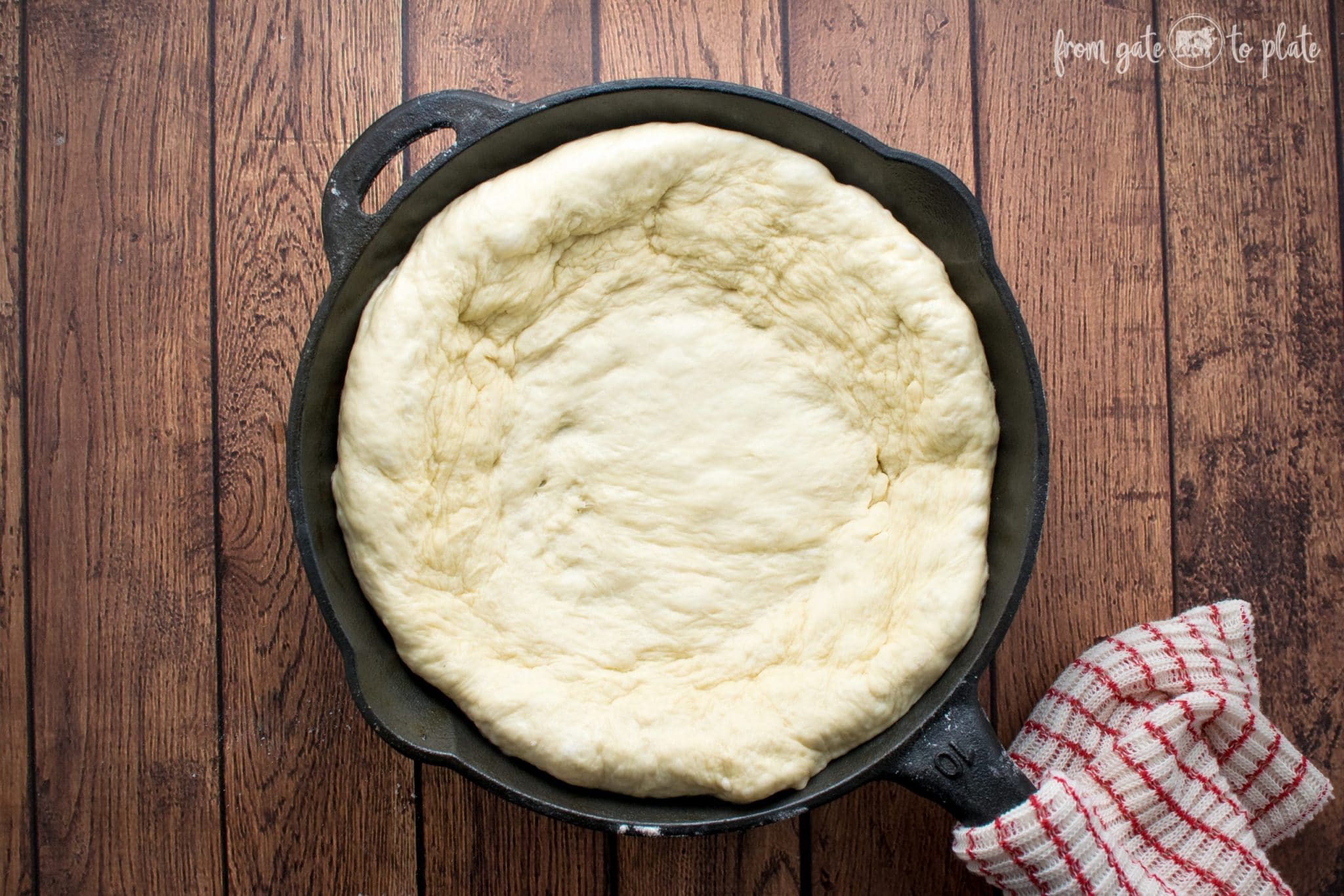 I started with an easy pizza dough that I just pressed into the bottom of a well oiled cast iron skillet. Did you know you can do that? Make a deep dish in a cast iron? You can even use a pie plate if you aren't a fan of the cast irons. I then smear it with marinara or pizza sauce, whichever you prefer. Sprinkle with cheese. Combine the meat, crumbs and seasonings and drop little "meatballs" over the cheese. You don't have to roll them or anything, just mix and sprinkle over top. Top with a little onion and more cheese and bake!! Delicious!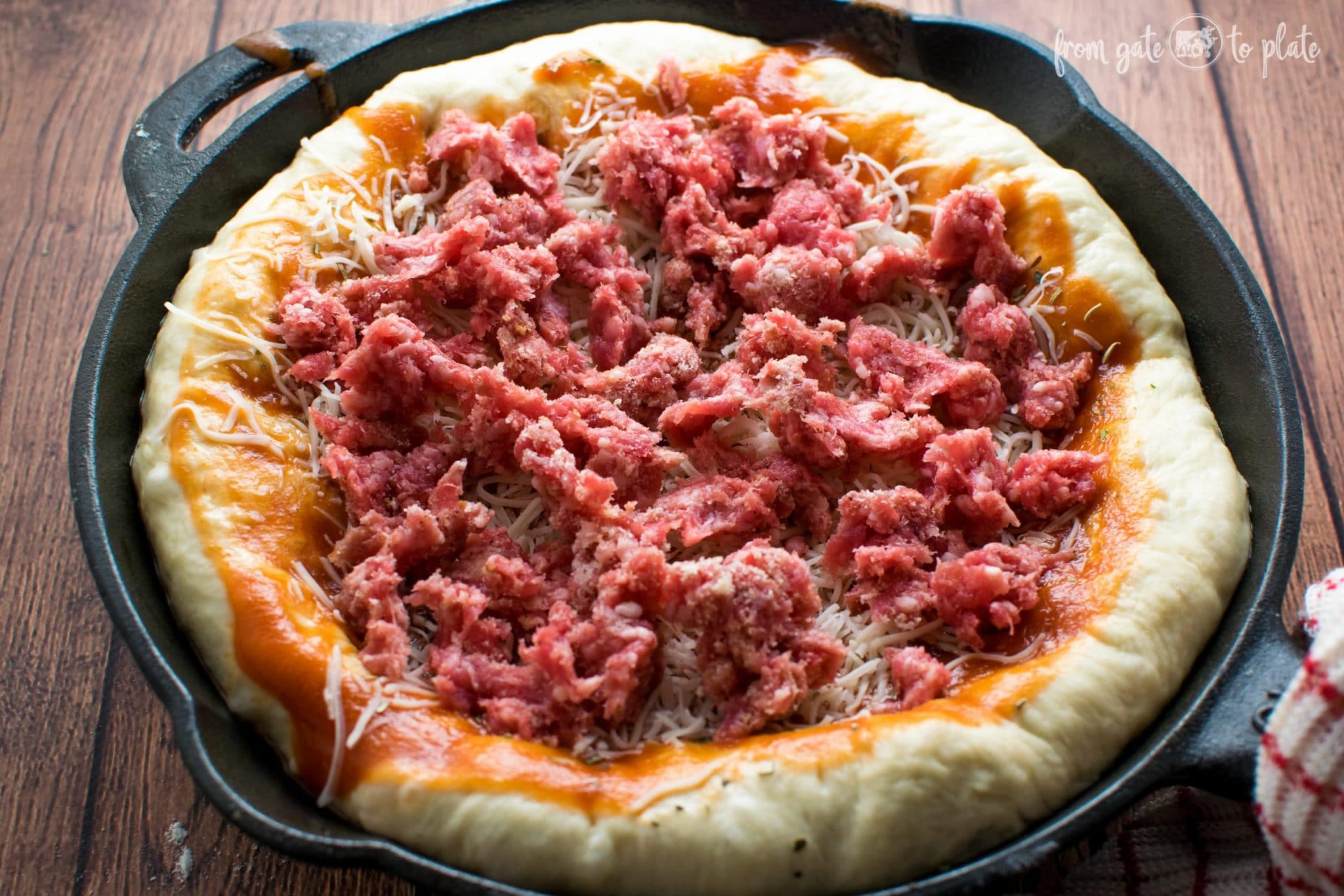 Note**I used a #10 cast iron and this dough makes a little bit more than what goes into the pan so…. you know what you can do with a little extra dough?? Make breadsticks and enjoy with marinara!!! Yup, that's right!! Or you could even make cheese sticks. This recipe serves 4 people depending on the size pan you use and it can easily be doubled.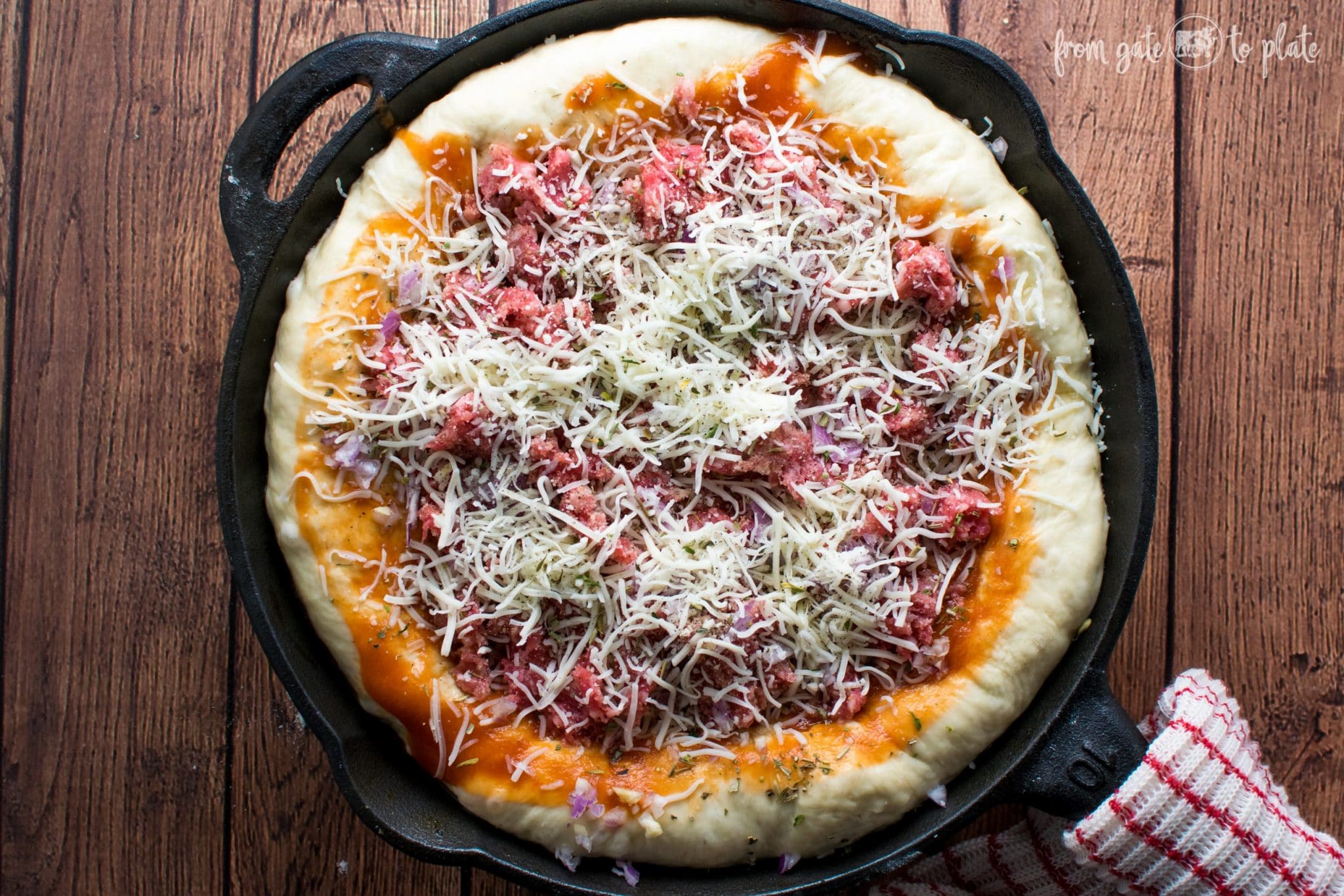 Now I know this recipe isn't your typical "meatball", but it does hold the ingredients with a little less effort in rolling the balls…. it will be a favorite and perfect for family game night!
Deep Dish Skillet Meatball Pizza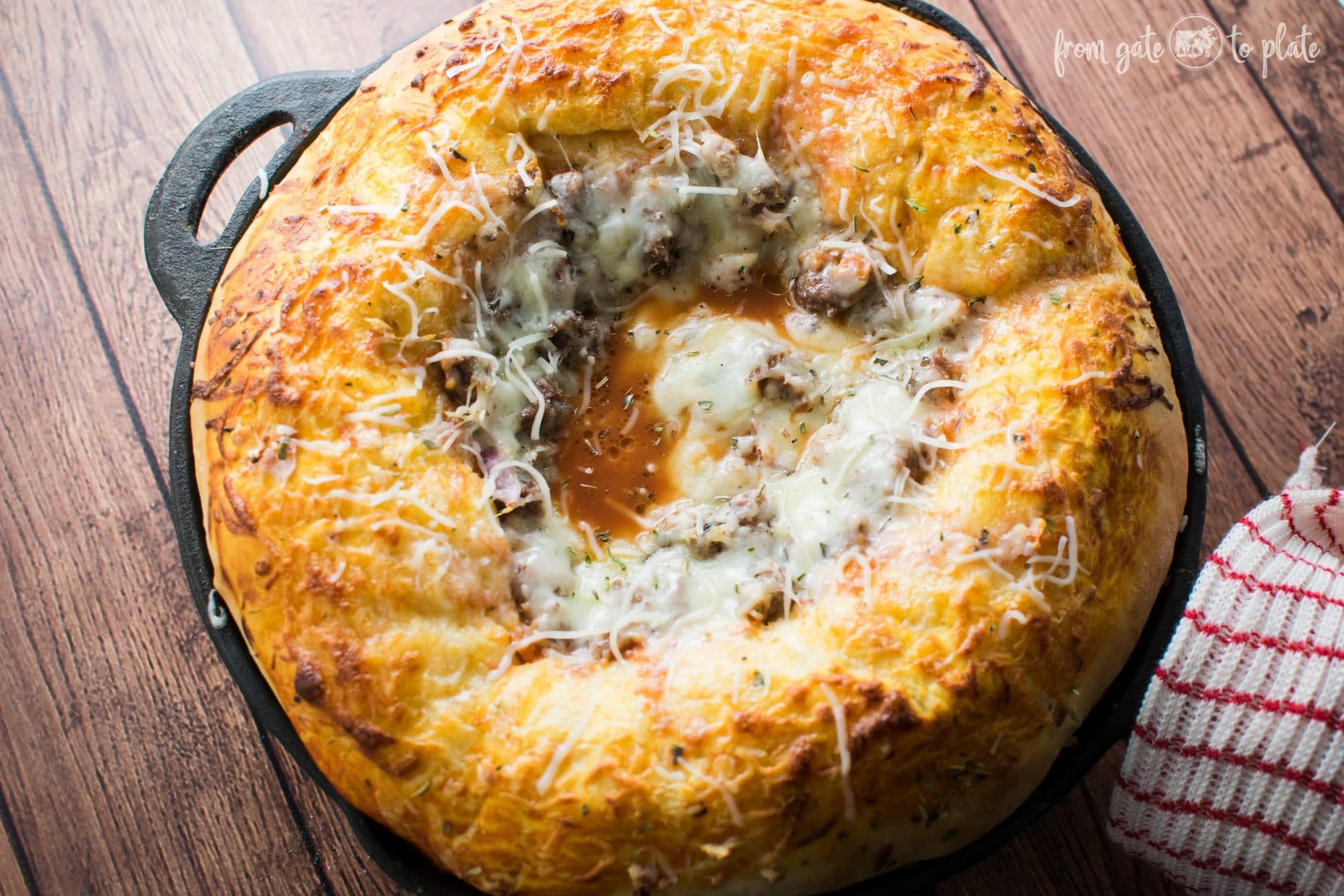 Serves 4
Ingredients
1 tablespoon olive oil
Dough Ingredients
1 1/2 cups warm water, 90-110*F
1 tablespoon active yeast (Red Star)
2 tablespoons sugar (Dixie Crystals)
1/4 cup oil
2 teaspoons salt
3-4 cups flour
Pizza Ingredients
4 ounces ground beef
1 tablespoon bread crumbs
1/2 teaspoon garlic powder
1 teaspoon salt
1/2 teaspoon pepper
4 ounces marinara or pizza sauce
1 tablespoon onion or shallot (I use Vidalia Onions)
4 tablespoons shredded Parmesan cheese
1 cup shredded mozzarella cheese (Cabot Cheese)
Italian seasoning
Instructions
In a mixing bowl, fitted with the hook attachment, combine the warm water and yeast allowing to set 5 minutes to foam.
Add in the sugar, salt and oil.
Add flour, a cup at a time until you get to 3 cups. Then slowly add 1/4 cup at a time until it forms a dough that's not too tacky.
Cover and allow to rise in a warm place until double in size. (I turn the oven on while I'm mixing and then shut it off and place my bowl in the oven to speed up proofing).
Meanwhile, in a small bowl combine the beef, bread crumbs, salt, pepper and garlic powder.
Preheat oven to 400*F.
Once dough has doubled, remove and punch down.
Roughly divide the dough in half.
Take the 1 tablespoon of olive oil and generously grease your cast iron or pie plate.
Press the dough in the bottom and up the sides.
Spread the marinara over, sprinkle with 1/2 both cheeses, meat mixture, onion, and remaining cheeses.
Bake at 400*F for 15-18 minutes or until browned.
Remove and sprinkle with additional cheese and 1/8 teaspoon Italian Seasoning.