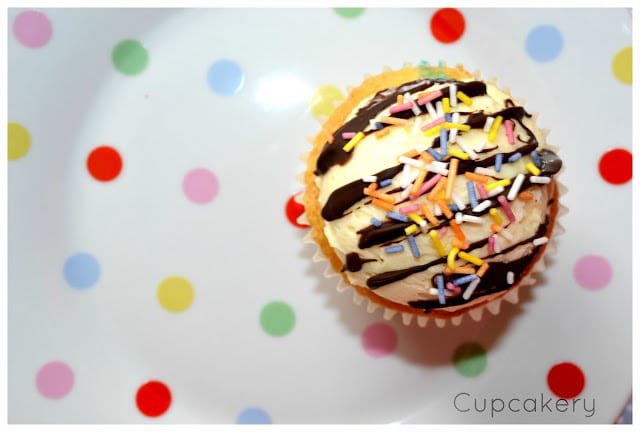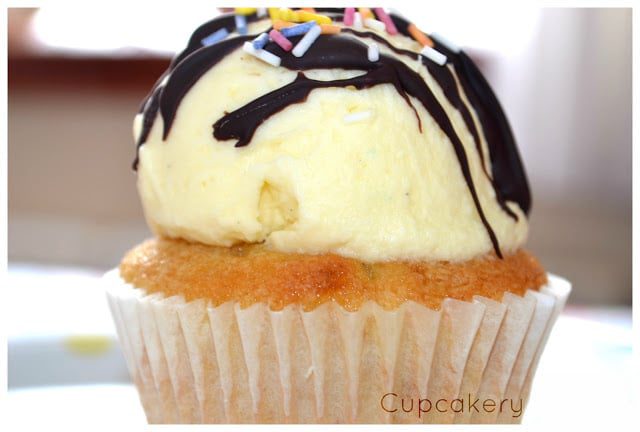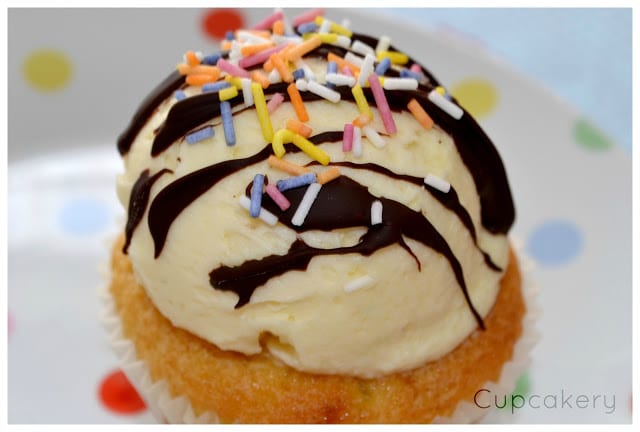 But these cupcakes I do like. I like the soft fluffy texture of the moist vanilla cake. The yummy vanilla bean buttercream frosting. The dark chocolate sauce and sugar strand sprinkles. All together it is a sickly sweet, incredibly luscious cupcake where one, is definitely enough.
They are also insanely simple to make. You don't have to be good with a piping bag or tip. All you need is an ice-cream scoop and a steady hand. You just plop the frosting straight down on top of the cupcake and, bobs your uncle, you're done. Decorate how you please just remember if using hot (melted) chocolate for the top, let it cool a little so it doesn't melt your buttercream!
This
recipe yields 12 cupcakes and I use the regular/ medium size cupcake liners. You would get
more if you used the fairy cake or mini cupcake size.
Vanilla Cupcakes:
110g
of room temperature butter
225g
caster sugar
150g
self raising flour
125g
plain/cream flour
 A
half a teaspoon of baking powder
2
large free range  room temperature eggs
2
teaspoons of vanilla extract (I use vanilla bean paste)
125ml
of whole, full fat milk.
Cream
your butter and sugar until light and fluffy and pale, I usually leave it about 5-7 minutes. 
Add
in an egg, one at a time until the yolks have been incorporated.
Dry
whisk or sieve all your flours and the baking powder together.
Add
the vanilla to your milk. I think that if I let it infuse longer, by doing this at the start, I get a better vanilla flavour. 
Add
half your dry ingredients to the butter/sugar/egg combination and then half the wet.
Mix until combined  and repeat. Be careful not to over mix the batter here as you want them to stay light and fluffy. Just make sure all the ingredients have been mixed together.
Fill
your cases to two thirds full and bake in a preheated oven at 350/180 or Gas mark 4.
Bake for 20 to 25 minutes. You know they are done when the
tops are golden, have a slight spring in them when you gently push down or a
skewer inserted in the middle comes out clear!
Vanilla Buttercream Frosting:
225g soft, room temperature unsalted butter
500g sifted icing sugar
1 teaspoon vanilla bean paste
60ml milk
Beat the butter with the paddle attachment on high until it is very soft and pale.
Add in the icing sugar a few cups at a time alternating with a tablespoon of milk. 
Add the vanilla bean.
Mix the bejeebus out of it until light and fluffy.
Decorate as desired. 
Enjoy and happy baking!