Nothing says summer like the abundant fresh fruits that stock the farmers markets.  I love seeing all the colorful berries and stone fruits, but I love seeing the pretty tarts topped with summer's fresh fruit even more.  Fruit tarts encompass the best of the pastry world–the decadent buttery cookie-like crust, the creamy vanilla custard filling, and the choice fruit gracefully arranged on the top.  How can anyone resist on a warm summer day?
This recipe is from Dorie Greenspan's Paris Sweets, which is her collection of recipes from the finest patisseries in Paris.  When I saw this cookbook, being the Francophile that I am, I had to try it out.  Ms. Greenspan was somehow able to gather a few recipes from renowned pastry chefs at places like Fauchon, Lenotre, La Maison Du Chocolat, and, my favorite for macarons, Laduree, which she then tested, resulting in this selection of dessert recipes.  This is my first try from this book, and I am not disappointed.  As I dream of going back to Paris, at least I can recreate (or try to!) some of the wonderful Parisian desserts at home in the meantime.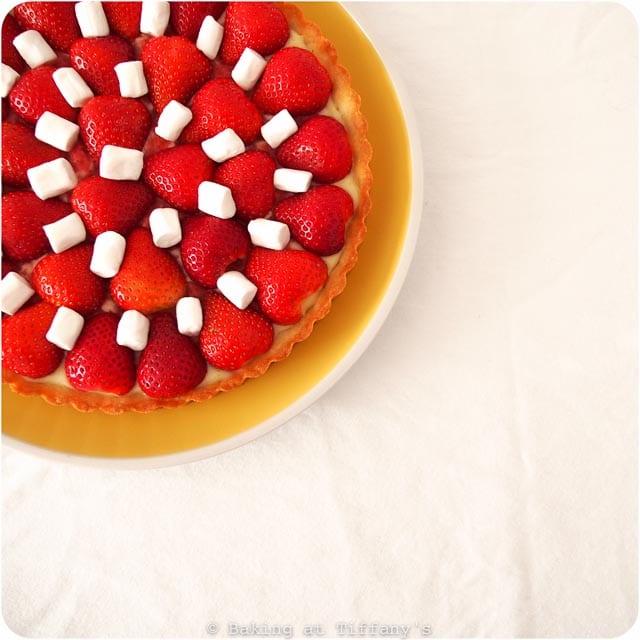 I've tried a few fruit tart recipes, but this one might take the cake (or tart?).  The pate sucree (sweet tart dough) uses a little almond flour which seems to guard the baked shell from getting soggy and adds some complexity to the flavor, and the pastry cream is the perfect consistency–creamy and smooth, and not too gelatinous.  The idea of using marshmallows on a strawberry tart is also so fun and whimsical.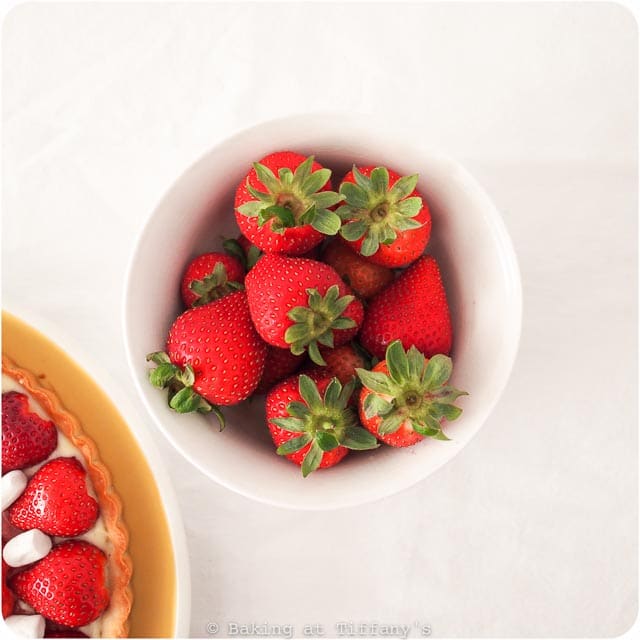 Recipe notes: The instructions to make the pate sucree call for using a food processor.  However, I don't have one large enough for the volume of this recipe, so I used my KitchenAid stand mixer, which worked well; my instructions here are for using the stand mixer.  The pastry cream tasted delicious even without the last addition of butter, however for additional silkiness, you can add the remaining butter as instructed below.  I used store-bought marshmallows, instead of making my own (which I hear isn't too difficult, but I didn't have the time–maybe someday), but I was able to find "homemade-like" marshmallows at Whole Foods which taste better to me than the regular puffy airy commercial kind.  I also could not find red currant jelly to brush the strawberries for the finishing touch, so I skipped that last step; however, I think using apricot or strawberry preserves could still work.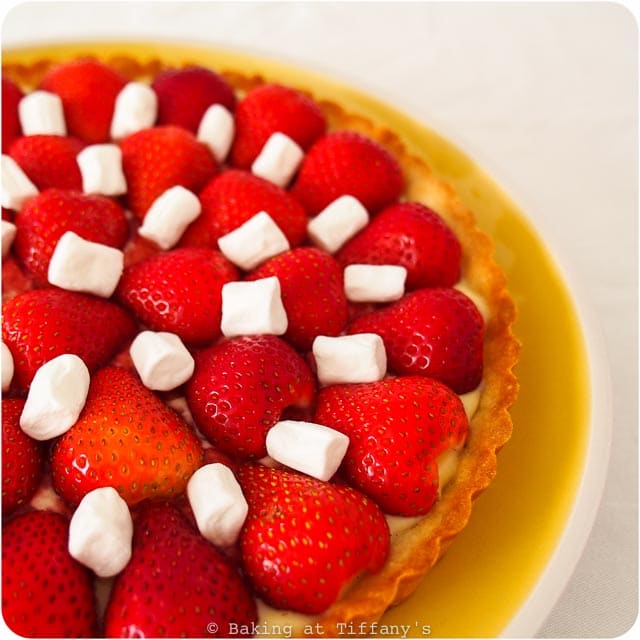 Ingredients
Sweet Tart Dough
2-1/2 sticks (290 g) unsalted butter, at room temperature
1-1/2 cups (150 g) sifted powdered sugar
1/2 cup (70 grams) almond meal
1/2 t. salt
1/2 t. vanilla extract
2 large eggs, at room temperature
3-1/2 cups all purpose flour

Pastry Cream

1-1/4 cups (300 g) whole milk
2 t. vanilla paste
3 large egg yolks
1/2 cup (100 g) sugar
3 T. (30 g) cornstarch
1/2 cup + 3 T. (160 g) unsalted butter, at room temperature

Topping

4 cups (600 g) fresh strawberries, hulled
2 t. powdered sugar
mini marshmallows
red currant jelly
Preparation
Sweet Tart Dough
Using a stand mixer with the paddle attachment, cream butter until butter is light in color. Add powdered sugar, and mix until combined and creamy.
Continue mixing in almond meal, salt, and vanilla, until combined.
Beat eggs lightly, then add to the butter mixture and mix for less than 30 seconds.
Mix in flour in three additions, being careful not to overmix. Stop mixing when the dough just comes together and forms a ball.
Divide the dough evenly into three discs, and wrap each tightly in plastic wrap. Refrigerate for at least four hours and up to 2 days.
When ready to bake, butter the tart pan, and remove dough from refrigerator.
Roll out dough between two sheets of wax paper, frequently peeling the wax paper from the dough and flipping it over. If the dough gets too sticky, place the dough back in the refrigerator for about 5 minutes, then continue rolling out the pastry dough.
When the dough is rolled out to about 1/8″ thickness (or large enough to cover the tart pan), press the dough into the tart pan on the bottom and sides without stretching out the dough. Trim any excess from the edges.
Place the tart pan in the refrigerator for about 30 minutes (or freezer for 15 minutes), and preheat the oven to 350F degrees.
Remove the tart pan from the refrigerator or freezer, and use a fork to poke a few holes. You can also line the tart with parchment paper or foil and place pie weights on top to prevent the crust from puffing up during baking.
Bake for about 25 minutes, until lightly brown on edges. Allow to cool on a wire rack.

Pastry Cream

Bring milk to a boil in a small saucepan over medium heat. Set aside for about 10 minutes after it reaches boiling.
In a separate saucepan, whisk together egg yolks, sugar, and cornstarch until combined well. Continuing to whisk, slowly pour about 1/4 of the milk into the yolk mixture, then whisk the remaining milk in.
Heat saucepan over medium, constantly whisking until the mixture begins to thicken. Remove from heat and transfer the pastry cream to a bowl. You can continue whisking if the mixture does not seem to be smooth. Allow to cool for a few minutes.
Cut half the amount of butter (80 g) into cubes and mix into the pastry cream until the butter is melted and incorporated completely.
Cover top of cream with plastic wrap (plastic wrap should be pressing against the surface) and refrigerate the pastry cream until cold.
If more creaminess is desired, cream remaining butter by hand or with a mixer, then add the pastry cream and whip until smooth.

Assembly

Place about 3/4 cup of strawberries with the powdered sugar in a bowl, and crush together using a fork. Strain mixture through a sieve to remove excess liquid.
Fill tart shell with pastry cream, then spread the strawberry mixture on top, leaving about a one inch border.
Cut remaining strawberries in half and arrange as you please. Warm the jelly on the stove top, then brush over strawberries (optional). Dot top of the strawberry tart with marshmallow pieces.
The sweet tart recipe yields enough for 3 9-inch tarts, though the cookbook recommends not reducing the proportions.
The pastry cream recipe yields enough for 2 9-inch tarts.
Recipe is adapted from Paris Sweets: Great Desserts from the City's Best Pastry Shops by Dorie Greenspan.