Focaccia is an Italian flat oven-baked breads topped with herbs and other ingredients of your choice. It can be considered as a close approximation to pizza but its not the same. I've baked breads before and this one has been on my list for quite some time. I am paired with Archana for this month's blog hop (started by Radhika) and when I saw a recipe for focaccia I couldn't resist myself from trying it out. I am amazed by her modesty and her passion for cooking and baking. She teases with a very short write-up but that's not a deterrent. I enjoy reading those few lines and would love to read more of her writings. When I browsed the vast selection of her recipes, some specific to her residing place (Goa, India), I short-listed quite a few of them but kept coming back to this one. So here it is, whole wheat focaccia with tomato and olives with feta and mozarella cheese. I used Aipi's version as I had all the ingredients. The bread came out so good and I liked the wholesome goodness, but my family would have preferred it white(Sigh!!!need another lifetime to change them!!!)
Ingredients:
Whole wheat flour — 2 cups
All purpose flour — 2 cups
Warm water — 1 1/2 cups
Rapid rise yeast — 3/4 tsp
Sugar — 1 tsp
Garlic powder — 2 tsp
Salt — 2 tsp
Olive oil — 4 Tbsp + some for greasing the pan
For topping:
Cherry tomatoes — 1 cup halved
Feta cheese — 1/2 cup crumbled
Mozarella cheese — 1/4 to 1/2 cup
Olives — 1/2 cup halved
Olive oil — 2 Tbsp
Mix of paprika, garlic powder, oregano and crushed red pepper — 1 tsp for topping
Method:
1. In a bowl, mix warm water, yeast, sugar, and salt. Let it froth and proof for about 7 to 10 minutes.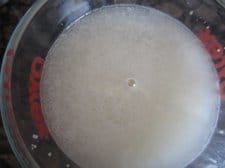 2 Add 4 tbsp of olive oil and mix well with yeast water. In another big bowl mix the two flours well and add garlic powder. Mix and make a well in the center. Add yeast water mixture in the well and knead the dough well on a slightly floured surface. Knead well for about 5 to 10 minutes.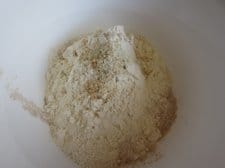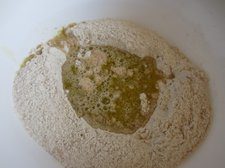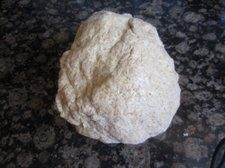 3. Grease a 9×13 baking pan and flatten the dough on the pan to form the rectangle. Cover with damp kitchen towel or plastic wrap and leave the dough to rise in a warm place for at least 1 to 1 1/2 hour.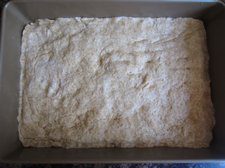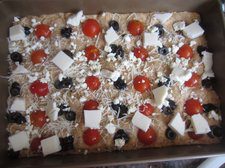 4. Preheat oven to 425F. Sprinkle mozarella cheese on top of the dough. Arrange tomatoes and olives in the dough. Sprinkle salt lightly on top, add feta cheese and drizzle with 2 tbsp of olive oil. I added some fresh mozarella cheese slices also but its optional. Bake until golden brown for about 20-25 minutes. Transfer to rack and sprinkle the herb mixture (paprika, oregano, pepper, and garlic powder). Enjoy!!!