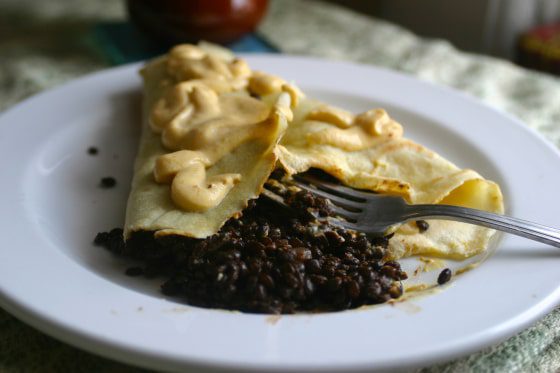 'Tis the season to put pumpkin in everything you can think of! In a day or two this is going to be out of fashion, so I thought I'd put this black and orange recipe up now. I've also recently made the commitment to go completely sweetener free (No sugar, honey, maple syrup, stevia, agave, corn syrup, or any other sweetening additive) until at least February (to help a friend quit smoking, I'm quitting something nearly as difficult). I will now be having a completely candy-less Halloween, so I've got to get creative with my treats. There will probably be a slew of fruit-based sweets coming up.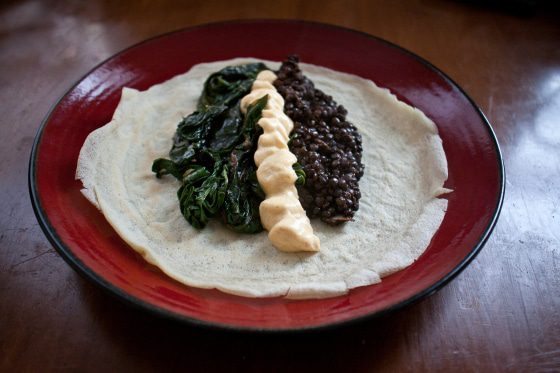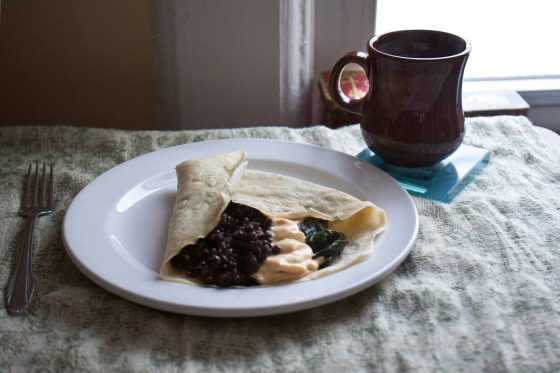 These are crepes filled with spicy black lentils and swiss chard, with a cool pumpkin-yoghurt sauce. The swiss chard is optional. We just had a lot of it in the garden and wanted to use it up. Lentils are always great with some leafy greens anyway.
If you want to make these gluten free, just eat the meal without the crepes. I just saw lentils in crepes at a french restaurant recently and thought it looked fun. After we took pictures I ended up using the crepes to scoop out the lentils and yoghurt like it was ethiopian injera…which is less french but more fun.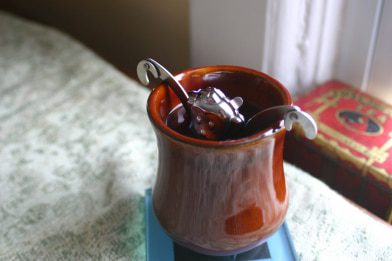 I bought the lentils in bulk at Whole Foods, so I could just get what I wanted to make. The onion and garlic were from the farmers market, the rest of the ingredients also came from whole foods and are organic. I got smaller containers of organic spices to save money. Spices should be kept fresh anyway, so you often don't need that whole big jar of a spice if you're not going to use it within 6 months.
Servings: 3
Price per serving (including the crepes): $2.40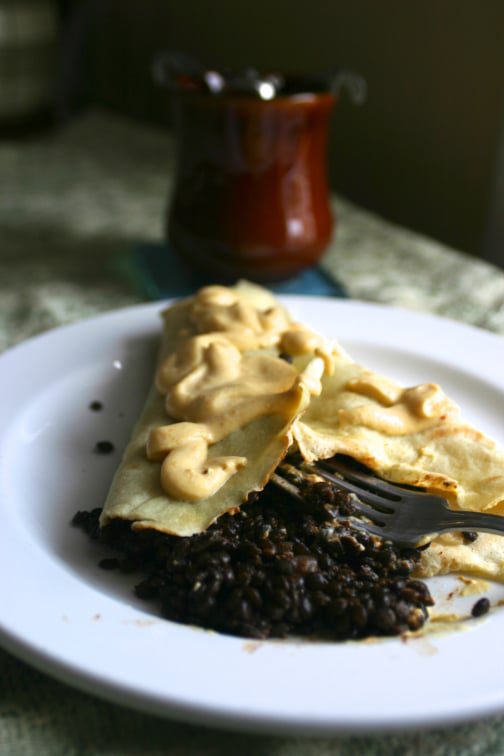 Tools Needed
Pot
Large frying pan & spatula (if you're making the crepes)
Spoon for stirring
Knife + cutting board
Ingredients and Directions
Lentils
Ingredients
1/2 c black lentils
1/2 c diced onions
1 t olive oil or sesame oil to sauté the onions
2 small cloves of garlic or 1 large
1.5 t garlic powder
1 t cayenne
1/4 t cumin
1/2 T salt
1/2 t black pepper
1 c organic, non GMO, cage-free water (joke, tap water should do)
To make
Chop the onion and rinse your lentils. Sometimes little pebbles things can end up there, so it's good to just dig around and make sure you're only cooking lentils.
Heat the oil in a pan on medium. Add the onions and garlic and sauté for a little bit–just to release the flavor a bit. This is something my mom does, and her cooking is always good.
Add the lentils, spices and water and cook uncovered on medium-low for 20-25 minutes
Pumpkin yoghurt sauce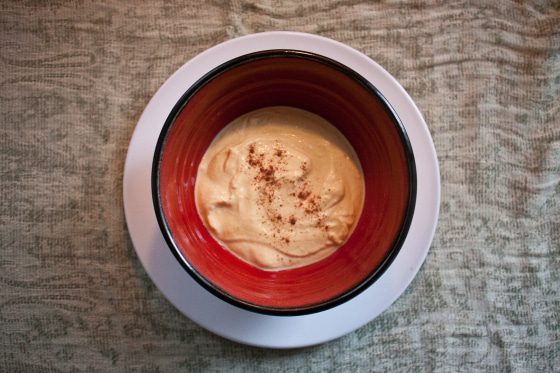 Ingredients
1/4 c pumpkin puree
1/2 c plain yoghurt — I used plain greek yoghurt
1/4 t cinnamon (just a tiny dash) *optional*
To make
Mix ingredients until combined
Swiss chard (or some other leafy green)
Ingredients
1 c fresh swiss chard
1 clove garlic
1/2 t sesame or olive oil
To make
Sauté the garlic in the oil a bit
Add the swiss chard (I usually rip it up a bit so I don't have enormous leaves, and I leave out the stems)
Keep the heat on low and cover the greens for a few minutes so they kind of steam a bit. If it gets too dry, splash a little bit of water in the pan.
Optional Crepes
Makes 2-3 crepes (depending on the size)
Ingredients
1 egg
1/2 T melted butter
1/4 c all purpose flour
Pinch of salt
1/3 c + 1T unsweetened (soy/almond/coconut/cow) milk
To make
Blend these ingredients in a blender until smooth. If you don't have a blender, just whisk them with a fork
Heat a very tiny bit of butter (just barely enough to cover the pan) in a large frying pan
Pour a scant 1/3 cup of the batter on to the pan and turn the pan in a circular motion to evenly and thinly coat the surface of the pan
Heat the batter on medium heat for 2-3 minutes until the bottom is golden brown
Flip the crepe and cook for another minute
Wrap it all up or scoop it out and enjoy.