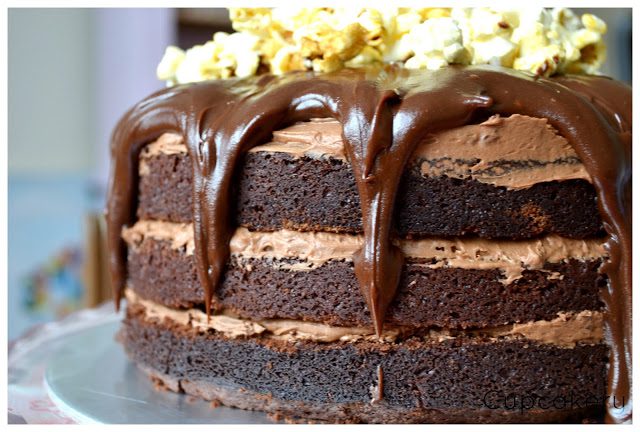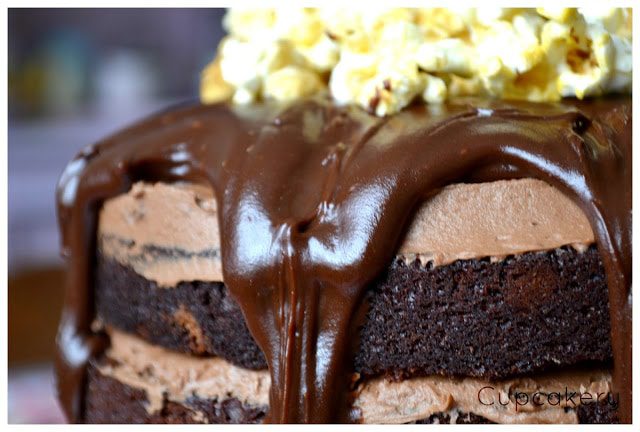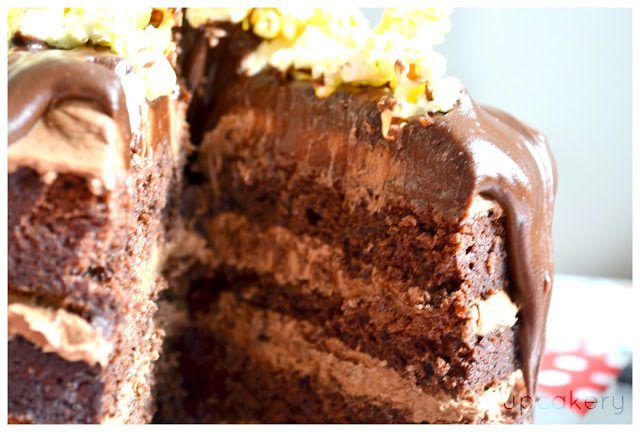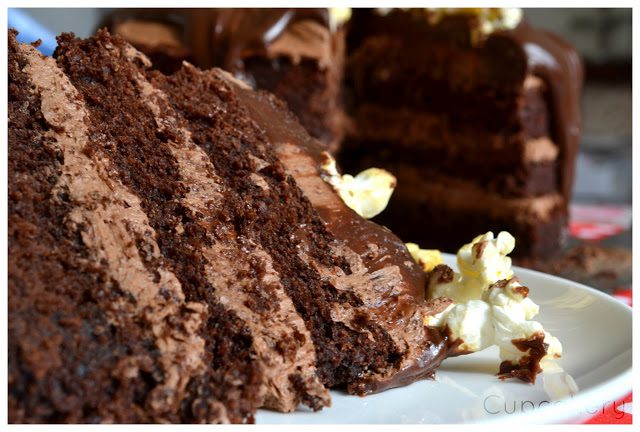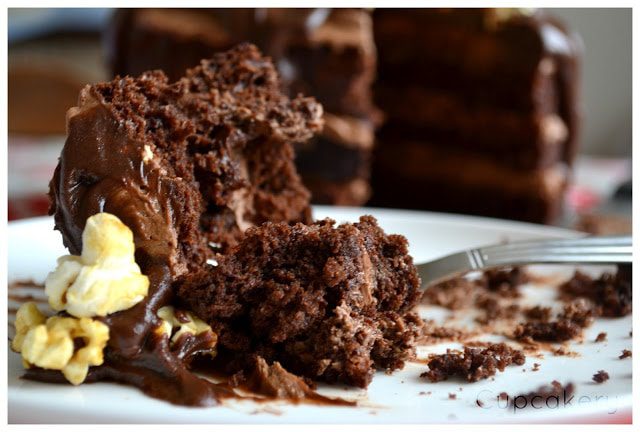 "This week, with it being the Cannes Film Festival and all, we thought we'd try something fun to get those creative juices flowing. So bakers, our theme is film and cinema."
The Sunday Baking Club set a challenge each week for their readers. The idea is you bake within the challenge and post it to Twitter, their facebook page or send 'em an email and if you are their favourite, you will win the much coveted "Golden Spoon" award. This week the theme was film and cinema.
This took me some time. Which you would never think from thejust layers with buttercream cake above, but I will have to explain to you the comings up of this… I do love movies but not in a "oh my gawhhh I have watched it, only like, a million times". I am not one to re-watch and re-watch movies. I don't have any favourites, or specific genre favourites either. I do however, like going to the cinema. I like getting treats from the concession stand and enjoying a  movie on the big screen. I love date night. I had seen this cake and liked the styling but wanted to use my own recipe, to suit me, so between the two of these…
Came the idea… "The Concessions Stand Cake".
My favourite treats from the cinema, rolled into one BIG cake. A cinema themed cake… See? It's a good one, right!?
It's a chocolate and peanut butter flavoured cake, with milk chocolate buttercream frosting, covered in a chocolate, caramel ganache and topped with caramel popcorn. It is a monster. But it is good.
Dam good.
Chocolate and Peanut Butter Cake. I used two 9 inch deep set pans.
525g caster sugar
3 large eggs
375g self raising flour
150g coco powder
300ml buttermilk
250ml vegetable oil
2 teaspoons vanilla paste
150g peanut butter
100g dark chocolate (at least 50%, melted)
Chocolate Buttercream
300g unsalted butter
600g icing sugar
60ml milk
150g plain chocolate (melted)
Chocolate Caramel Ganache
150g dark choclate
100g butter
80ml full fat milk
100g Dulce de leche
150g icing sugar
1 teaspoon vanilla extract
Make the cake: 
Beat your eggs and sugar. Add the vanilla. 
Sift together the flour and coco powder. 
Add half the dry with the vegetable oil, then the other half with the buttermilk. Mix until combined. 
Add the peanut butter.
Add the chocolate. 
Divide between the two pans and bake in a preheated oven at 180 for 45-50 minutes, until a skewer inserted in the middle comes out clear.
Allow to cool in the tins for about 15 minutes then turn out onto a wire rack to cool completely. When cold, cut in half do that your now have 4 layers. (one of my layers got sacrificed to the ice-cream Gods- hence only three layers in the pictures above!)
Make the buttercream:
Mixing the butter and icing sugar until soft, add the milk and mix until combined. Add the chocolate. You would like this buttercream to be thick but spreadable, imagine soft butter.
Make the ganache:
Heat the chocolate and butter on a low heat until melted. Add the dulche de leche and stir until smooth. 
Allow to cool before combining the milk, icing sugar and and vanilla in a jug. 
Add this to the chocolate, caramel mix and leave on the counter to cool and thicken.
When your cake is cold, spread the buttercream between the layers and add a layer on top. Spill the ganache over the cake and allow it to drizzle down the sides. Lick your fingers, lick the spoon, lick the bowl. Top with caramel popcorn, I buy mine mircowave ready for popping.
Easy peasy. Done and dusted.
Forgive the stretch that this cake is taking to make it "film and cinema" themed but my worthy taste testers have announced it to be "delicious", "like peanut butter m&ms", "ludicrously luscious", "very moreish"… Things I am sure they say about their own trips to the concessions stand at the cinema.
Have a great Sunday everyone. Ours is going to be spent in a sugar coma!