We are craving some pasta lately… especially spaghetti. Just the thought of slurping on the long string of tender doughy pasta makes us drool. I love the way spaghetti soak up the sauce perfectly and the way we make a lot of mess on the plates and table by dripping the sauce on the way to our hungry stomach.
I made spaghetti with squid today. It is a kind of 30 minutes meal deal because it's Monday and I have a lot of thing going on in my house. I love adding butter in hot pasta and watch it melt away and spread throughout the bowl, and then finally when we pour the sauce over… it's wonderfully delicious. This squid sauce is quick and easy, but yet flavourful. It is not overwhelmed by herbs but very simple and fresh.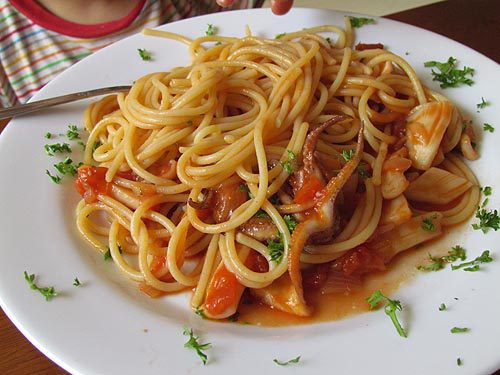 Spaghetti with Squid
Ingredients: (4 servings)
200 gm spaghetti- cooked as package instruction
500 gm squids- cleaned and sliced
1 large onion- diced
2 large tomato- diced
2 dried red chili- roughly cut
4 cloves garlic- minced
1 tbsp Worcestershire sauce
3/4 cup tomato paste
Salt and pepper to taste
Chopped parsley for garnishing
1 tbsp olive oil
1 small cube of butter
How to cook:
Cook spaghetti as per package instruction and toss with butter if not use immediately.
Heat olive oil in the pan over the medium heat.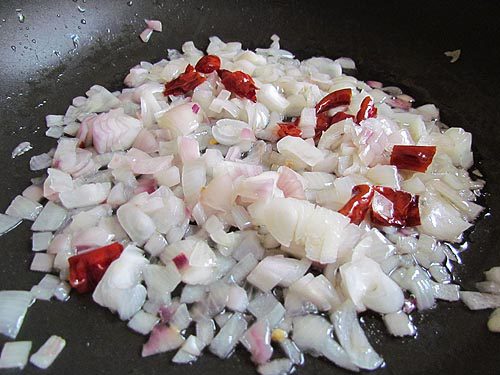 Add onion and dried red chili and sauté until onion is translucent.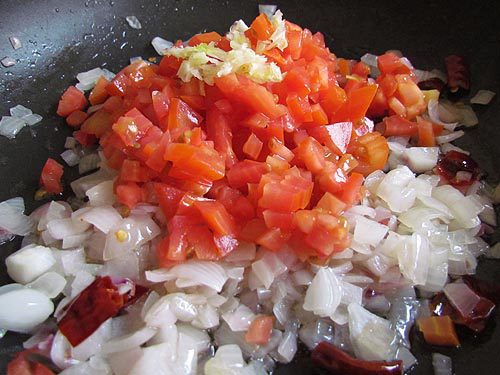 Add tomato, garlic and cook further for few minute or until the tomato is cook and soft.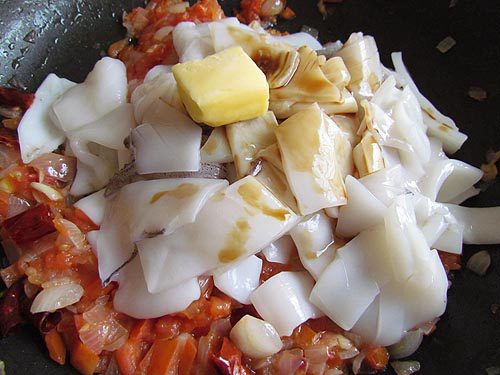 Add squid, Worcestershire sauce, salt, peppers and a small cube of butter. Stir and cook further for few minutes.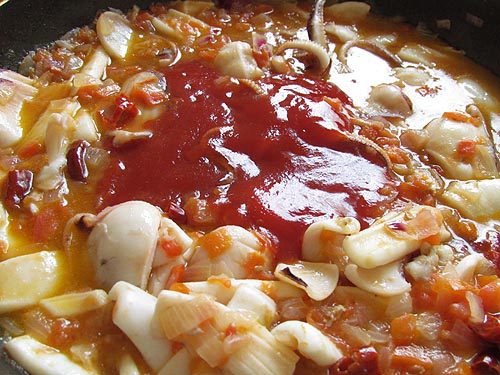 Add tomato paste, stir and simmer for a few minutes or until the sauce is thick and rich.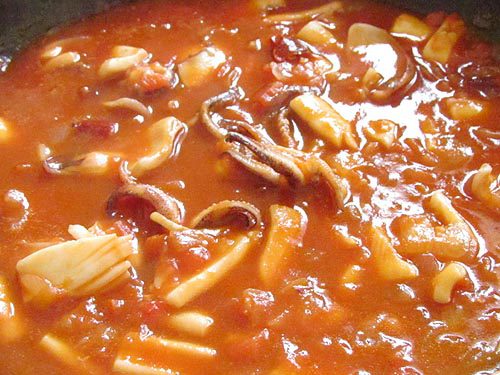 Pour squid sauce over spaghetti and sprinkle some fresh parsley before serve.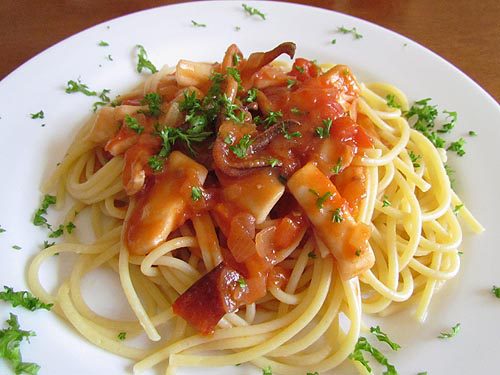 The squid was tender and perfect. The sauce was creamy and fresh. For one moment we thought we were sitting by the ocean eating this delicious dish.
I'm off to bake some afternoon snacks now
See you later,