Remember I told you about Thai Sukiyaki before? It's a comforting soup with vegetable, meat, bean thread noodle and sukiyaki sauce, the pungent chili base sauce with sesame seeds. I showed you the seafood version of this dish before. Today I just made it with marinated meat.
You can use any kind of red meat or even chicken or seafood in this recipe. Although if you use seafood or chicken, you don't need to marinated them for so long. I use frank steak— sliced and marinated with garlic, white pepper, light soy sauce, and eggs. I kept it marinated over night in airtight container in refrigerator so it's packed with flavors and super tender when I used it in the recipe.
There are various kind of vegetable you can use in sukiyaki, Chinese kale, water spinach and cabbage are great for it. A handful of celery gives a wonderful flavor and fragrant to the dish. I only use cabbage in this recipe because it's the only vegetable left in my fridge at the moment. If you have other vegetable, throw them in and let them mellow into something wonderful together.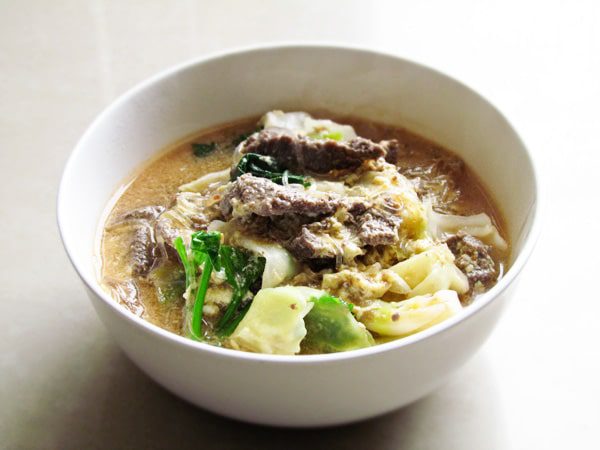 When it comes to flavor, sukiyaki sauce is the key in this recipe. Sukiyaki sauce has a unique pungent flavor. It is made with oyster sauce, hoisin sauce, chili sauce, and sesame seeds.
Thai Sukiyaki with Marinated Meat

Ingredients: (2 serving)

For Marinated Meat

150 gm flank steak- sliced

2 cloves garlic

2 tbsp light soy sauce

1 whole egg- beaten

For Sukiyaki

4 cups meat stock

2 cup sliced cabbage

2 celery- sliced

40 gm bean thread noodle- soaked in water

1 eggs

3 tbsp sukiyaki sauce (store bought)

1/2 tbsp fish sauce

1 tbsp light soy sauce

1 tsp sugar

Preparation:

1.   Marinate sliced flank steak with garlic, soy sauce and beaten egg over night in refrigerator.

2.   To make sukiyaki, bring meat stock to boil, add marinated meat and let it cook for 5 minutes.

3.   Add bean thread noodle and cabbage or any other vegetable you preferred and let they cooked until softened.

4.   Add celery and season with sukiyaki sauce, fish sauce, light soy sauce, and sugar to taste. Serve hot.
I love the flavor of sukiyaki sauce, it really makes everything comes together very nicely. Add some chili flake if you want more heat. I always add a little chili flake in my soup, it's so good.
Have a nice day,