These giant cloverleaf rolls are sweet and buttery, covered in cinnamon and sugar with a sweet surprise in each clover.  So delicious – the perfect breakfast sweet roll or a delicious dessert!
So I totally meant to post this Monday – but now it's Wednesday and I'm just getting around to it.  I feel like my blogging schedule has been totally off, which is mostly because my life schedule is totally out of whack!
This weekend I did quite a bit of baking – which I'll be sharing with you the rest of the week (I swear).  I go through phases of baking and then cooking, and then back to baking.  I need to even things out a bit because one week I'll have all sweet treat hanging around the house just begging to be eaten (not good), and another I'll have tons of real food leftovers.  Those weeks are kind of my favorite because I rarely have to cook dinner.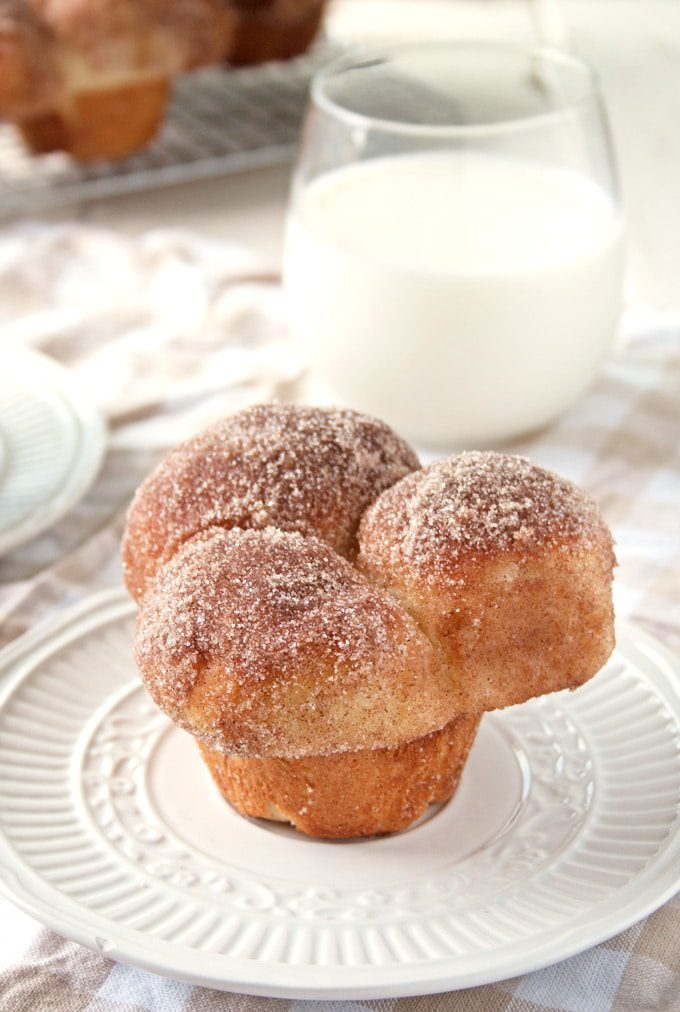 I was really surprised at how much I loved these rolls!  I thought they'd be just another cinnamon and sugar treat to add to my repertoire – but I seriously fell in love and scarfed down two as soon as I was done taking pictures.
I think it's the buttery, flaky dough mixed in with the sweet cinnamon and sugar outside.  And to make these rolls even a little bit more decadent, I've shoved a little cinnamon and sugar mix into the inside of each clover for a surprise sweet bite.
These are best right out of the oven, after you've dipped the top into a little butter and shaken in a bag with cinnamon and sugar.  The inside is still warm and soft, while the outside is golden brown – and those surprise inside spots, so gooey and sugary.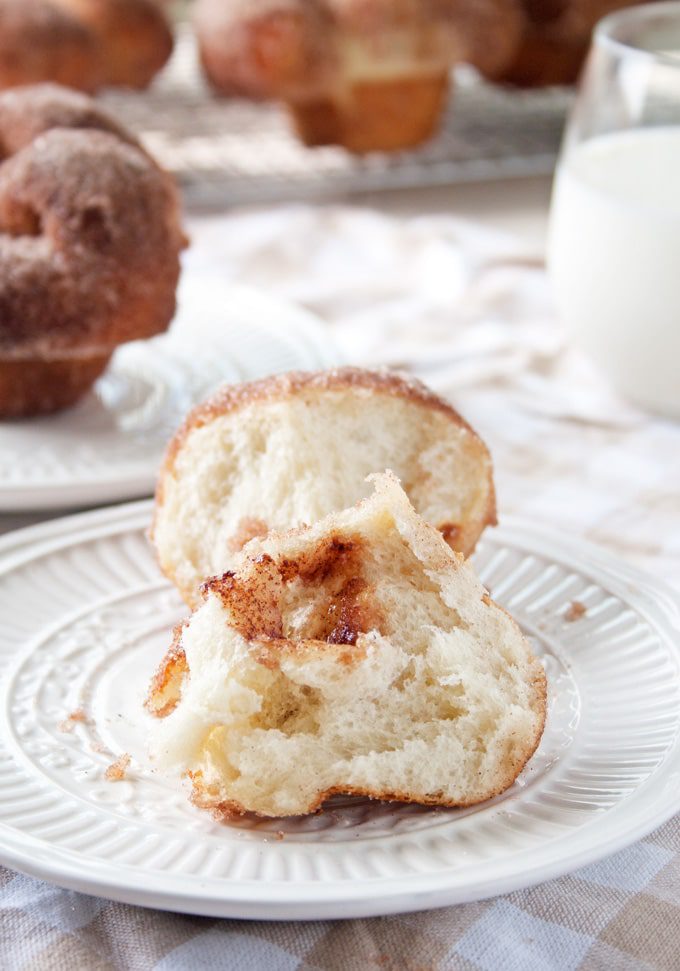 Seriously – these cinnamon and sugar cloverleaf rolls are so delish!
Cinnamon and Sugar Cloverleaf Rolls
ingredients
1 cup plus 3 tablespoons granulated sugar, divided
1 cup warm water
2¼ teaspoons active dry yeast (one ¼-ounce packet)
3 cups all-purpose flour
1 teaspoons kosher salt
1 large egg, beaten
1 teaspoon pure vanilla extract
½ cup plus 3 tablespoons unsalted butter, melted and cooled, divided
1 teaspoon cinnamon
Cooking spray
Instructions
In a large bowl, combine 3 tablespoons sugar and water. Sprinkle yeast on top and let sit until foamy, about 5 minutes.
In the bowl of a stand mixer fitted with a dough hook, add 1 cup flour, salt, egg and 3 tablespoons melted butter and mix until combine. You make need to help a bit with a rubber spatula.
Slowly add yeast mixture and beat until combine.
Add remaining 2 cups flour and mix .until dough is smooth and elastic, about 5 minutes.
Lightly coat a large bowl with cooking spray and transfer dough to bowl. Loosely cover with plastic wrap and refrigerate overnight. Dough will double in size.
Divide dough into 27 equal pieces. Lightly coat 9 standard muffin cup with cooking spray.
Combine 1 cup sugar and 1 teaspoon cinnamon in a bowl and mix well.
For each dough ball, create a slight depression with your thumb and add a liberal pinch of the cinnamon and sugar mixture. Pinch the dough to seal and roll into a smooth ball.
Place three balls into each muffin cup and loosely cover with plastic wrap or a tea towel.
Let rise in a warm, draft-free place until each roll has doubled in size, about 45-90 minutes.
Preheat oven to 375 degrees and bake rolls until puffed and turn a deep golden brown, about 15 to 20 minutes.
Brush tops with remaining ½ cup melted butter and dip into remaining cinnamon and sugar mixture.
Serve warm.