I hope your tree is trimmed, your shopping list is neatly crossed off, and your cards are addressed and out the door.  If all that is done, you are doing like 1,000 times better than me.
Being a grown-up around Christmas… It's a hard thing.  Being a kid a Christmas, that's easy.  Was I naughty or nice this year? How should I decorate these sugar cookies? Do you think Santa will bring me a Barbie Bike and an American Girl Doll?  But a grown-up has to deal with office parties, Christmas cards, gifts to distant relatives, Christmas budgets, cookie swaps… The magic can fade into STRESS!
My solution?  It's pretty simple. Cry through The Navity Story with a slice of this amazing, Citrusy Cranberry Coconut Quickbread.  I love this movie. Great soundtrack, great acting, and great reminder. Recalling what this whole holiday is actually about definately takes the edge off. God chose to send his son to earth so that I could know Him. And he asked a teenage girl to risk everything to obey Him. Her family, her future husband, everyone turned against her… and she was faithful to obey and God took care of her. After remembering all that worrying about being "together" during the holiday season suddenly seems less important. And loving people seems more important.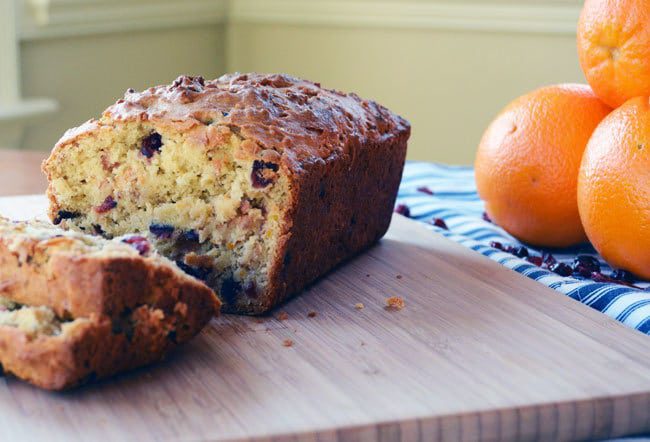 So make this for your favorite peeps. I get so excited when gluten free baked goods don't taste gluten free. That is the charm of this little number.  It has the signature moist, dense texture that characterizes all classy quickbreads. Plus, it is packed with dried cranberries, orange zest, and lightly toasted coconut. It's faintly sweet, but not too sweet and substituting Greek yogurt for butter makes this lighter (and that's the secret to the amazing texture.) Last but not least, it goes great with Christmas Blend.
Citrusy Cranberry Coconut Quickbread
Ingredients: 
1 1/2 cups unsweetened shredded coconut
1 3/4 cups all-purpose flour (I use a mixture of 6 cups superfine brown rice flour, 3 cups tapioca starch, 1 1/2 cups potato starch, 1 tablespoon salt, and 2 tablespoons xanthan gum.) 
1 teaspoon xanthan gum
1 teaspoon guar gum
1 1/2 teaspoons baking soda
1/2 teaspoon salt
1 cup sugar
1 egg
3/4 cup plain Greek yogurt
1 orange
1 1/2 cups dried cranberries
Prep Time: 15 minutes
Cook Time: 50-60 minutes
Yields: 1 loaf
Method:
1. Preheat oven to 350F.  Spread coconut thinly on a lined cookie sheet and bake for 4-6 minutes or until golden brown on the edges. Set aside.
2. In a medium bowl, combine dry ingredients.  Set aside.  Zest orange. Set zest aside. Juice orange. Set juice aside.
3. Combine raw sugar and Greek yogurt in a large bowl. Add egg and orange juice. Stir well.  Add dry ingredients and stir until just combined.  Fold in coconut, cranberries, and orange zest.
4. Pour into a greased loaf pan. Bake for 50- 60 minutes or until a toothpick comes out clean. Store in an airtight container.