Sweet Onion Bell Pepper Pizza
½ bag of Pamela's Gluten Free Bread Mix (or an other pizza crust you
desire)
½ jar organic tomato sauce
1 large sweet onion
1 red pepper
1 orange bell pepper (or 2 x red pepper)
1 ½ Tbsp olive oil
1 Tbsp balsamic vinegar
2 cloves minced garlic
½ tsp agave nectar (or honey)
¼ tsp salt
¼ tsp black pepper
1 bag mozzarella Daiya cheese (or any other vegan cheese you have on
hand)
Nut Cheese
Recipe
1 cup soaked pinenuts (1 hour soaking time is perfect)
¼ cup nutritional yeast
1 Tbsp fresh lemon juice
¼ tsp salt
pinch of rosemary, thyme, and parsley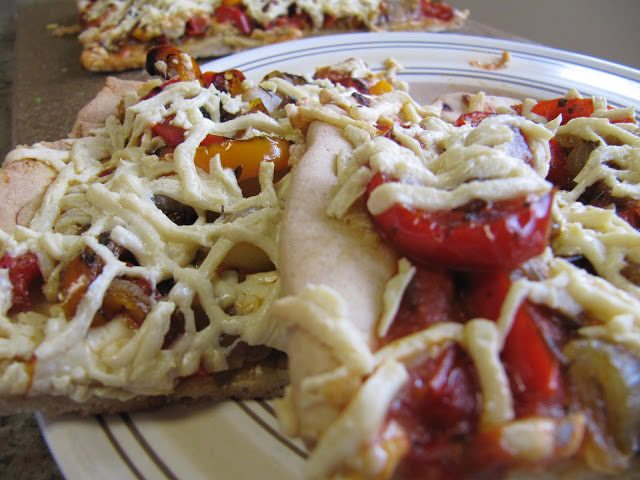 First, you'll want to prepare your pizza crust. If using Pamela's
Bread Mix, you'll want to cut the pizza crust recipe in half and
forgo the yeast. No need to add yeast as the crust will turn out
perfect without…thin, crunchy and delightful. It will take about 10
minutes in the oven. Remove once you see the edges are browning. You
can also use any other pizza crust you wish but Pamela's is the
healthiest and most delicious I've found though it does contain honey
for those on a strict vegan diet.
Slice the onions and bell peppers julienne style (long and thin).
Place into a skillet with the olive oil, balsamic vinegar, agave,
minced garlic, salt, and black pepper. Saute over a low heat. You are
going to caramelize the onions and peppers. The low heat will slowly
extract their natural sugars and create extremely flavorful veggies
perfect for adding some sweetness to the pizza. It will smell
amazing! The veggies will take about 15-20 minutes and will be done
when all water has been evaporated and the onions/peppers are soft
and sweet. You can remove a bit earlier if you want the veggies to
have a bit more crunch.
Prepare your nut cheese in a food processor by blending all the
ingredients: soaked pinenuts, nutritional yeast, lemon juice, salt
and herbs. Blend until smooth. Add to the pizza crust spreading to
the edges with your hands. It isn't the absolute easiest to spread so
do the best you can. Next, add a small layer of tomato sauce on top
the nut cheese. I layered about a 1 cm thick but you can add more if
you are feeling saucy! Next, add the caramelized onions and bell
peppers, sprinkle on your Daiya mozzarella cheese, toss in the oven
at 350F for about 10-15 minutes (until the cheese is completely
melted). Slice, serve, and enjoy the flavors. So good.