I stumbled on a Salt-Roasted Chicken recipe some 4 years ago. Since then, I've adapted it and cooked this again and again to raving reviews every time. My kids love eating it while I love the simplicity of making it. It's so easy it's unbelievable. For that reason alone, I make roast chicken every other week. I think everyone has their favourite roast chicken recipe, but this is my favourite hands down.
It starts off with just 1 chicken, 1 level spoon of salt and some garlic. Errr … and that's it. No oil, no herbs, no fancy-schmancy seasonings, nada. It's so effortless it's almost a sin to claim any credit!
The trick is to ensure that the chicken is really dry. After you wash the chicken, whip out those paper towels and pat, pat, pat! Salt the chicken including the cavity, then throw in as many garlic cloves as you can into the cavity before sealing with a toothpick. The garlic will perfume the entire bird while the salt works to dry up the skin to a crackling crisp.
You can truss the bird before roasting, but I normally don't. Face the bird breast side up, and roast in a 240 to 260 degree oven (I crank it up all the way to 260 for mine). After the juices run clear and the bird is nicely browned, let it cool for at least 15mins before serving. You need to let the juices redistribute within.
This is a good time to make the gravy. Using whatever juices and oils left in the roasting pan, add a rice bowl of chicken stock. Bring everything to a boil and add some diluted corn starch a minute before turning off the flame. This will thicken the gravy. Pour the gravy through a sieve to get rid of any charred bits.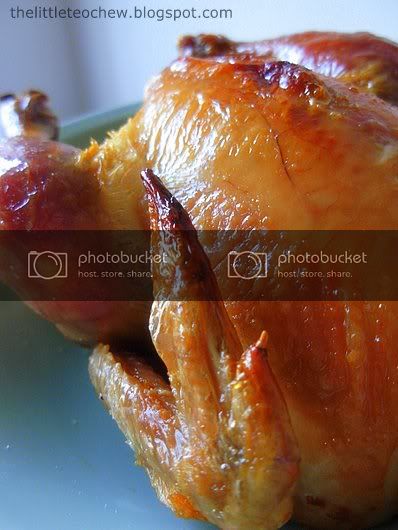 I usually throw in potatoes for roasting. BUT today, I madeGarlicky Oven Wedges, which oh, deserve a separate blog entry of their own!
The best part of this dish is, evidently, the eating. Tender, moist chicken that goes well with rice, potatoes, pasta or buns. It's versatile, easy and absolutely delish. The second best part of this dish is the garlic cloves which were sealed and "pressure cooked" inside the cavity. They are as creamy as potatoes and oh, so aromatic! Just pop them whole, out of their skins, and relish that mealiness. Pure bliss for garlic fanatics like me.
And yes, I am so in need of mints right now.
Recipe
(adapted fromhere)
– 1 whole chicken
– 1 tbs salt
– As many unpeeled cloves of garlic as you like
1. Wash the chicken.
2. Dry the chicken.
3. Salt the chicken, including cavity.
4. Throw in as many cloves of garlic as you like, into the cavity. Then seal with a toothpick.
5. Place the chicken breast side up, in a baking tray. Surround with potatoes* if you wish to make this a one-dish meal.
*For potatoes, it helps if you semi-cook them prior. Just cut into bite-sized chunks, drizzle very little oil and microwave them (covered) on high till they turn a little translucent around the edges. They will cook through during the roasting.
6. Roast for 50-60mins or until the juices run clear and the chicken has browned to a crisp.
7. Allow to cool for at least 15mins so that juices can re-distribute.
8. Make gravy using the residual juices in the roasting pan by adding 1 rice bowl of chicken stock. Bring to a bowl and add a little diluted corn starch to thicken. Sieve through to remove charred bits. Serve chicken with gravy on the side.