There are some things that I love about our more digitally connected world. I know that the massive amounts of information (often incorrect) and that the increasing absorption with social media can be negative, but I love the fact that the internet has allowed such creativity-sharing and idea spreading. I mean, some of the things that I see on Pinterest are just stunning. I love being able to see what clever people have come up with.
I see this in the food blogs I follow all the time, too. I've realized that I've never really named a lot of my favorite blogs (such as How Sweet It Is, PB And Peppers, and Pinch of Yum) but considering that I follow about 20 (including ABPetite, The Lemon Bowl, Healthy. Delicious., and The Curvy Carrot), it can be hard to feature how many times I am captivated by their creations. This past week, though, a certain recipe I found made me crave a sandwich all week long so I had to make my own variation!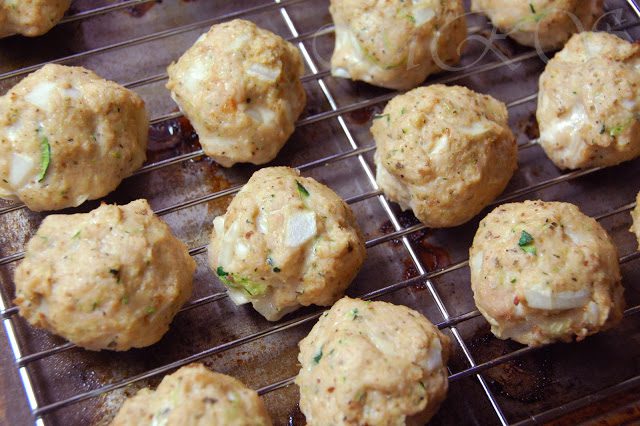 This recipe was inspired heavily by Iowa Girl Eats, which is an awesome lifestyle, food, and fitness blog that pretty much makes my day every time I see a post. Kristin makes the best looking food, and when I saw her Chicken Parm Meatball Subs I knew that I had to give my own version a try. 
The results were, no joke, fantastic! Don't let the turkey scare you away from this recipe: these meatballs are just as juicy and flavorful as ones made with beef. The meatballs are packed with the flavors of Italy, combining aromatic basil and oregano with bold garlic and the subtle sweetness of onion. Covered in a two-minute marinara sauce (yes, it's possible!) that has a hint of the complexity of balsamic vinegar, and then finiushed off with bubbling broiled cheese, these subs are addictive. Make sure to invest in good bread rolls, because the contrast between the meatballs and a nice, toasted, satisfying bite of bread is amazing. To quote my father: "The hardest part is eating just one."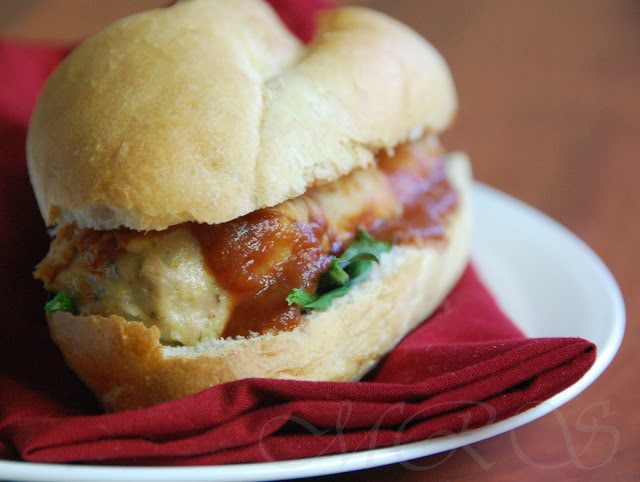 This recipe is a great way to feel as if you are eating a classic, and yet lacks many of the unhealthy elements of the traditional recipe. It's nearly impossible to tell the zucchini is there, which makes it a great sneaky health bonus. Plus, what's easier than just mixing up meatballs and baking them, then putting them on bread? These meatballs are definitely going to become part of my go-to foods!
Meatball Marinara Sandwiches
Adapted from Iowa Girl Eats' Chicken Parmesan Meatball Subs
Serves 5          Serving Size: one sandwich       Calories/serving: 418
Ingredients
Meatballs:
 1lb extra lean (99% fat free) ground turkey
1 small zucchini, grated (suggestion: grate the skin first, then the flesh)
1/3c. minced yellow onion
3 cloves garlic, grated
1 large egg
1tsp Italian seasoning
1/2tsp pepper
1/2tsp paprika
1/8tsp salt
2 (0.75 oz each) slices lower calorie whole wheat bread, ground into crumbs
Sauce
1 (8oz) can no salt added tomato sauce
1tbl Balsamic vinegar
1/2tsp salt
1/2tsp pepper
1/8tsp cinnamon
1/8tsp nutmeg
Other:
5 (2-oz each) French whole wheat bread rolls
Spinach (optional), amount of your preference
4oz (1c. grated) reduced fat cheese of your choice (I recommend mozzarella)
Instructions:
Preheat oven to 400F
In a medium bowl, combine turkey, zucchini, onion, garlic, egg, and spices. Mix with your hands, massaging it all together until very well-combined. Add in bread crumbs and mix until evenly distributed.
Form the meatballs into 15 even balls. Place them on a wire baking rack that has been coated with cooking spray, and put that on top of a baking pan to catch any drippings. Bake for approximately 20 minutes, or until cooked through (I cut one open to tell). Let cool for 2 minutes.
Meanwhile, combine the tomato sauce, spices, and vinegar in a medium bowl/cup. Heat, either on a stove top or in the microwave.
Turn your broiler on.
To make sandwiches, split open the rolls and tear out some of the inside soft bread in order to create a little cavity for the meatballs to sit in. Place on the spinach, if desired, and then 3 meatballs for each sandwich. Top each sandwich with 2bl of the marinara. Divide cheese evenly among the sandwiches. With the top bun off, broil the sandwiches until cheese melts and bubbles. 
Serve and enjoy!