Before I even begin writing anything, I just want to give a big shout out to everyone who has dropped by my blog these recent weeks. Thank you for reading. It makes me want to cook more, bake more, blog more. This blog is less than a month old, so it astounds me to see visitors from all over: London, Tasmania, Melbourne, Sydney, Texas, California and gulp, Tallinn (Estonia)! And to the few who emailed me with specific queries, I am just happy to share whatever I know. I am humbled. I truly am. Thank you so much! 😀
Alrighty then. Let's talk about bread-making, shall we? LOL. Having already conquered soft pretzels, I've became emboldened overnight! Yesterday, I had an afternoon freed up for baking because my daughter had school till late.
*rubs hands in glee*
I browsed around for something simpler to bake and quickly decided onthis. Oh my, I love these sweet buns you find at the bakery. Mmm, Mmm! And better still, this was sooo much easier to make! Now, WHY did I have to choose a complicated number for my maiden attempt?! Argh.
Anyhow, I managed to get the kneading part down pat pretty quick. None of that "quicksand" drama. In fact, everything moved very smoothly. Then the husband called to send me out on an errand. Which was just as well, because the dough had to be left to proof.
So I dragged the other 2 kids out with me for a little "detour" before I returned to do my "roadblock" 🙂 I love The Amazing Race and I am sooo glad Tammy & Victor won!!! *starts doing the happy dance* Ooops, sorry! I have a tendency to go off on a tangent 😛
Anyway, when we returned, the dough was nice and poofy. I made 8 rolls (of 60g each): 4 plain, 2 cheese and 2 cinnamon sugar. I used whatever was left over to make 1 hot dog roll for my son's teatime snack.
Tadah! Here they are: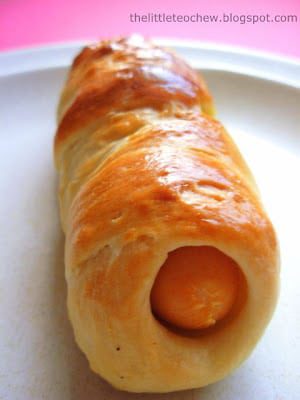 Sigh, my hot dog roll was a queer imitation of those you'd find in a Japanese bakery.
Still, it was wolfed down without complaints, so I reckon it must have tasted alright *grins*.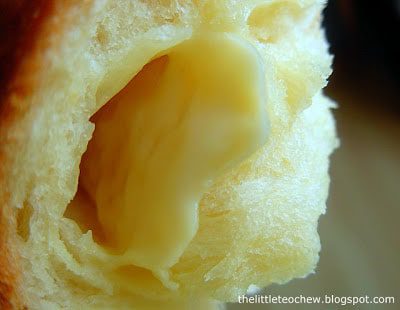 Overall, I was happy with the texture. In future, I will omit the egg wash because it makes the crust a bit too crisp for my liking. I prefer a softer crust, which I read can be achieved by brushing butter once out of the oven. Also, I am sorely lacking in the aesthetics department. The rolls looked so "rough around the edges" :/ Well, practice makes perfect. Which means, the provision store where I buy my bread won't be seeing me in the next few weeks!
Bakery Style Sweet Buns
(makes around nine 60g portions)
Recipe fromhere
– 150g bread flour
– 150g cake flour
– 5g active dry yeast
– 3g salt
– 125g milk
– 1 egg
– 60g caster sugar
– 50g butter
– 1 egg, beaten, for glazing (which I shall omit from now)
1. Mix all dry ingredients in a mixing bowl. Add in milk, egg and butter. Mix into a dough.
2. Place the dough on a lightly floured work surface. Knead the dough until the gluten is fully developed (see tip below) and the dough is elastic, smooth and non-sticky. It will take about 25 mins to knead the dough by hand. Initially the dough will stick on to the work surface. Do not be tempted to add more flour or even give up kneading! After continuous kneading, the dough will no longer stick to the work surface.
3. Place the dough in the mixing bowl and cover with a damp towel or cling wrap to seal in the moisture. Allow the dough to proof until double in bulk. This will take about 1hr in Singapore weather. To test whether the dough has been fully proofed, press a finger into the dough and withdraw quickly. It should leave a deep impression and spring back very slowly. For an insufficiently proofed dough, the impression will spring back instantly.
4. Take out the dough and punch out the gas produced. Let the dough rest for about 15mins.
5. Divide the dough into 60g portions. Shape and add fillings as desired. Arrange dough in a greased or lined pan. Rest for about another 15mins.
6. Brush the top with whole egg mixture*. Add almond flakes on the top of the buns, as desired.
* I prefer to brush with butter because it gives a softer crust.
7. Bake for about 15mins in a preheated oven at 190 degree celsius. Remove from pan and cool on wire rack.
Tip:
To check whether the dough is fully developed, take a small piece of the dough and stretch it with your fingers. If it can be stretched into a thin layer without tearing easily, the dough is fully developed.