In honor of Valentine's Day, I am posting about my love.  Pizza!  I love creating homemade pizzas with different combinations of toppings.  This one is truly a hearty winter pizza using the best seasonal produce.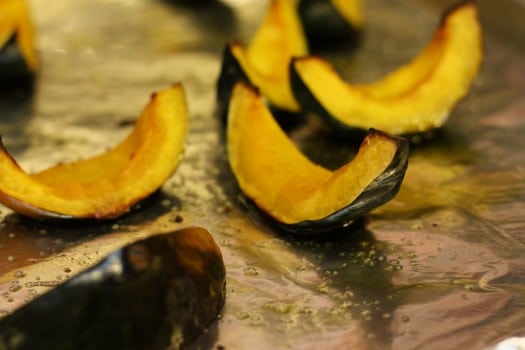 Oh, and it has pine nuts.  I love pine nuts.  This pizza has pine nuts.  Make it for your love tonight.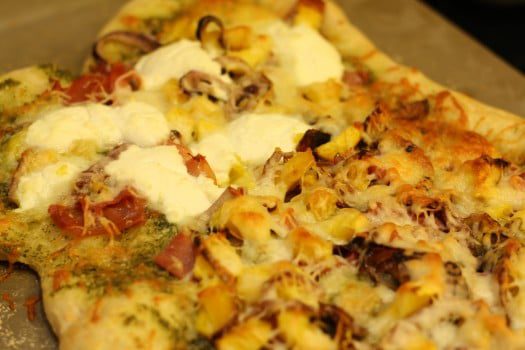 Can you tell which side is mine and which side is my other love's?
Oh and do yourself a favor and buy yourself a bag of pizza dough from your grocery store or local pizza place.  It tastes much better than the Pillsbury stuff and much easier than homemade.
Cook: Roasted Acorn Squash Pizza
Ingredients
1 acorn squash
drizzle of olive oil
salt and pepper
1/2 red onion, sliced
1 batch refrigerated pizza dough, at room temperature
cornmeal
pesto (enough to spread on the dough, about 1/2 cup)
1 package of prosciutto, torn into pieces
1 bag mozzarella cheese
1/2 cup ricotta cheese for the cheese lovers
Preheat the oven to 425 degrees.
Cut the acorn squash in half and remove the pulp.
Cut the squash into wedges and place on a foil lined baking sheet.
Drizzle squash with olive oil, salt and pepper.
Roast squash until edges begin to brown, about 20 minutes.
Remove from oven, allow to cool slightly, and cut squash into bite size pieces.
While squash is roasting, in a small frying pan, add olive oil and red onions and cook over medium-low heat until the onions begin to caramelize.
Remove onions from pan and add pine nuts. Over low heat, toast pine nuts until golden brown.
Stretch pizza dough and place on cornmeal lined pizza stone.
Spread desired amount of pesto over dough.
Sprinkle squash, pine nuts, torn prosciutto, and onions over pesto.
Sprinkle with mozzarella cheese and dollop with ricotta cheese.
Bake in 425 degree oven for about 20 minutes or until the crust is golden brown.