One of the first things Chris said was that the flavors were good and the golden raisins were a really nice touch. As for me, I thought this dish was wonderful, and loved how it made our kitchen smell heavenly. The green onion, almond, raisin, cilantro mixture especially blew me away. Once that was on the stove I started getting really excited. I didn't have a rotisserie chicken, but roasted some drumsticks instead. If you do have a rotisserie chicken, this recipe will come together incredible quickly. Once everything is chopped and prepped, the cooking time is under 10 minutes! The one and only "complaint" I have with this recipe is that it's difficult to keep everything hot until you serve it. If you know me at all you know I like hot dishes to be really hot and cold dishes ice cold, no in between. It obviously didn't bother me too much, but next time I make this I will try and see if I can do a better job at keeping things at a warmer temperature. The original recipe also says that it serves 4, though I think it's closer to 3 servings.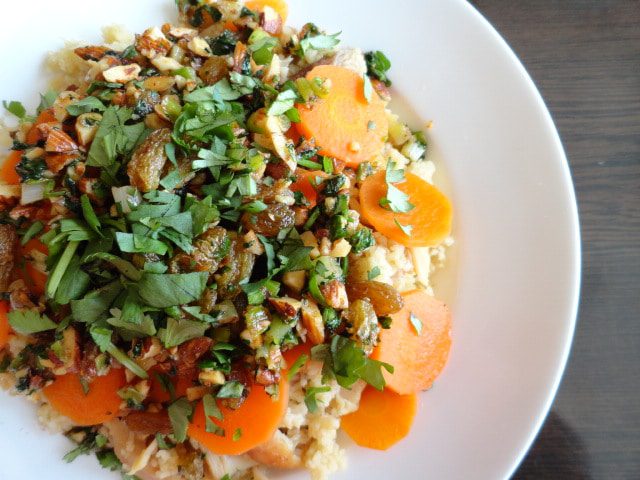 Spiced Couscous with Chicken
Adapted fromFood Network Magazine
Ingredients
3/4 teaspoon ground cinnamon
1 teaspoon ground ginger
1 teaspoon salt
1/2 teaspoon freshly ground pepper
4 medium carrots, thinly sliced
1 cup couscous
2 cups coarsely shredded rotisserie chicken (or roast chicken)
3 tablespoons unsalted butter (I did half butter, half olive oil)
1/2 cup chopped or sliced almonds
1/4 cup golden raisins
4 scallions, white and light green parts only, roughly chopped
1/2 cup roughly chopped fresh cilantro, plus more for topping
Directions
Bring 2 1/2 cups water to a boil in medium saucepan over medium-high heat. Add 1/2 teaspoon cinnamon, the ginger, salt, and pepper. Add the carrots and cook until crisp-tender, 3-4 minutes. Drain the carrots, reserving the cooking liquid.
Put the couscous and the chicken in a medium bowl; pour 1 cup of the hot cooking liquid on top (I made sure it was still at a boil by the time I needed it). Stir, then cover tightly with plastic wrap and let sit 5 minutes. Fluff the couscous with a fork.
Meanwhile, melt the butter in a medium skillet over medium-high heat. Add the almonds, raisins, scallions, and the remaining 1/4 teaspoon cinnamon. Cook, stirring, until the nuts are toasted, 2 to 3 minutes. Stir in the cilantro.
Divide the couscous and the chicken among bowls. Top with the carrots and more of the cooking liquid. Sprinkle with the almond mixture and garnish with fresh cilantro.