I remember the first time I was introduced to spaghetti squash.  At first, I just didn't get it.  "Wait, so there is a squash that's like spaghetti??"  But then I bought one, and cooked it.Spaghetti squash are an oblong variety of winter squash with seeds in the center, varying in size, and usually yellow in color.  What's interesting about winter squash is they are actually grown in the summer but tend to be consumed in the fall or winter time, thus "winter squash".  And believe me, they are very easy to grow – just ask my mother (this summer when I came home, her garden was taken over by her spaghetti squash plants)!

Spaghetti squash will also keep for a few months if properly stored in a cool dark place, like a pantry.  Of course, like most healthier foods, the nutritional value does begin to decrease the moment they are picked so though they will last, it is best to consume them right away.

Spaghetti squash have a distinct flavor, lighter than other squash though, with a sweet, yet nutty crunch to it.  Probably the most important thing I can say though, is that it does not in fact taste anything like spaghetti.  So if someone told you that it does in an effort to make you try it, sorry to break the news to you, but they lied.  While spaghetti squash is a great alternative to pastas, I will never say that it actually tastes like pasta.  I mean let's be realistic, it's a vegetable.

Now on to the important stuff – how do you cook this thing??  While there are actually quite a few ways you can cook a spaghetti squash [I'm honestly not sure you can go wrong], I do have a favorite. First thing you gotta do, is find a man.

No, I mean really.  Have you seen this thing?  Let me tell you, it is not easy to cut.  Probably because I should be using a different knife, but that's beside the point.
Anyway, after you get it cut open, you'll see it pretty much looks like a pumpkin on the inside.  And just like a pumpkin, you'll want to scoop out all of the seeds.  You can actually even roast the seeds as well if you'd like.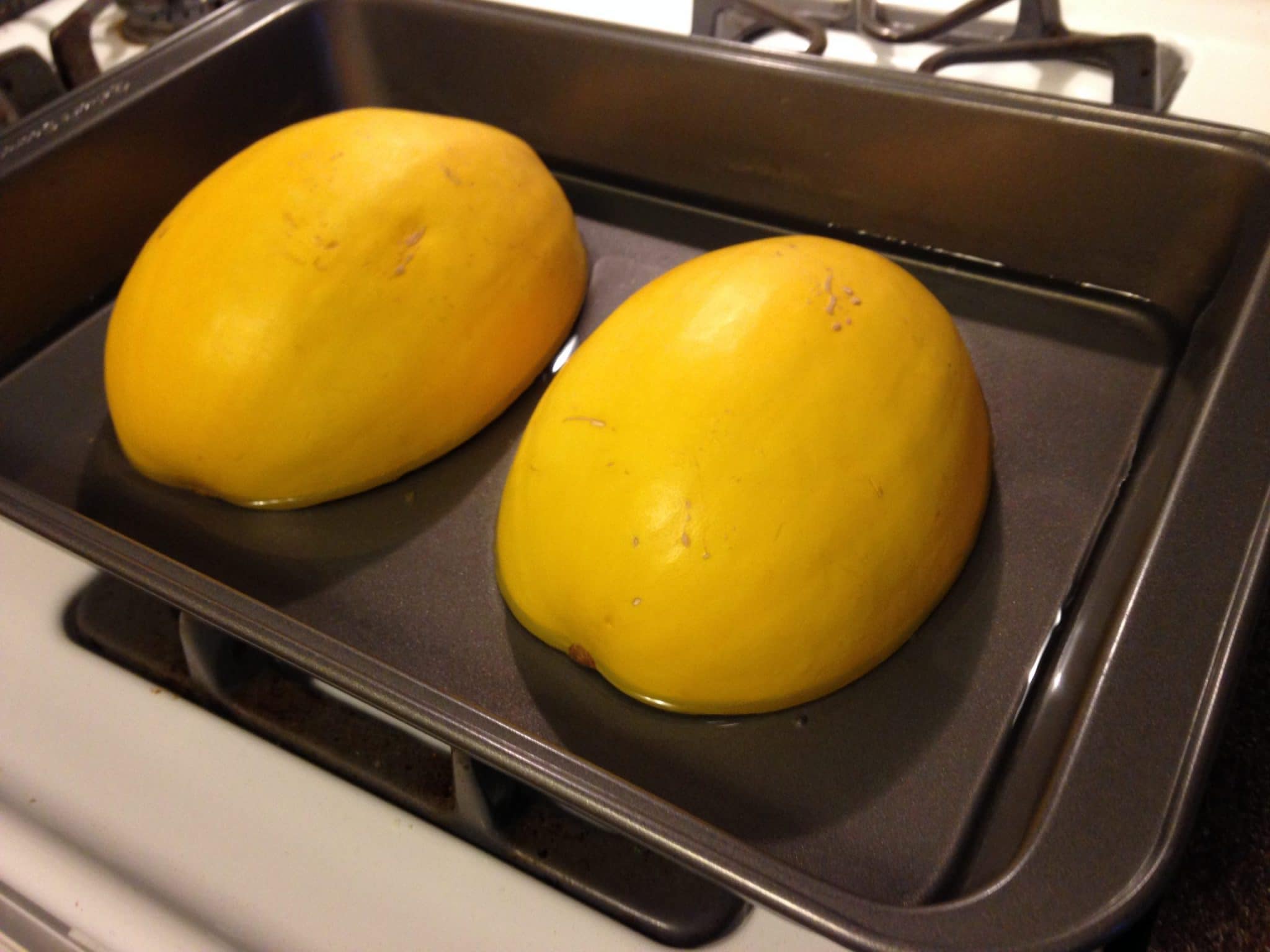 Once you've cleaned out the inside, place the squash face down on a baking sheet or pan.  Pour in enough water to cover the bottom up to about 1/4 inch.  Then cover the dish completely with foil.  Bake the spaghetti squash at 375 degrees for 30-35 minutes and then remove the foil to cook for another 5-10 minutes.
Depending on the size of the squash, I have honestly cooked mine anywhere from 30-60 minutes, but it will also depend on your preference.  I personally prefer it a little crunchier but also enjoy cooking it this way to keep the squash moist.  You can cook it longer and have much softer, but still perfectly delicious, squash.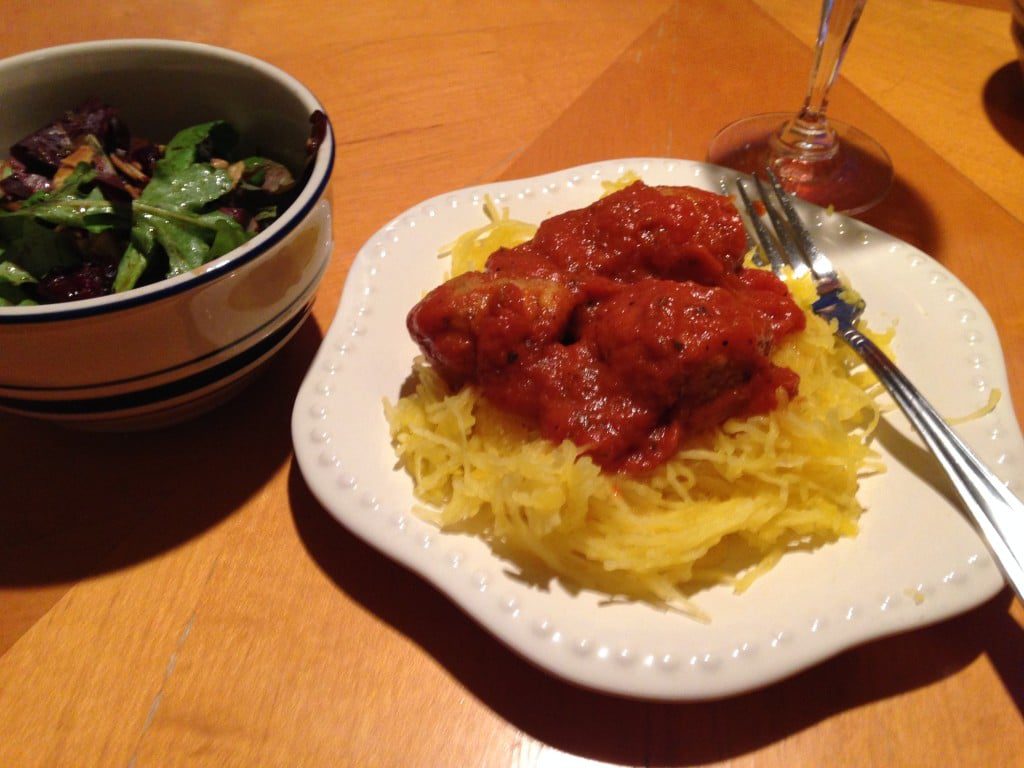 Once the squash is done you'll be able to pull away the strands from it's shell very easily with a fork.  Make sure you handle the halves with a pot holder though, as they will be very hot.
At this point, there are a million things you can do with your squash!  Some of my favorite simple dinners are marinara with turkey meatballs; or mixed with chicken, broccoli, olive oil and a little parmesan.  Yum!
Now that we've reviewed the basics, expect more recipes and delicious ways to enjoy spaghetti squash in the near future 😉