Here's a quick, simple everyday dish for you. I recently saw this salad at inSing. It's a recipe from Pauline D Loh, who happens to be one of my favourite food writers. I am always on the lookout for delicious vegetarian dishes, and this one caught my attention with the way it was delightfully described.
It uses firm tofu as the base ingredient, that is "cubed, lightly fried and tossed in a spicy sweet onion-based sambal. Add a colourful sprinkle of sweet corn, red peppers and fresh snow peas and you have a spicy, sweet and crunchy fresh-tasting treat that will make you forget it's all vegetarian."
Besides, with a schnazzy name like Spicy Tofu Confetti Salad, I was instantly sold.
However, as I am not too fond of raw bell peppers and snow peas, I decided to do a version with cooked veggies instead, essentially dropping the "salad" from the recipe.
This was whipped up in minutes with mySambal Tumis. See what I mean when I say ready-made pastes are a lifesaver on busy days? I used whatever ingredients I had on hand – firm tofu (tau kwa), frozen peas, red bell pepper and tempeh.
Indeed, you can use any type of veggies you want, like corn, carrots, potatoes, tomatoes, and so on. Just make sure you cube everything in as equal sizes as you possibly can, and cook every ingredient individually before mixing them up with the sambal in the final stage.
Love this dish! I will definitely be making this again.
Recipe
(adapted from inSing)
Serves 4
– 2 tbsp Sambal Tumis*
– 2 pieces firm tofu (tau kwa), cut into 2cm cubes
– 2 pieces tempeh, cut into 2 cm cubes
– 1 red bell pepper, cut into 2 cm cubes
– Frozen peas, rinsed (as much as you like)
Other options:
– Sweet corn kernels
– Carrots
– Potatoes
– Tomatoes
* If you do not have sambal tumis, this is the recipe for the sauce:
– 1 tbsp chilli paste
– 4 shallots
– 2 cloves garlic
– 1 tbsp honey
– 1 tsp salt
Process chilli paste, skinned shallots and garlic cloves into a fine puree. Heat up a little oil in a non-stick pan and fry the paste till fragrant. Season to taste with honey and salt. Cool to room temperature.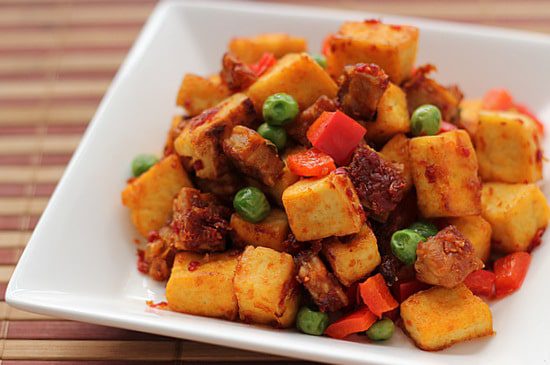 1. In a clean frying pan, heat up some vegetable oil and fry tofu cubes until they are lightly golden on all sides. Be patient, and use a medium fire to make sure the tofu is tender inside but nice and crisp outside. Remove tofu from the pan and set aside.
2. Fry bell pepper till just cooked (but not too soft). Remove from pan and set aside.
3. Fry tempeh till crispy. Return tofu and bell pepper to the pan, throw in frozen peas, add Sambal Tumis and fry to coat everything. If it is too dry, add 1 or 2 tbsps of water.
4. Taste test. Add salt and/or sugar if required. Done! 🙂