All kids love pizza, well, except for me. I never really loved pizza growing up. (Feel free to gasp now.) At birthday parties, I would eat a slice because that was what was being served, but what I was really excited for would be the ice cream cake- and that still hasn't changed.
Many years have passed since my bowling and movie party days, and somewhere in between I was diagnosed with gluten intolerance. Knowing that I couldn't have pizza for some reason made me desire it more. I started to create my own modified versions of pizza and as I was making an omelet one day it hit me, why not use eggs as my base?!
This healthified pizza is packed with protein, low in carbs, and totally customizable. It is super easy to whip up for a quick dinner/lunch any time of the week and uses items you probably already have hanging out in your fridge and pantry.
Oh and it's delicious and 100% male approved.
Ingredients:
1 whole egg plus ½ cup egg whites or ¾ cup just egg whites
¼ teaspoon each of garlic powder, oregano & dried basil
1 tablespoon Parmesan/nutritional yeast
Salt & pepper to taste
3 tablespoons marina or my green marinara (could swap for pesto)
1-2 tablespoons shredded cheese of choice/nutritional yeast
¼ cup spinach/any other leafy green
Chopped vegetables or other add ons of choice
Directions:
Whisk together eggs with spices and Parmesan/nutritional yeast.

Heat a medium saute pan over a medium flame and cover with olive oil spray. Once thoroughly heated, pour eggs into the pan.
As if making an omelet, use a spatula to to push cooked edges towards the center while allowing the uncooked eggs to move outwards.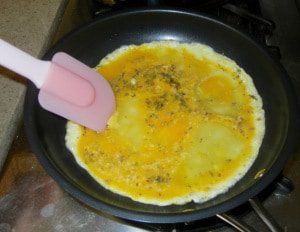 When the eggs are almost cooked, top the egg crust with your sauce cheese, spinach and other veggies of choice.
Cover pan with a lid for about 1 minute until cheese melts and spinach wilts.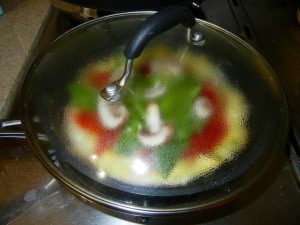 Slice up as you would a normal pizza and munch away!