Whoa, what's with the fancy name – is what you must be thinking?  Don't worry – spaghetti alla chitarra is just a type of noodle, translated it means guitar spaghetti.  It has a distinctive shape and is traditionally passed through a chitarra instrument, which looks like a frame strung with music wire. So long story short, this is just spaghetti pie.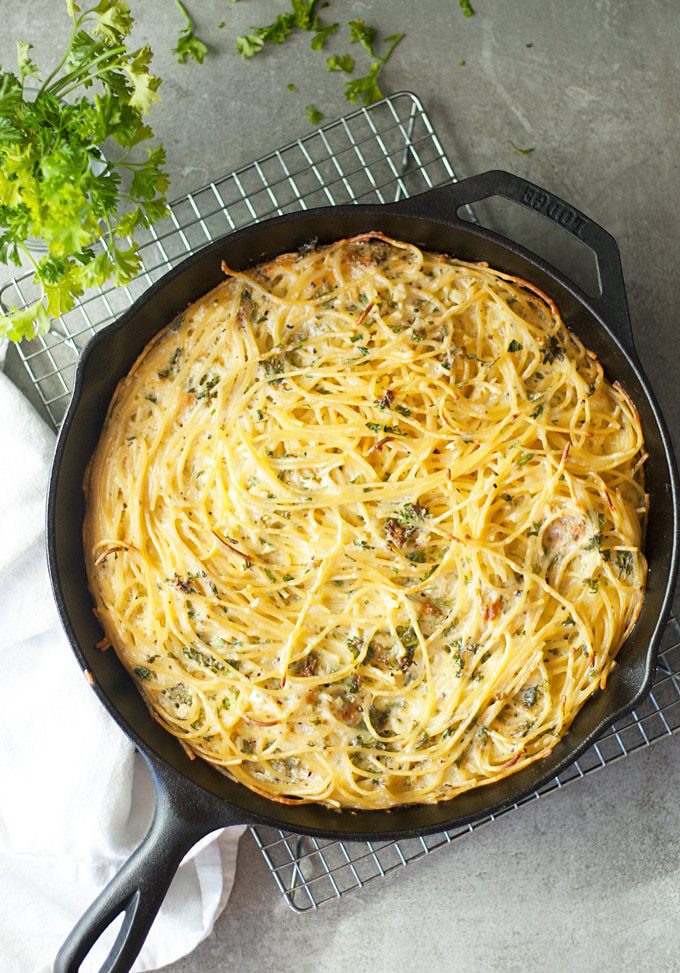 But not ANY spaghetti pie, a spaghetti pie that's noodles are tossed in cream and butter, garlic and parsley.  There's rich olive oil and lots of Parmesan cheese.  It's everything you dream of when you're craving a delicious, hearty Italian dinner.  It's like your mom's recipe, but with a modern, scrumptious twist.  You know what it really is… it's just good!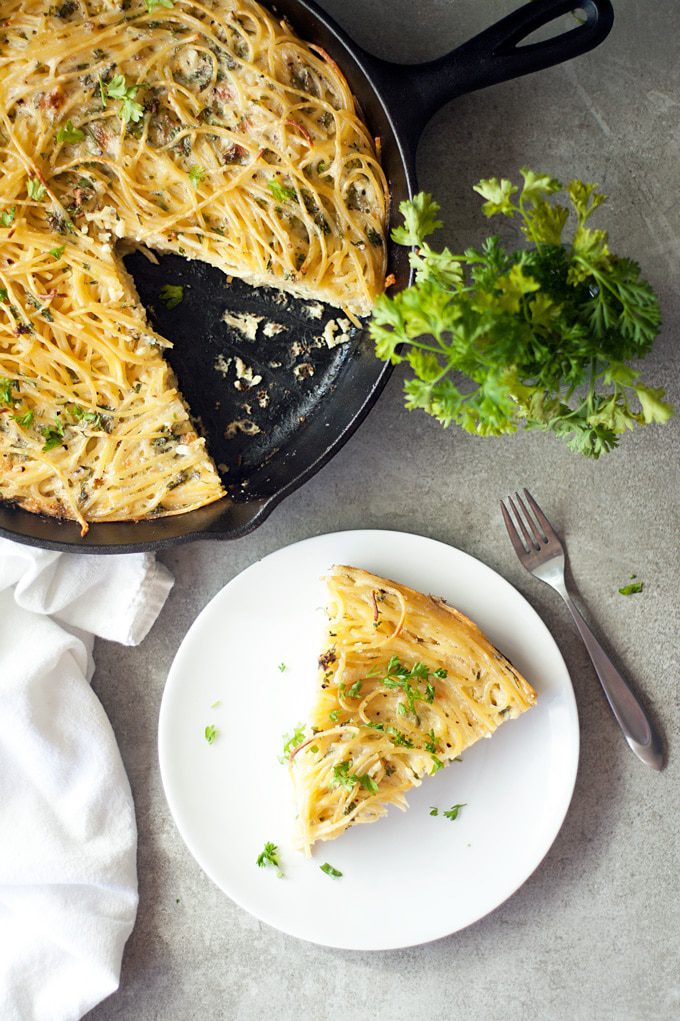 This spaghetti alla chitarra pie is baked in a cast-iron skillet and finished under a broiler so that you get wonderful crunchy texture on top, but the inside remains perfectly tender.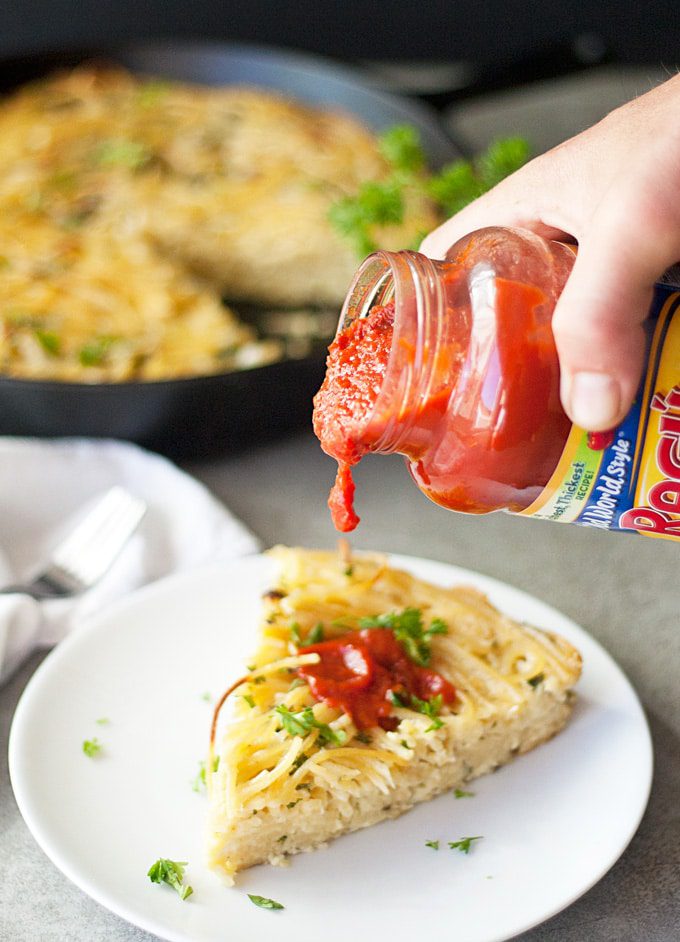 And what better way to top this than with a delicious, warmed marinara sauce.  I used Ragu's Traditional Pasta Sauce, it's a brand my family has used for  years (my mom makes a killer stuffed shell with this sauce), and it's a perfect compliment to this already delicious dish.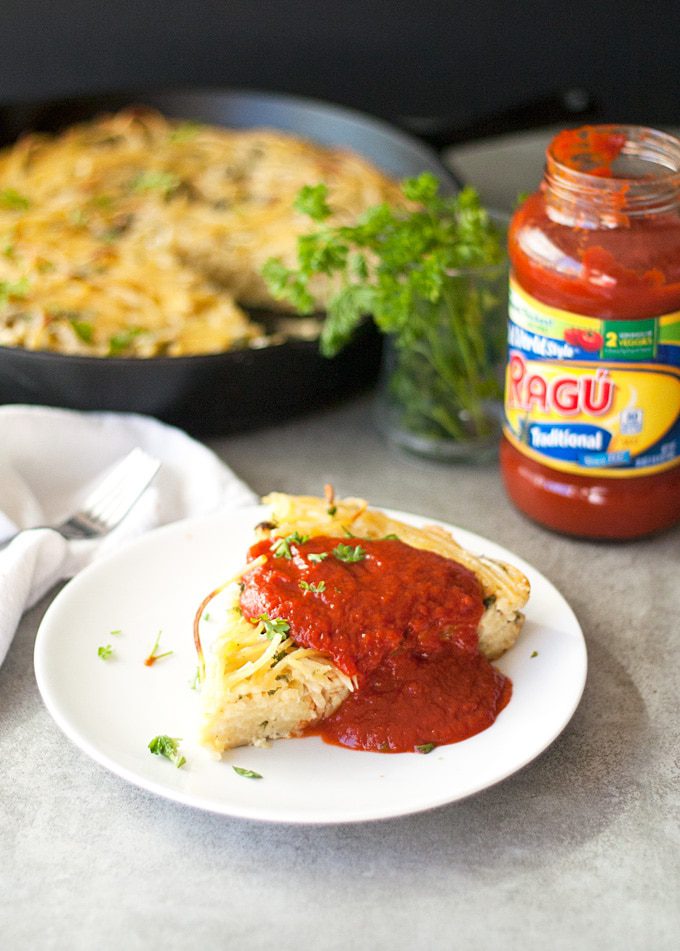 And feel free to make this with any spaghetti noodles.  I used spaghetti alla chitarra because it's a little heartier and holds sauce well, but a bucatini or fettuccini noodles would also be perfect.  Bon appetit!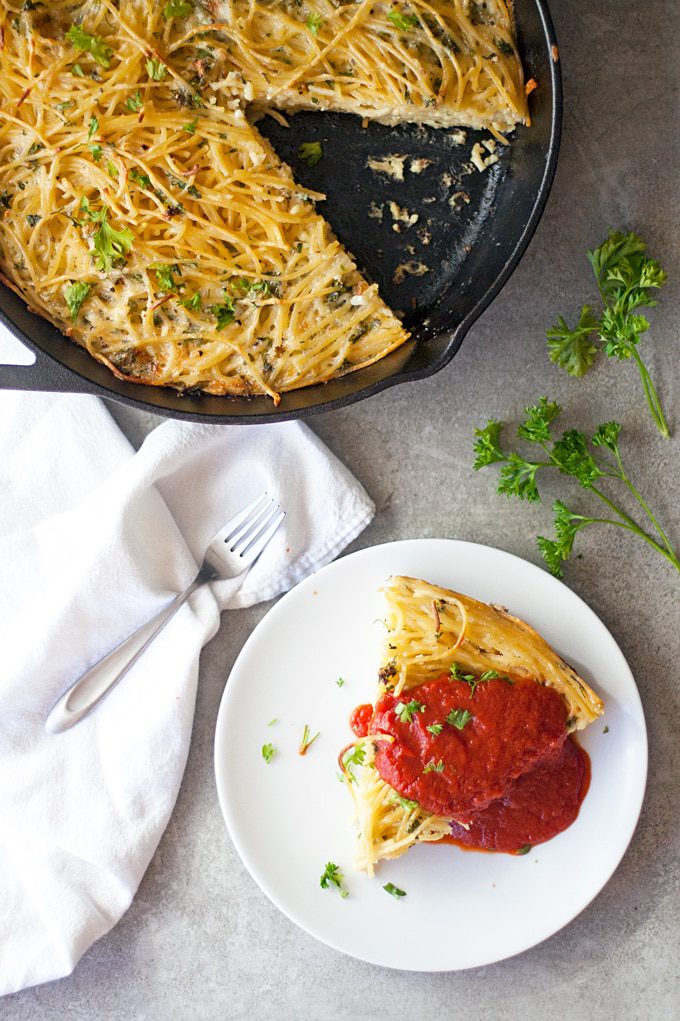 ingredients
1 pound spaghetti alla chitarra pasta
4 tablespoons unsalted butter, melted and cooled to room temperature
6 large eggs, beaten
1 1.2 cups freshly grated Parmigiano- Reggiano cheese
¾ cup heavy whipping cream
⅓ cup chopped fresh parsley
⅓ cup extra virgin olive oil
3 cloves garlic, finely minced
1 tablespoon freshly ground pepper
2 teaspoons kosher salt
warm Ragu Traditional Sauce, for serving
Instructions
Preheat oven to 375 degrees F. Lightly grease a 10-inch cast iron skillet and set aside.
In a large pot of salted boiling water, cook pasta until al dente. Read package for cooking times.
Drain and run under cold water to stop cooking. Drain well.
In a large bowl, whisk together butter, beaten eggs, cheese, cream, parsley, olive oil, garlic, pepper and salt.
Add the pasta and toss to coat thoroughly.
Scape into the prepared skillet and bake for about 30 minutes, or until just set. Remove from oven.
Preheat the broiler. Broil the pie 6-inches from the heat until golden, about 5 minutes.
Transfer to a rack and let cool for about 10 minutes before cutting into wedges.
Serve with warm Ragu.