Before I'm posting this recipe, maybe I'll have to put up the warning sign. It is a formula that going to condemn you at the bottom of the oven waiting for the most crispy and exotic crackers to come out. Once you try this, there is no turning back, it is seriously addictive!
Savoury rice crackers are very light, thin and as crispy as chips. It is vegetarian, gluten free and the most important part is, it is very easy to make.
I started making rice crackers at home, since I've discovered the suspicious amount of MSG in my favourite rice cracker packages. Making rice crackers at home not only help me to avoid MSG and too much sodium but also allow me to play with the flavours in the crispy textures.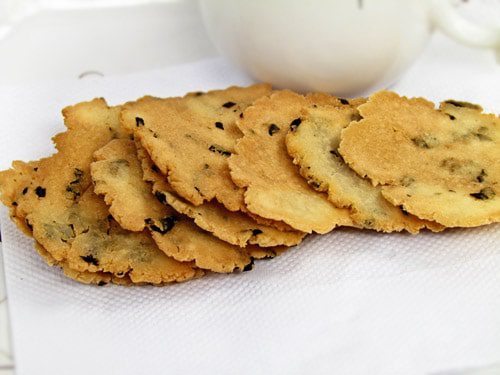 This Japanese inspired rice cracker with Nori (seaweed) is very crunchy and flavourful. It makes a good appetizers or snacks and keeps your casual get-together party going. When I was in Thailand, my book club friends demanded me bringing freshly baked rice crackers along every time. They flow smoothly in the party, and they're also very good with kids.
Coarsely chopped nori added a wonderful flavour and exciting textures to the crispy crackers. It was so subtle and perfect.
Rice Cracker with Nori

Ingredients (make about 30-35 crackers)

1 1/2 cup rice flour

2 tsp baking powder (use gluten free if you want the recipe to be gluten free)

1 cup boiling water

1 tbsp oil

1 tsp sesame oil

1/2 tsp salt or to taste

1/4 cup chopped Nori

Preparation:

Sift flour and baking in the mixing bowl, add salt, and stir well.
Add boiling water and stir to form stiff dough. Let the dough to cool down, add oil and sesame oil, and knead for 3 minutes. Add Nori and knead further for another1 minute.
Divide the dough into 30-35 parts and roll each part into thin sheets.
Bake the rice flour sheets in the preheated oven at 180 degree C for 5 minutes, then increase the heat to 220 degree C and bake further for 3-5 minutes or until golden brown. Remove from the oven, let it cool, and serve.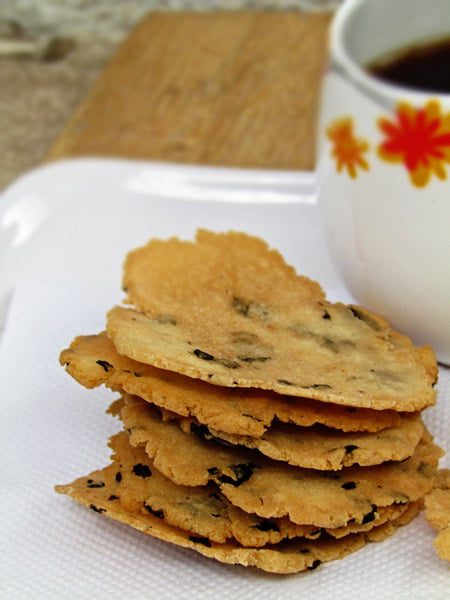 These crackers were super crispy and crunchy. Yaseen came back from school just in time I pulled the second batch out of the oven. He kept munching on these seaweed crackers like a little caterpillar gobbled on the green leaves. The whole tray of crackers was vanished in no time. He told me to bake this again tomorrow…with sticky, honey and soy glaze.
Have a beautiful day,