Ingredients: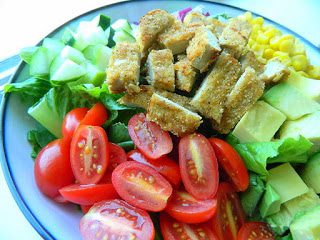 3-4 cups chopped romaine lettuce
½ cup cherry tomatoes, halved
5-6 chicken tender strips (I used Gardein, but you can use
Boca nuggets or you can make your own!)
½ of a large avocado
¼ cup red onion, diced small
½ cup cucumber, diced
½ cup corn
Optional Toppings: tortilla chips, Mexican cheese, salsa,
black beans
Honey Cilantro
Dressing:
½ cup fresh cilantro
¼ cup plain Greek yogurt
1 clove garlic, minced
1 ½ tbsp lime juice
¼ tsp cumin
1 tbsp honey
pinch of salt
1/8 cup of olive oil
½ tbsp apple cider vinegar
Notes: To make this
dressing vegan, you can substitute the Greek yogurt for ½ of an avocado and
substitute agave for the honey.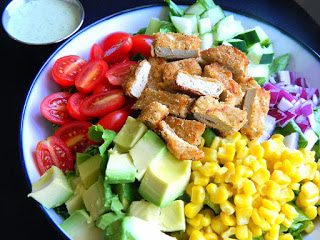 Instructions:
Prepare chicken strips as directed and set aside. You could
also cook a grilled chicken breast and cut it up into strips.
Make the dressing. Combine cilantro, greek yogurt, garlic,
lime juice, cumin, honey and salt in a food processor or blender. Pulse/blend
for about 15 seconds. Then add the apple cider vinegar and half of the olive oil.
Pulse again. Stir and add the other half of the olive oil. Taste the dressing –
this dressing is a little sweeter, so if you want more savory/spice, add salt
or cumin. The dressing should be easy to pour, so if it is thick, add more
olive oil.
Assemble the salad. Put romaine lettuce in a large bowl. Add
tomatoes, red onion, cucumber, corn, avocado and chicken strips. Pour dressing
over the top and toss.