I'm very thankful to Mother Nature for
providing mankind with two of the best things in the world, joint winners with
hair straighteners – dates and bananas. Not only do they taste diiiilicious as
they are, you can also turn them into whatever the hell you want, from syrup to
cakey things to egg substitutes to healthy caramel to generic baking usefulness
(!), and all you need, if anything, is a (beloved) blender. High five Mother
Nature! The following is a banana and date feast, in the form of a vegan banana
cake with date caramel filling. It tastes good, it's moist and sweet, it could
be worse for you, and it looks proper, doesn't it. Sponsored by Mother Nature.
Notes: This
recipe makes two 10 cm/4" mini cakes (which I sandwiched), but you can double
the recipe (for the cake, but also caramel filling) and adjust the cooking time
to 30-35 minutes if you want to make a bigger one. It means double cake feast.
DATE CARAMEL BANANA SANDWICH CAKE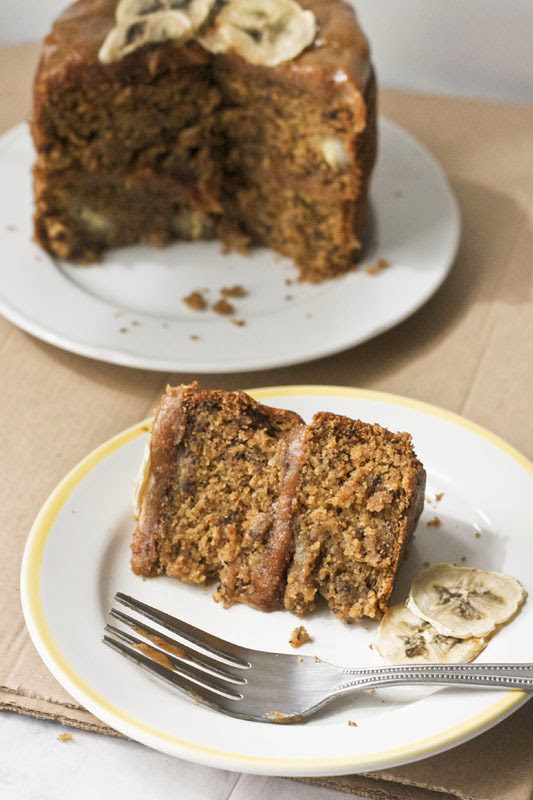 125g (1 cup) wholemeal self-raising flour
½ teaspoon baking powder
½ teaspoon bicarbonate of soda
75g (heaped 1/3 cup) soft brown sugar
125ml (1/2 cup+1 tablespoon) soya milk or
other non-dairy milk
50ml (scant ¼ cup) coconut oil, melted, or
other flavourless oil
2 over-ripe small bananas, mashed
1 teaspoon vanilla extract
Date caramel:
160g (1 cup) dates, pitted
60g (1/4 cup) coconut oil
½ teaspoon vanilla extract
Preheat the oven to 180°C (350°F) and
lightly grease your cake tin(s). In a bowl, sift in the flour, add sugar(s),
baking powder and bicarbonate of soda and mix well. In a separate bowl, mix
together milk, melted coconut oil, mashed bananas (I left a few bigger chunks)
and vanilla extract. Add the wet ingredients to the dry and mix together until
combined. Pour the batter into the tin(s) and bake for 20 minutes or until a
skewer inserted into the centre comes out clean. Cool in the tin on a cooling
rack for about 10 minutes, then take out of the tin and leave to cool
completely. In the meantime, make the date caramel. Simply blend pitted dates,
coconut oil and vanilla extract together until everything is thoroughly
combined and has a thick caramel-like consistency. Add a bit of water if the mixture
is too thick. Once the cake has completely cooled, spread half the caramel on
top of one layer, then place the other on top. Spread the remaining half on top
of the cake. If the caramel has solidified a bit, just warm it up and it'll be
easier to spread. Decorate with banana chips if you like, then serve and worship
Mother Nature for providing us with bananas and dates, foods of deities.