My little cookie monster was so upset that I was baking only breads and not cookies for him. So I wanted to make a simple yet different cookie that he'll enjoy. Sometimes simple foods are the ones that are more satisfying. This recipe needs only four ingredients and can be whipped in just about 30 minutes to surprise anyone or to snack on with tea/coffee. I was very much surprised to read (Southern Living's Best Loved Cookies) that these cookies are a big attraction at the annual Kolache Festival conducted every year at Caldwell, Texas. This event has been going on for more than 20 years and is proudly hosted by the descendants of early Czechoslovakian immigrants to Central Texas. The cookies were indeed very tasty and the cookie box that I kept ready to store the cookies was unused as these cookies just didn't make it to the box. My kids were so happy with the crunchy taste of the cookie with the flavorful burst of jam tucked inside these cute little treats. What do you think? Isn't it so easy to make?

Ingredients:

Softened butter or margarine — 1/2 cup

Softened Cream Cheese (3 oz package) — 1

All purpose flour — 1 1/4 cups

Strawberry Jam — about 1/2 cup

Method:

1. Beat butter and cream cheese at medium speed with an electric mixer until creamy. Add flour to butter mixture and beat well and form a soft dough. (Note: If you find that your flour and butter mixture are little dry, use few tablespoons of milk to make a soft dough).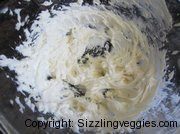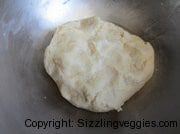 2. Roll the dough in to 1/8 inch thick and cut with a 2 1/2 or 3 inch round cookie cutter (I used a small katori to cut the rounds). Place on parchment paper lined cookie sheet. Spoon 1/4 tsp jam on each cookie. Pinch opposite edges together and press lightly on the center.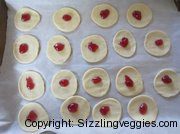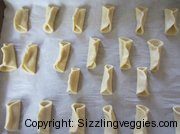 3. Bake at 375F for 15 minutes. Remove and let it cool. Enjoy!!!
Note:
1. As a variation any type of Jam can be substituted for strawberry jam.
2. A pinch of salt can be added to the dough to make the sweetness of the jam to stand out more.