It's finally here. Christmas has been lurking around every shop, street and home since Halloween. Designed to bring friends and family together in happiness, filled with laughter, music and selfless giving.  It seems this year that companies have been milking this 'christmas spirit' for all their worth: Starbucks has released their red cups and christmas coffee blend, Facebook is tailoring adverts based on your gift browsing, Sainsbury's exploited the traumatic events of WW1…all in an attempt to get us to spend more money. Unfortunately, it's working. A recent poll revealed that British people spend more at christmas time than any other European country,  and last year we faced the most post-christmas debt.
I don't mean to put a downer on this, I love christmas as much as the next person. But we don't need to buy hundreds of pounds worth of presents, food and decorations to enjoy it. My family have a tradition of playing football ever year (kids vs. adults, though kids are now almost all over the age of 18). I don't think I've ever laughed so hard the year my dog accidentally saved the deciding goal by bouncing it off his head.  My memories of trudging out with everyone in the rain, sun or snow are invaluable.
I know it's cliche to say that christmas is about family and not consumerism,  but now that's actually backed with psychological evidence. Families of different cultures were assessed to see what brings the most happiness around christmas. More happiness was reported when family experiences were salient, and lower well-being occurred when spending money and receiving gifts predominated. The materialistic aspects of modern Christmas celebrations may happiness and leave us in debt for 2015.
It's very easy to say all this, but hard to follow through with when the pressure to spend money in order to feel christmasy is enormous. Professors at the University of Oxford are here to help- they've compiled a list of tips to psychologically improve the spirit and taste of your christmas meal. By making a few sensory alternations, cooks can spend less time and money but still provide a christmas dinner that'll make their guests feel like you're meal is more expensive and festive. 
1. Use heavy cutlery and glasses: This is a great way to improve the percieved cost and quality of food. Heavier items trick guests into thinking that food or wine is better quality, so is a cost-effective way of improving the meal.
2. Changing the colour of the plate can change the perception of food :For example, presenting dessert on a white plate makes it taste sweeter. Alternatively, serving on a red plate sends unconscious warning signs to the brain so can help us eat less if you want to reduce portion size.
3. Promote a sense of Christmas through smell: waft cinnamon/pine smells or light a candle. Candles will also improve the ambiance and make the occasion feel special.
4. Play carols or classical music: This heightens the sense of importance and make people enjoy the food more
5. Make the food look pretty: Take care in presentation rather than dumping it on the plate to help the meal to look more expensive and better quality. For example, people tend to like symmetry on the plate.
Here's a super cheap and healthy twist on classic christmas stuffing that still tastes like christmas on a plate!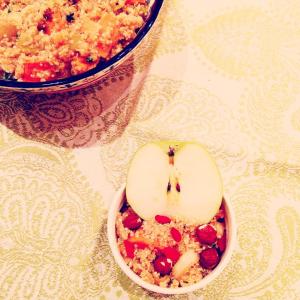 Ingredients
2 cups (200g) quinoa
2 cups vegetable stock
coconut oil
3 large apples
2 sweet potatoes
2 tablespoons honey
1 cup cranberries
2 chopped white onions
2-4 sprigs of Sage
2-4 thyme of Sage
teaspoon cinnamon
teaspoon ginger
1 tablespoon lemon juice
1 tablespoon soy sauce
1 cup chopped hazelnuts
1. Rinse quinoa. Combine with 2 cups boiling veg stock and simmer for 20mins until quinoa is fluffy.
2. Meanwhile, Preheat oven to 200. Chop the apples and sweet potato into small cubes. Toss with lemon juice, honey, coconut oil, cinnamon and  ginger. Roast for 30-40 mins until soft.
3. Soften the onions in a frying pan with coconut oil for 10mins, until tender. Add honey, thyme, sage, soy sauce and season well.
4. Combine the quinoa with the liquid mixture in a large bowl. Add in the roasted mixture, cranberries and hazelnuts.  Fold in thyme and hazelnuts. Season well.