Second pasta meal this week.  It was that kind of week, I suppose.  This recipe was super delicious and quick to boot!  I cannot express more nice it is to whip something together in about 20 minutes.  I think it took longer to bring the water to boil for the cheese filled pasta than it did to saute everything together and serve it up piping hot for me and my Fireman.

This is another one that you can mix and match veggies and protein. The tomato cream sauce is pretty basic- tomatoes and cream cheese.  I chose to use the 1/3 less fat cream cheese and the extra flavor from the fire roasted tomatoes brings this meal to a whole other level.

The leftovers are in the fridge now and it's taking everything I have not to go eat them for breakfast.

Nom!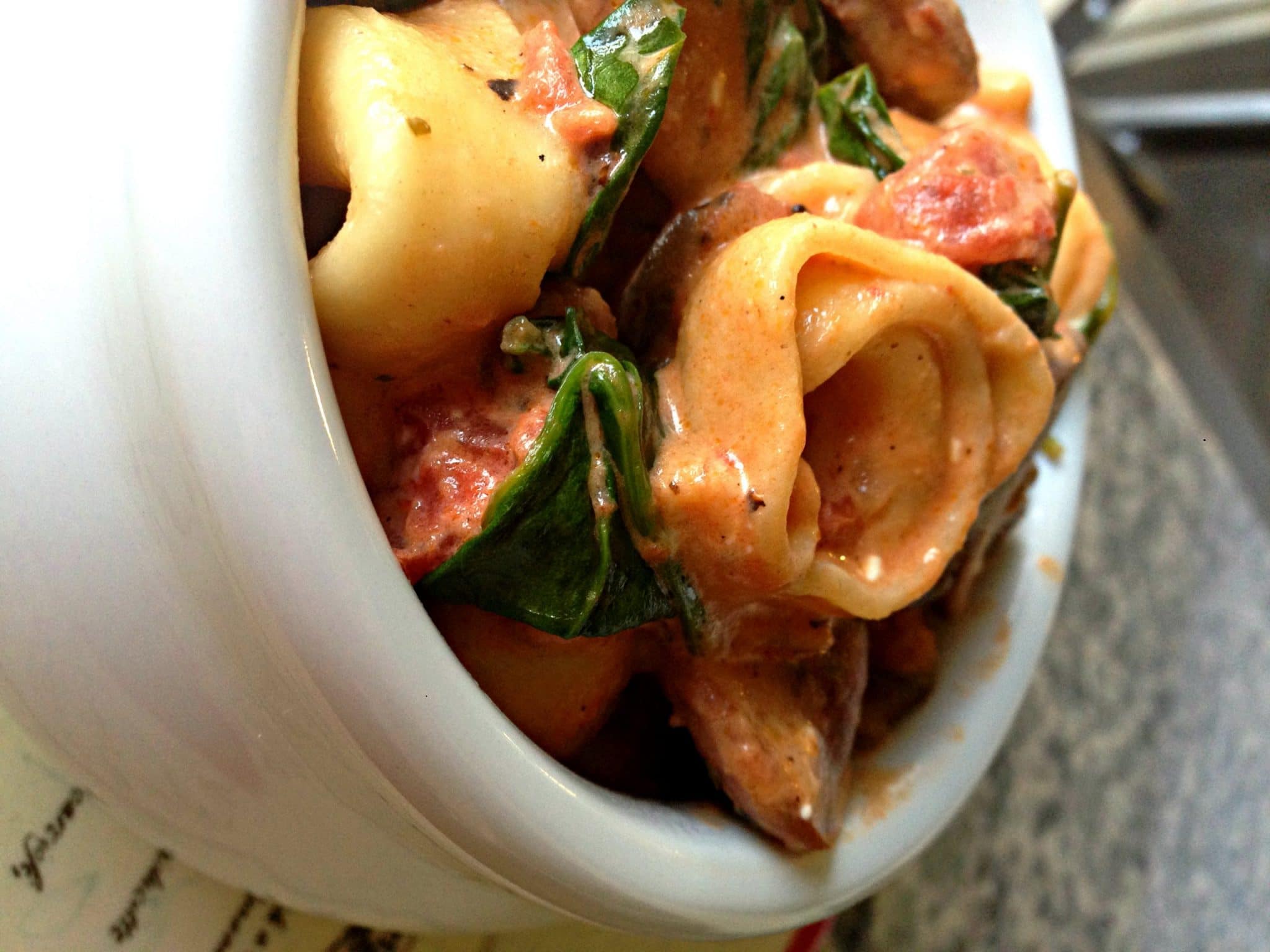 Creamy Tomato & Sausage Tortellini
Adapted from Taste of Home
Ingredients
1 (19 ounce) package frozen cheese tortellini
1 tablespoon olive oil
1/2 teaspoon black pepper
1/4 teaspoon kosher salt
1 medium yellow onion, diced
1 (8 ounce) package sliced baby bella mushrooms
2 fully cooked Italian chicken sausage links (3 ounces each), sliced
1 can (14-1/2 ounces) fire roasted diced tomatoes with garlic, undrained
1 (8oz) can tomato sauce
1 package (6 ounces) fresh baby spinach
4 ounces reduced-fat cream cheese
1/2 cup shaved parmesan cheese
Instructions
Cook tortellini according to package directions.
Meanwhile, in a large nonstick skillet coated with cooking spray, heat olive oil. Add in mushrooms and onion and cook 4-5 minutes until onion is golden and the mushrooms begin to brown. Season with salt and pepper. Stir in sliced sausage and cook over medium-high heat 4-5 minutes or until browned. Add tomatoes, tomato sauce, and spinach; cook and stir just until spinach is wilted. Stir in cream cheese until melted.
Drain tortellini; add to sausage mixture. Toss to combine.
Serve with parmesan cheese if desired.