Sometimes you find yourself facing one of thosecheesecake situations; and sometimes bucketfuls of cashews, or Londonfuls of them, give
you a stomach ache that makes you question your chances of survival, and you
consider tofu instead, and remote islands, or give it a Japanese twist and go
for seaweed powder and loss in translation, or perhaps yoghurt or coconut oil
or frozen bananas or cauliflower or the Land of Oz; and the options are so many
and the fear of the unset so
unbearable and you're almost tempted to sack it off altogether and sit on the
kitchen counter and eat sprinkles on toast until further notice; and in the end
you find yourself whipping up cheesecakes out of millet and dates and peanut
butter just for practice, and when you head to
the fridge and casually grab a slice and eat it, your surprise could almost equal that of a little kid whose flying house accidentally squashes a wicked witch to death, as, geographical metaphors aside, you come to the realisation you've just made the best
cheesecake you've ever had, and it's fair to say you've had a few.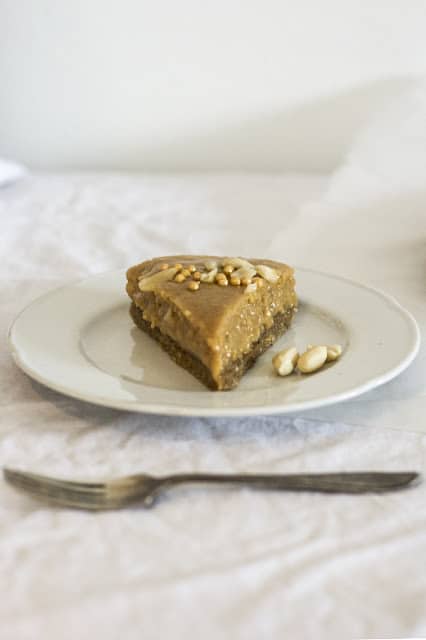 Filling:
150g (3/4 cup) uncooked millet
480ml (2 cups) apple juice or water
90g (1/2 cup) soft brown sugar
200g (3/4 cup) peanut butter, melted
60ml (1/4 cup) maple syrup
2 tablespoons lemon juice
seeds of one vanilla pod
Crust:
200g (1 ½ cup) peanuts 
120g (3/4 cup) dates
2 tablespoons peanut flour, or cocoa powder
1/4 teaspoon salt
Start by cooking the millet. Place the groats in a pan over
medium heat with the apple juice or water, cover, bring to a boil and cook for
about 30 minutes, or until all the liquid is absorbed. Leave to cool.
For the crust, blitz the peanuts in a blender until roughly ground.
Add dates and blitz again until well combined and sticky. Lastly add in the peanut
flour/cocoa powder and salt and process until combined. Place the mixture into
a 20cm/8" cake tin, pressing it down evenly and firmly to cover the base.
Transfer the tin to the fridge whilst you prepare the filling.
Blitz the brown sugar in a blender until powdered. Add
cooked millet, melted peanut butter, maple syrup, lemon juice and vanilla seeds
and process until smooth and creamy. Pour the filling over the crust and top
with chopped peanuts and sugar things for added prettiness if you like. Return
to the fridge for a few hours to set. Slice and serve.