Khanom Jeen is a local fast food dish in Thailand. It's sold from 4 in the morning till midnight… well, these days maybe 24 hours in some night markets. It's my one of favorite food since childhood. Khanom Jeen is fermented rice noodle with curry. The curries can be made with fish or chicken. During my school years, I had this often as breakfast. It was sold for 2 Baht. So cheap and so good. I would pick up a set of Khanom Jeen on my way to school, eating it on my 20 minutes walk to classes.  You might be wondering how I ate it on the go when the dish containing so much curry. Usually, a set of Khanom Jeen is packed in plastic bags, one for noodle and fresh veggies and another one for curry. The bags are tied together with a rubber band. To eat it, I would pour the curry from another bag into the noodle bag, fasten the bag with the same rubber band, shake vigorously to mix them together, bit into one side of the plastic bag, and eat it. Seems so messy? Not really. It's so fun to do that. I even want to that these days when I make Khanom Jeen.
During the village festival, my mom would make a lot of Khanom Jeen. In the rich curry, there would be tender pieces of chicken with the skin and bones— that's how it's supposed to be. The aroma of fresh herbs swirls in the house, even spreading to our neighbors' homes. The curry sauce is savory and creamy with coconut cream and fat floating on top. The noodle was bought from the market early morning. It's still soft and warm. The vegetable from our garden, basil, cabbage, string beans and fresh bean sprouts, were served on the side.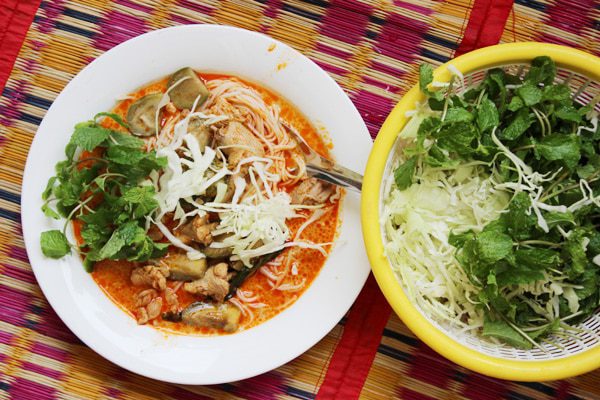 Khanom Jeen
Ingredients (4 servings)
200 gm Khanom Jeen Noodle- cooked as per the package instruction (you can use angel hair pasta or rice noodle)
500 gm chicken (with bones and skin) – sliced
50 gm Thai red curry paste
A handle of sliced Thai wild ginger (Krachai) – optional
Few kaffir lime leaves
Some fresh basil
1 cup thick coconut cream
3 cup coconut milk
1 tbsp fish sauce or to taste
1 1/2 tsp sugar
1 tbsp oil
Fresh mint leaves, basil, sliced fresh white cabbage, bean sprout, chopped string beans— for garnishing
Direction
Heat oil in the large pot over the medium heat. Add curry paste and fry until fragrant.
Add chicken and stir for 2 minutes, then add coconut milk and bring to boil.
Add wild ginger and kaffir lime leaves. Simmer until the chicken is tender.
Add fish sauce and sugar, and check the seasoning.
Add coconut cream and cook further until the curry is about to boil. Add basil and turn off the heat.
To serve, place the cooked noodle in the bowl, add the curry sauce and garnish with fresh side vegetables and herbs. Serve hot.
Love,