Sometimes I wonder what everyone else thinks about on any given day.  In fact, lately I've been writing blog posts and then thinking about writing them from John's point of view.  My blog would go something like, these didn't go as planned.  And John's would probably be something like, I ran into the kitchen after hearing a loud scream from Dani.  She looked at me wild-eyed and for a moment I was scared.  But then I saw she had no knife in her hand so I cautiously approached her.  Turns out she screwed up a cookie recipe, again, by thinking she knew best. So yes, I screwed up this recipe.  But the screw-up was a wonderful delight in and of itself.  That still counts, right?
After I went to Curtis Stone's book signing where he gave these cookies to you as you waited for your 5 minute brush with fame (I joke, but not really).  They were so delicious I started looking for a way to make them as soon as possible without John thinking I was a weirdo (meaning, I had to wait more than a day). The day finally came with Administrative Professionals Day…sorta.  We celebrated our admin a day early since he was just promoted.  He is still our admin but he no longer is named such.  He is now an "associate" so we thought it fitting to give him his own special day.  The one problem?  When everyone gets together, there is just silence, as if no one knows what to do and since I was the one who organized our admin's party, everyone was staring at me!
And, of course, since everyone at work knows about my cooking contest hobby, my boss from across the room asked if these were a personal recipe.  So I told the story probably exaggerating but trying to fill the silence until I could stuff people's mouths full of cookies and get the heck out.  I toasted the pecans while making the dough because I like to be efficient with my time.  But, when I took the pecans out of the oven and stirred them in, I neglected to think about what happens with chocolate and 400 degree nuts.  Not those kind of nuts – do you put them in the oven?!  Anyway, pecans are too expensive to go back out and buy some more so we made do.  They still tasted delicious and were a great texture so I'm happy to share my adaptation with you; you'll have to get your own cookbook in order to make Curtis' signature cookies!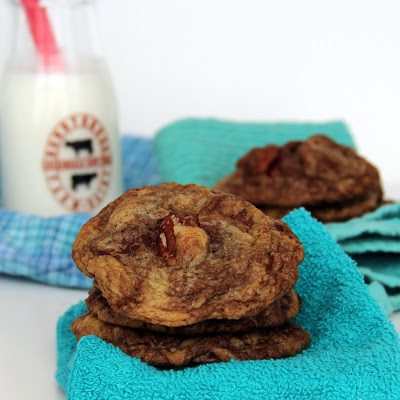 Chocolate Swirl Pecan Cookies (adapted from Curtis Stone's Cookbook:  "What's For Dinner?")
Serves:  18 people (36 cookies)
2 cups pecan halves
2 sticks salted butter, room temperature
3/4 cup sugar
3/4 cup light brown sugar
2 eggs
2 teaspoons vanilla extract
2 cups flour
1 teaspoon baking soda
1 1/2 cups 60% cacao chocolate chips (bittersweet chocolate)
Preheat the oven to 375 degrees F.  Arrange the pecans on a large cookie sheet in a single layer.  Bake for 10 minutes, stirring once or twice, until fragrant.  Remove from the oven.
Meanwhile, in a large bowl, beat butter, sugar, and brown sugar together for 3-5 minutes until a pale yellow and creamy.  Add the vanilla and eggs and beat well.  Slowly beat in the flour and baking soda until just combined.  Stir in the chocolate chips and warmed pecans and mix until just fully incorporated.  Note that the chocolate chips will melt slightly and add to the "swirl" effect of the cookies.  Using about 1/4 cup of dough, roll the dough into a ball and then place onto cookie sheets.  The cookies will spread so place 6-10 on a cookie sheet, depending on size, to avoid cookies from overlapping.  Bake the cookies 12-15 minutes, until the tops and edges are golden but the centers are soft.  Remove from oven and let cool.  Store in an airtight container for up to 5 days.
Curtis says these are best warm, and I agree every cookie is better right out of the oven…but there's no oven at work unfortunately and no one complained!  Serve them at room temperature and they'll be just a big of a hit!
Until the next time my oven is on…