I have been going hard at the gym this week. I did two hours of water classes this morning to the point where my skin screamed a definitive "NO!" to the chlorine and my arms now refuse to function normally. Why am I doing this? It's almost summer and I'm trying not to put ON weight. Why am I gaining weight? Trying to get this recipe just right.
I have eaten at least one pan by myself during the trial and error process over the past few days. Maybe more. I've kind of lost count. And part of me doesn't care because they're delicious. I sent the remains to work with Paul because these little guys are so light, moist and delicious they disappear before you know what's happening!
Even though I don't live an intentionally gluten free life, I have had a lot of fun working on recipes that are gluten free. The way my Black Bean Brownie recipe has been spreading is kind of amazing. Hundreds of people look at it every day. I know that's not the kind of numbers that big-time bloggers hit, but to me it's just incredible. And I want to say thank you.
Thank you for reading, thank you for cooking and baking along with me, and thank you for coming back! These are for you…
I don't have much experience with blondies. The few that I've had (before this week) were really dry and crumbly and just lacking the magic of a brownie. I'm so glad I gave these a try. This is not the dry blondie of my past. This is a moist, cake like dessert that has a sweet nutty flavor and tons of chocolate throughout. And oh yeah, they're gluten free! Whippy white beans are the base of this baked good, there is no flour involved. If you are aBlack Bean Brownie fan, these will be right up your alley.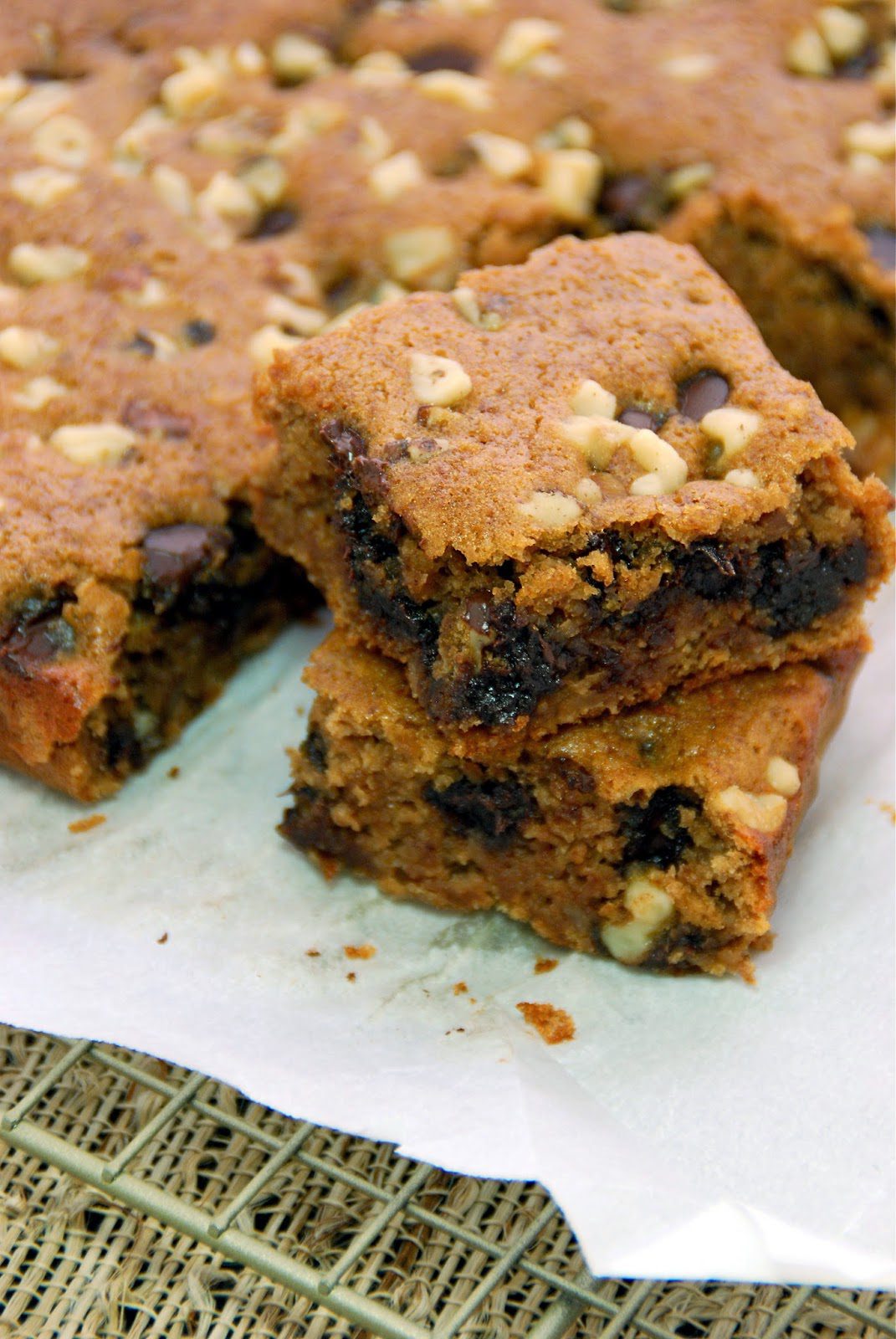 White Bean Blondies
by New to the Table
Total Time: 45 minutes
Yield: one 8″x 8″ pan
Ingredients
1 15.5 oz can white beans (cannellini), drained and rinsed well
2 tbsp canola oil
2 eggs
1 egg yolk
1 cup ground walnuts (pulse walnuts in food processor)
2/3 cup brown sugar, lightly packed
1 tsp baking powder
1 tsp vanilla extract
1/2 cup semisweet chocolate chips
1/3 cup chopped walnuts
Preheat oven to 350º and line a square baking pan with parchment paper.
Place white beans and oil in a food processor (a blender can work too) and puree until light and fluffy. Stop several times to scrape the sides. You know you've done it right when it looks like vanilla frosting.
In a medium bowl combine whipped beans, eggs, yolk, sugar, baking powder, and vanilla and whisk until well combined and sugar is dissolved. Stir in ground walnuts.
Pour mixture into prepared pan. Sprinkle chocolate chips and chopped walnuts evenly into the batter. Don't neglect your edges!
Bake for 35-40 minutes. Let coolCOMPLETELY in the pan. Slice up and enjoy!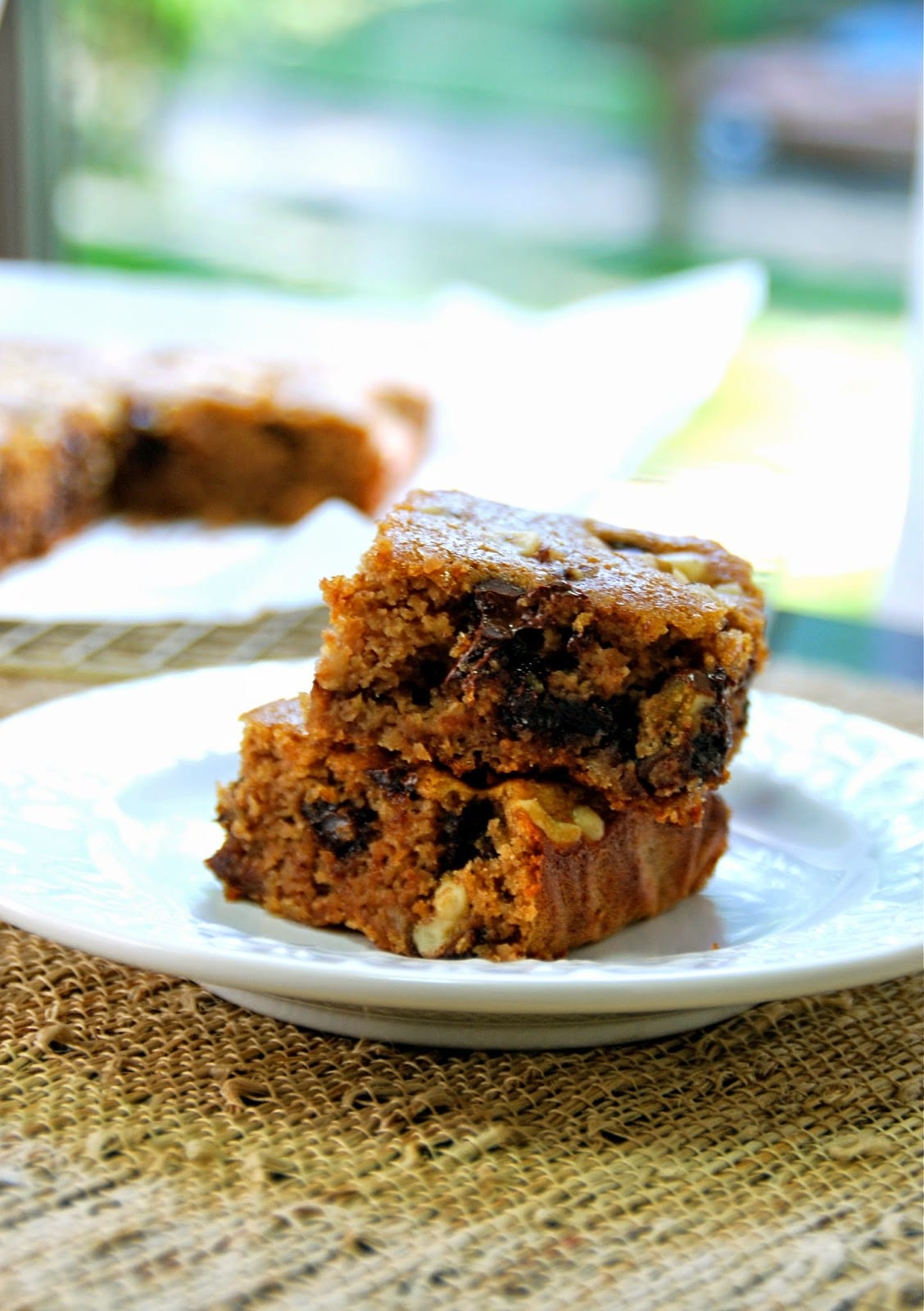 I found it easiest to cut these into 16 pieces, and the stats below are for one serving when cut that way.
Please let me know what you think!
Thank you for stopping by and I hope to see you again soon.