Anything handheld that is also a dessert is alright in my book – right?!  If you're not a regular reader of the blog (first off -why?!?!), but secondly – you don't know about my crazy love affair with strawberries and how one almost tried to kill me.  If you do want to learn about our love affair, you can check that out here, here and here.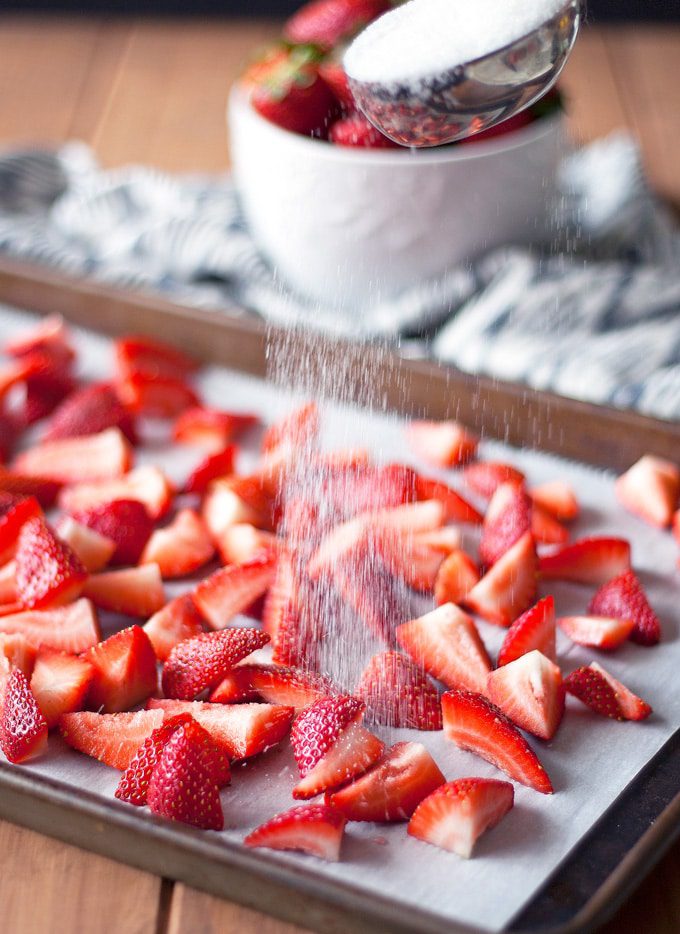 If you're also wondering why I'm getting such beautiful strawberries in March, well that's southern California for you.  Beside the insane cost of housing and miserable traffic, it's a pretty awesome place to hang out.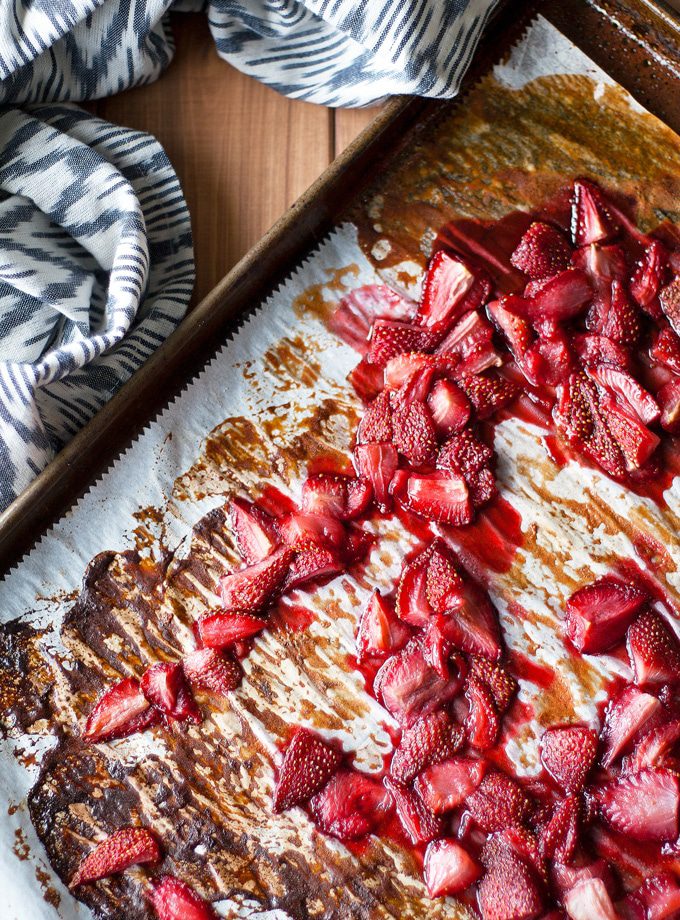 I tried a blood orange curd hand pie earlier this year and it was a horrible disaster, basically the curd just melted into the dough and it was a sad, empty pie.  I threw out the blood orange curd and decided to go with fruit, but I just didn't want to do ANY fruit.  I wanted to do some deliciously roasted strawberries stuffed into a crusty and flakey heart shaped hand pie.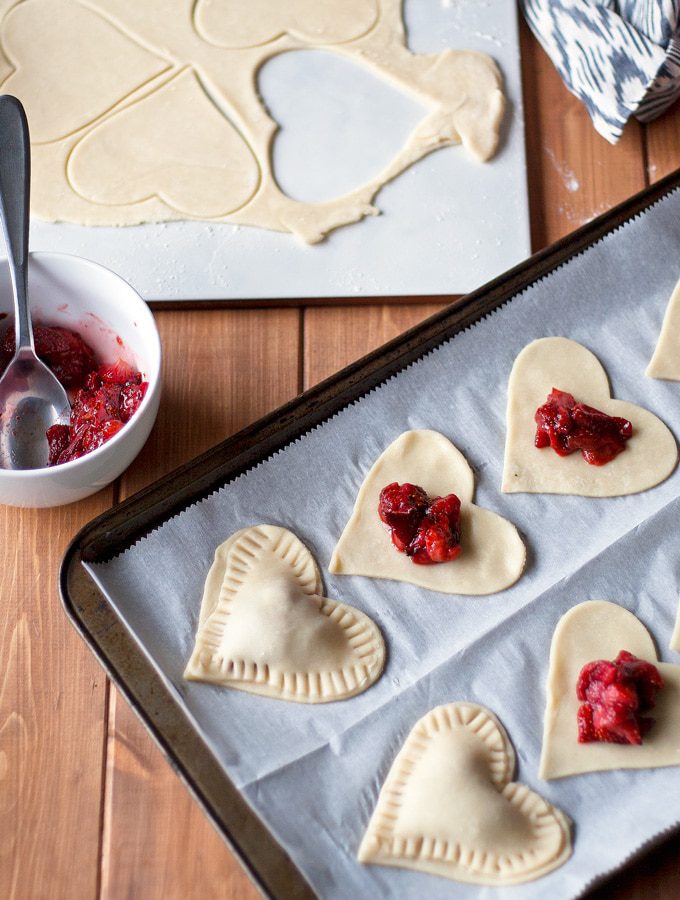 Roasted strawberries really elevate the flavor and basically take your strawberries from delicious into crazy good, tastes just like jam, perfect pie filling.  Oh, and your whole house will smell amazing.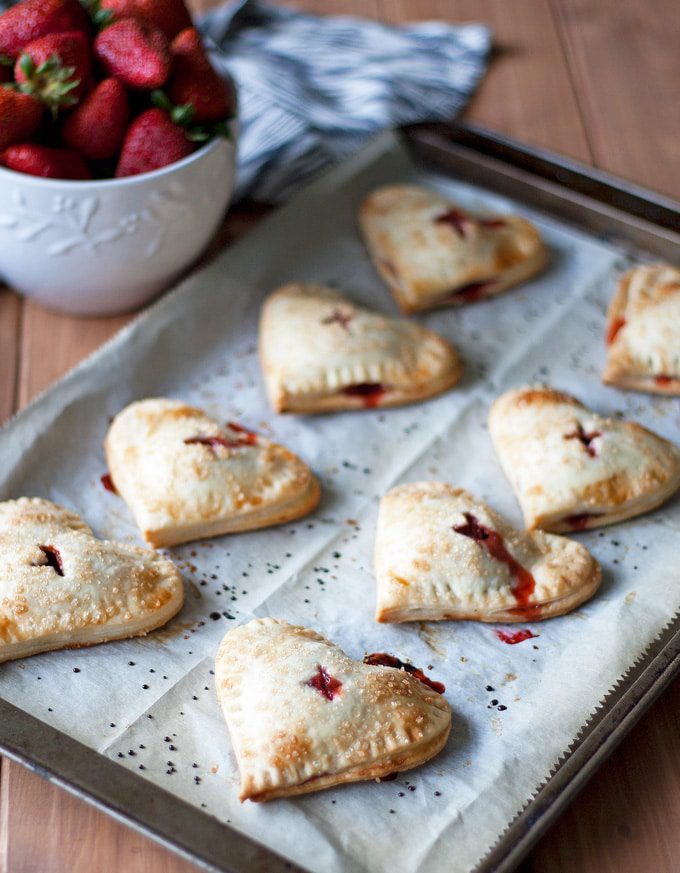 And what's sweeter than a tiny dessert, stuffed with juicy red fruit, in the shape of the pie?! Seriously, if you are trying to impress someone or show them how much you LOVE them, this is the route to go!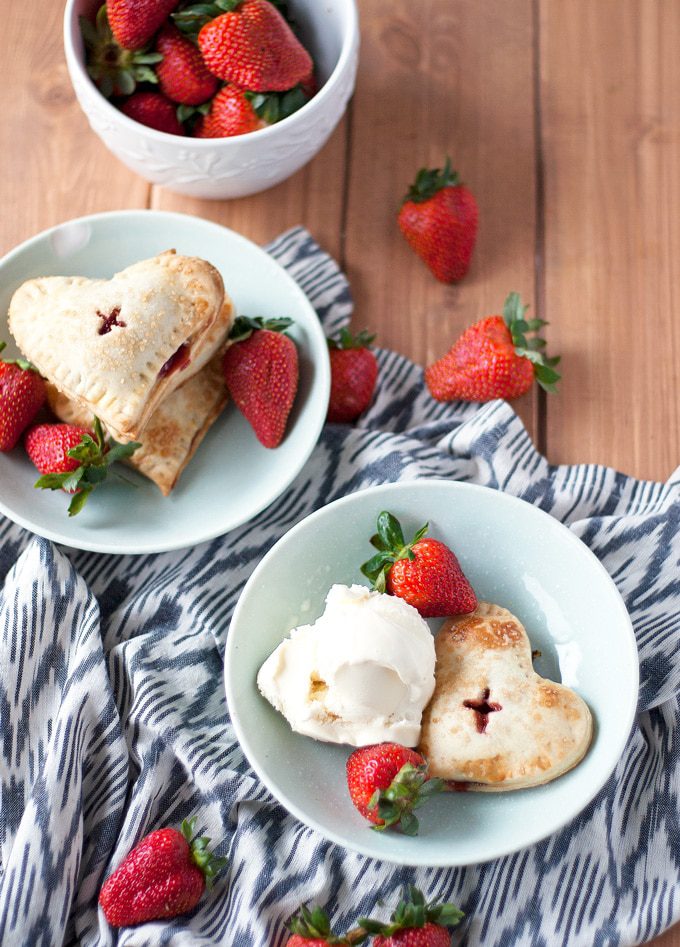 And if you don't want to make them handheld, drop a big scoop of vanilla ice cream on top of these roasted strawberry hand pies and call it a day.  Heck yeah!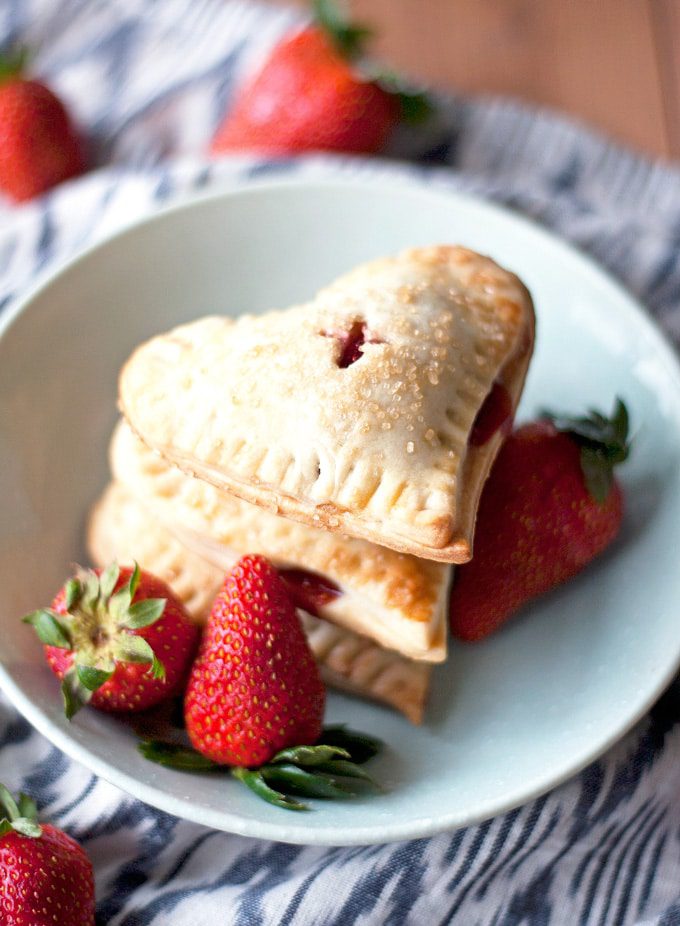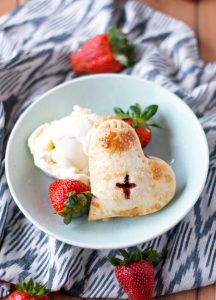 ingredients
2½ cup all purpose flour
1 teaspoon salt
16 tablespoons (2 sticks) cold unsalted butter, cut into cubes
¼ to ½ cup ice water
16 ounces strawberries, hulled and cute in quarters
¼ cup + 1 tablespoon sugar, divided
1 egg white
¼ cup turbinado sugar
Instructions
In a food processor, combine flour, salt and 1 teaspoon sugar. Pulse to combine.
Add cold butter and pulse butter until it is the size of a pea.
Sprinkle with ¼ cup ice water and pulse dough until it is crumbly but holds together. if necessary, you can sprinkle in more water.
Transfer half of the crumbly dough to a piece of plastic wrap and form into a disk about ¾" thick. Wrap tightly and refrigerate until firm for at least 1 hour. Repeat with remaining dough.
Preheat oven to 375 degrees F.
While the dough is cooling, place strawberries on a parchment lined baking sheet and sprinkle with sugar. Toss to coat well.
Bake for 45 minutes to one hour, rotating pan half way through and give the fruit a stir. Strawberries are done when they become fragrant and a syrup has formed.
Remove from oven and cool.
Once dough has been refrigerated for an hour, remove and let sit at room temperature for about 10 minutes.
On a lightly floured surface, roll each disk of dough out until it is about ¼" thick. Cut out dough with heart shape, or any other shape, cookie cutter. Cut out a total of 20 hearts for your pies.
For each pie, place a heaping tablespoon of strawberries in the center of the heart.
Combine the egg white with one tablespoon of water and then brush the edges of the pie crust topped with strawberry. Top with another heart shaped pie crust and seal, crimping with a fork around the edges.
Repeat for the remaining heart shaped dough shapes.
Once finished, cut a small air hole with a sharp knife in the center of each pie.
Brush the tops with the remaining egg wash and sprinkle with turbinado sugar.
Bake for 18-20 minutes or until tops have browned and filling is bubbly.
Let cool 5 minutes.
Serve or store in an airtight container.