I am not here to talk about diets (even though I have been on one or another since I was twelve). I can't really school you on paleo, or spoon feed you through your newly found veganism. I won't give my money to weight watchers, Jenny Craig and I are in a fight and don't even get me started on Atkins…
I don't think anyone should count calories. Ever. I mean… YOLO.
But I am here to say that this RAW Granola tastes deviously delicious. Even if it isMacrobiotic. I think it is crunchier and tastier than regular granola and let me tell you… it tastes like real food, not like captain crunch. It is super easy to toss together and will satisfy all your friends. Especially those Haight Street Hippies you've been hanging out with lately. This recipe makes enough to share the love, so break bread.
1 Cup
Buckwheat
½ Cup Oat
Groats
¼ Cup Hunza
Raisins
¼ Cup
Chopped Pecans
¼ Cup
Chopped Dried Apricots
¼ Cup Dried
Shredded Coconut
¼ Cup
Pepitas
¼ Soaked Almonds

2 TB Chia
Seeds
2 TB Flax
Seeds
2 TB Sesame
Seeds
1 TB Maple
Syrup
1 TS Salt
1 TS Vanilla
Extract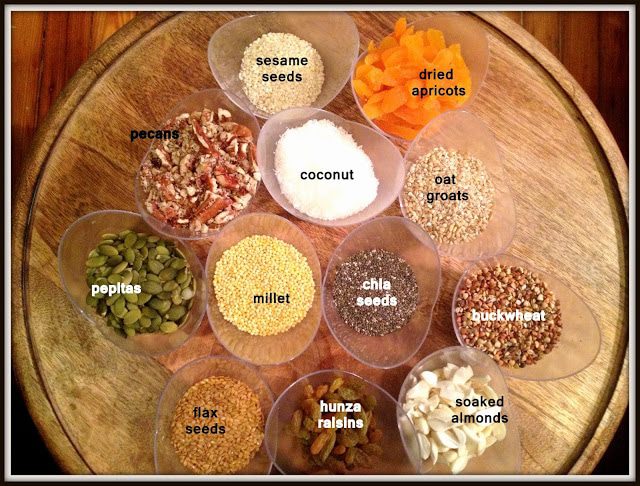 Shopping for this recipe can, however, be a little testing. I strongly recommend finding a grocery near you where they sell grains, nuts, dried fruits and beans in bulk. If you cannot, do not fret – go to my whole grain tutorials and find out what to do with that extramillet and buckwheat.
Measure your ingredients and then toss. You're done honey. Speaking of honey, you could add some and then shape into raw granola bars! Fancy, huh? Super.
You could make a totally new age hippie, vegan, gluten free parfait with some acai, soy yogurt, this granola, sliced bananas, some berries and a drizzle of agave syrup to eat while you watchWhat the #$*! on Saturday before you go to Yoga and then the farmers market. You could… or you could have Butterscotch Bourbon Sticky Buns and an Espresso while watching The Hangover… again. I'll love you either way.