Strange how mexican/ Spanish food found its way into our kitchen to permanently stay as one of our family's favourite food.  It is one definite food that has not let me down in taste, and certainly not in leftovers, The Husband even asks me to cook some Spanish meals once in a while, much to my delight. When it comes to erratic, busy midweek dinners, as much as I love cooking, I'd rather be slouching away enjoying the food rather than cooking it, so Quesadilla is one of my saviour as it takes so little time to prepare yet is not compromised on the taste.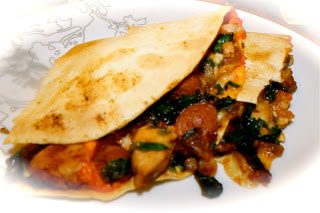 Quesadilla, or what it literally is, fancy word for tortilla wraps with melted cheese, can easily be varied with any fillings that you like.  I have only tried this once in a restaurant in Madrid, many moons ago and never  even seen it locally here, surprisingly. My quest for mexican food usually ends in Chiquito, a chain restaurant with its never-changing menu, so most days when we crave for proper mexican/spanish, I just don my apron and start cooking at home instead.
The chicken and spinach filling that has now become the family favourite, can be made as fajita wraps instead if you are too lazy to switch on the grill. I don't use any fajita seasoning here, as I prefer freshly ground spices with varied amounts according to our palate. I just love the smell of the fresh spices, all aromatised with the peppery taste of cayenne and melted cheese, yummm, it is heaven on earth.
So let's share this for your midweek madness dinner menu idea. Stir-fry, grill and ready to eat.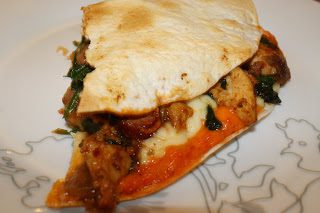 Chicken and Spinach Quesadilla
serves 2
2 tortilla wraps
1 medium sized chicken breast-cut into small cubes
1 onion-diced
2-3 cloves garlic-crushed
1 tbsp cayenne pepper
1/2 tsp paprika
1 tsp cumin
1 tbsp chilli flakes
1/2 tsp coarse sea salt
2 tbsp extra virgin olive oil
juice from 1 lemon
a handful of spinach leaves
4 tbsp medium grated cheddar and mozarella cheese
2 tbsp hoummous dip or chilli-mayo (optional)
Method
1. Preheat the grill.
2. Heat the olive oil in a wok. Stir fry the onion and crushed garlic. Add in the chicken cubes and stir fry until chicken is browned.
3. Add in the spices: paprika, chilli flakes, cayenne pepper, cumin, lemon juice and sea salt. When the chicken is almost dry and well blended with the spices, add in the spinach and turn off the hob.
4. Spread the tortilla wraps with hoummous or chilli-mayo.(This is optional but I think it gives a better taste to the quesadilla). Divide the chicken between available tortilla wraps, and sprinkle with the cheese before folding the wrap closed.
5. Place the folded tortilla under the grill for around 8-10 minutes and flip to the other side until both sides are golden brown and the cheese is melted.