I'm pretty sure every baker out there will know the giddy feeling you get from the smell of freshly baked bread.
A feeling of complete relaxation when that sweet warm aroma wafts around you. You let go of every worry and loose yourself in that pure fresh scent that can only come from pure fresh bread. Then comes the half hour of torment as it cools. You fight the urge to slice off a steaming piece. The bread rarely wins and I'm usually found in a huddle with my treasure, melting into the sofa, engulfed with indulgence.
I don't make that much bread at home so I forget the enchanting effect it has. If we bake bread at work, as it emerges from the steaming oven, everyone flocks in like it's gold. Then it's gone in about 0.5 seconds.
These beautifully rustic buns are filled with hazelnut butter, grated chocolate and nibbed hazelnuts. It's then coated in orange glaze to pep the flavours up a bit. These flavours really remind me of baklava, which makes me think that cardamom would work well within the dough. If you want to make these and you really love some chocolate indulgence, mix 1-2 tbsp. of cocoa into the hazelnut butter to create a nutella kind of affair.
The dough used here is soft and pliable. You can also make it the night before, leaving it to rise overnight in the fridge, which makes it seem quicker all together.
Fresh, sweet, packed full of flavour and beautiful in all of its rustic glory. An all-rounder. Breakfast, lunch, snack, dessert. Welcome to the humble bun.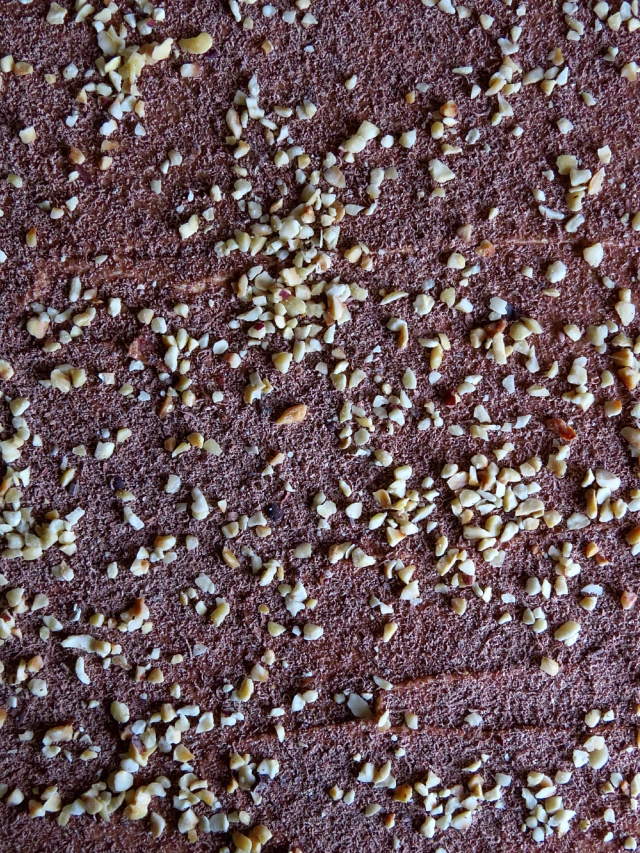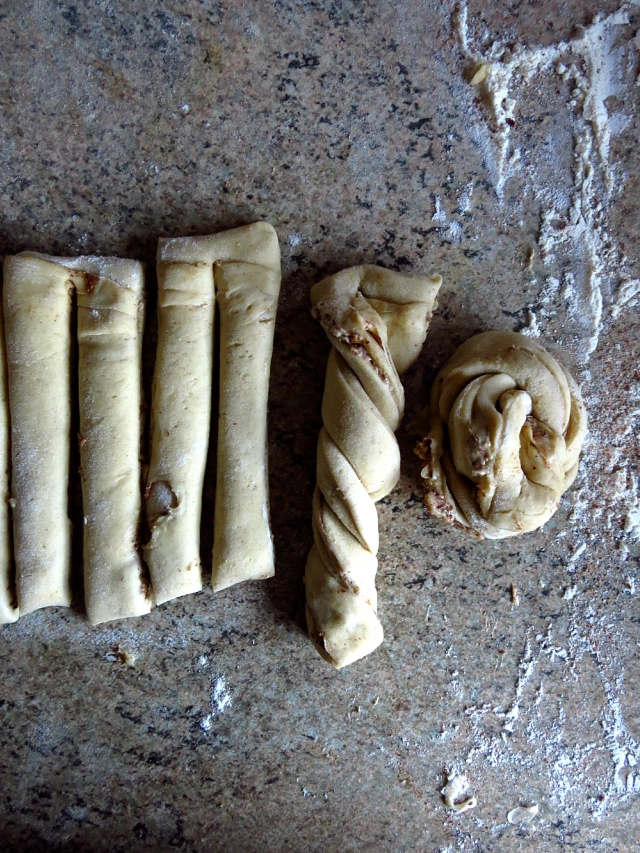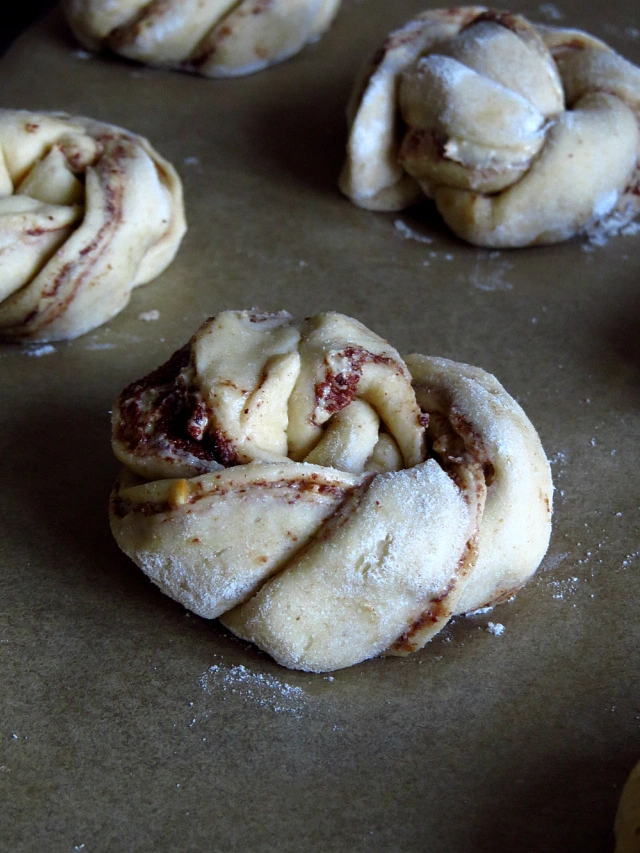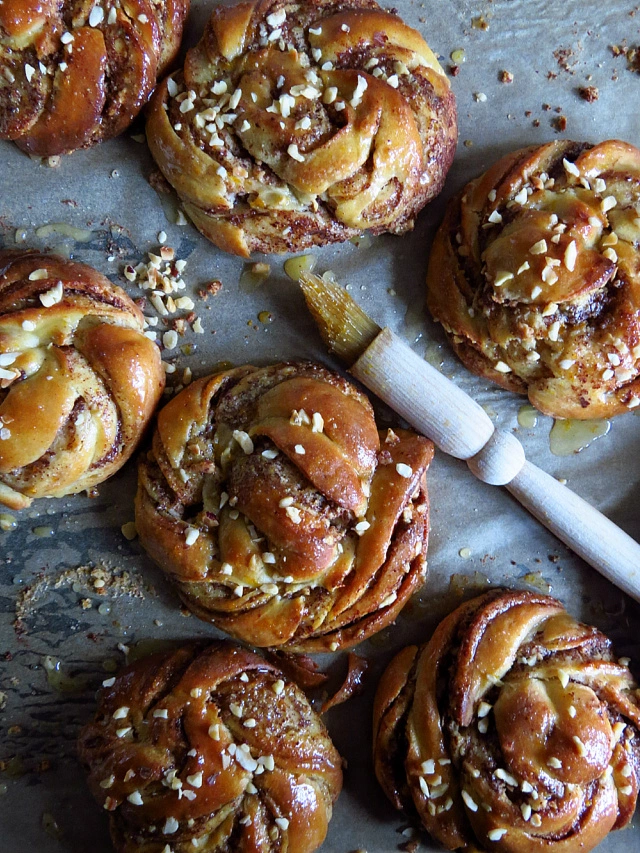 Ingredients – Makes 15 buns Bun Dough
160ml whole milk
4 tbsp. caster sugar
1 3/4 tsp. instant dried yeast
2 medium eggs
380g plain flour
1 tsp. salt
115g unsalted butter, softened
1/2 tbsp. ground ginger
1/2 tsp. ground cinnamon
Filling
110g unsalted butter, softened
90g whole hazelnuts
1 tbsp. soft light brown sugar
50-100g dark chocolate
100g nibbed hazelnuts
Orange Glaze
Juice and zest of two oranges
100g icing sugar
Method For the dough; the night before:
Heat the milk in a small saucepan over medium heat until just hot. Pour into a measuring jug and stir in 1 tbsp of sugar. Sprinkle the yeast over the warm milk and whisk to incorporate. Let this sit for about 5 minutes until the yeast starts to foam.
Whisk the eggs into the yeast/milk mix. In the bowl of a stand mixer, combine the remaining 4 tbsp. sugar, flour, salt, ginger and cinnamon. Using the dough hook attachment, add in the milk mix. Leave the mixer running and gradually add in your butter, 1 cube at a time. Blending well after each addition. Once all the butter is added, continue to knead on medium speed until the dough is soft and silky, about 5 minutes.
Brush a bowl a medium-sized bowl with melted butter and place in the dough. Cover with cling film. Leave to prove overnight (10-12 hours) in a fridge, until doubled in size.
Note: You don't have to make the dough the night before if you don't want to. Follow the instructions as normal but leave your dough to prove in a warm place for 1-2 hours until doubled in size and you're ready to go!
To make the filling:
Heat your oven to 160 C, place your hazelnuts onto a baking tray and roast for 5-10 minutes until golden in the centre when cracked open. While hot, place all of the hazelnuts onto a kitchen towel, gather up the sides and edges and rub the hazelnuts together inside the cloth pouch. This will rub off all of the hazelnut skin. Set aside until completely cool.
When the hazelnuts are completely cool, place into a food processor and process until the hazelnuts release their oil and become a smooth paste. They will go from crumbly, to a big ball of paste and finally a smoother, thinner paste.
Using a stand mixer or an electric hand mix, cream the softened butter and 1 tbsp. of light brown sugar together until light and fluffy. Add in the hazelnut paste and beat to incorporate into the creamed butter.
Note: I like to make my dough the night before as well as prep my hazelnuts so that they are cooled and ready to be turned into hazelnut butter the next morning.
The next morning:
Take your dough out of the fridge and leave to warm up a bit for half an hour.
Lightly flour your work surface and tip out your dough. Using a floured rolling-pin, roll out your dough into a large rectangle; approx. 60cm x 30cm. Spoon the hazelnut butter onto the top of the rolled out dough. Spread this all over the dough, leaving a small border around the edges so that it all stays contained when cutting and portioning.
Grate the dark chocolate over the top of the hazelnut butter (50-100g depending on how thick you want the layer to be) and sprinkle some nibbled hazelnuts on top of that.
Lift one-third of the dough (closest to you) and fold it two-thirds of the way up, then fold down the top third on top so that you have three layers. Now you should have a long thin rectangle.
Cut the dough into 15 portions along the shortest side. Then cut them all practically in half, leaving a small section at the top in tact. They will look like little pairs of trousers! Twist your two dough 'legs' around each other and roll it all up like a pin wheel. (Don't worry too much about getting the shaping right, they will look beautiful however you roll them! You could even roll them like cinnamon rolls.)
Once rolled place on two prepared baking trays, leaving a few inches between each bun to give them room to grow. Cover with a cloth and leave to rise in a warm place for 1 hour, or until doubled in size.
Baking and finishing:
Pre-heat your oven to 175C and bake the hazelnut buns for 35-45 minutes depending on your oven. Once golden brown, leave to cool.
To prepare the glaze, place the icing sugar in a bowl with the zest of two oranges. Add the juice from one orange and whisk all the ingredients together. Depending on how big your oranges are, you may not need the second orange. If the glaze is fluid and almost clear, your set. However, if the glaze is still thick, add in the juice from the second orange.
Brush the sticky glaze over the buns, sprinkle with a few more nibbled hazelnuts and leave for 10 minutes to set.
Serve immediately and eat that day.