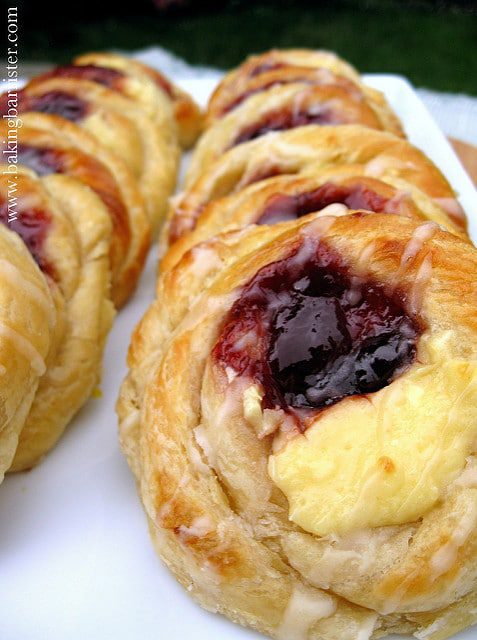 Raspberry and Cheese Danish
Croissant Dough
Raspberry Jam
Cheese Filling
8 oz cream cheese
1/4 cup sugar
2 tsp. flour
1 tsp. vanilla extract
1 egg yolk

Egg Glaze
1 egg
1 Tbsp. milk
Glaze
1/2 cup powdered sugar
1 Tbsp. melted butter
1 tsp. warm milk
1/2 tsp. vanilla extract
Begin with 1 recipe of croissant dough that is ready for the rolling stage. You will need two prepared double baking sheets preferably lined with parchment.
1. Beat together ingredients in cheese filling until smooth. Refrigerate until needed.
2. On a lightly floured surface, roll dough out the dough into an 11 by 14 inch rectangle (may need to do 2 rectangles if your recipe is larger).
3. Using a pizza cutter, gently cut the dough into 11 1″ wide strips.
4. Grab the ends of each strip and twist in opposite directions. Keeping the strip twisted, place on baking sheet and roll tightly into a coil, tucking the end underneath.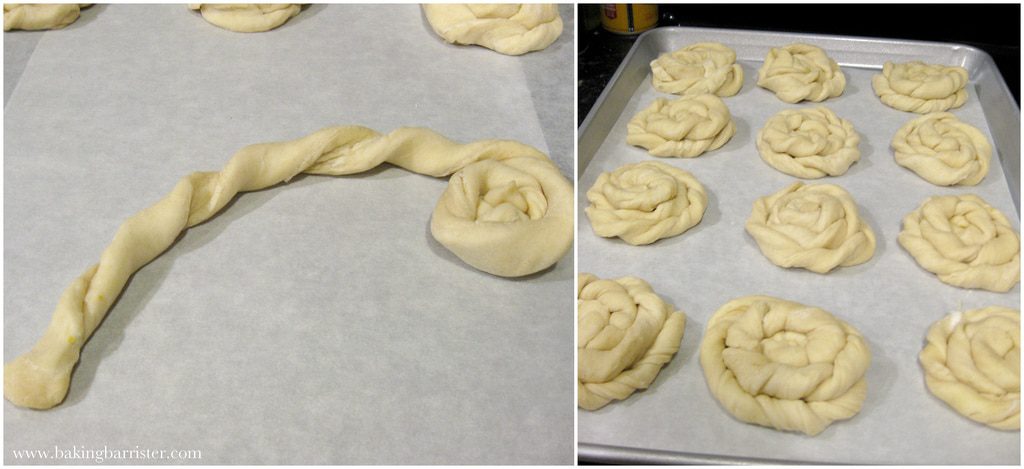 5. Repeat Step 4 with all of the dough, placing coils about 2 inches apart on baking sheets.
6. Using two fingers, press a well into the middle of each coil–enough to hold about 2 tablespoons of filling.
7. Place about 2 tablespoons of filling in the middle of each danish. You can do half cheese/half jam, or stick to one filling altogether.
8. Allow to rise uncovered until doubled–about 1 to 1 1/2 hours.
9. When almost doubled, preheat oven to 400F.
10. Before placing danish in oven, brush with egg glaze. Then bake for 15-25 minutes until golden brown.
11. While still warm, drizzle with glaze.
These will keep fresh in an airtight container for about 5 days.