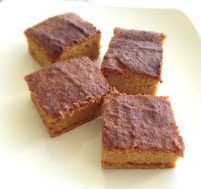 Ingredients:
½ cup pumpkin purée
½ cup natural almond butter
1½ cups (one 15oz can) chickpeas (no salt added, drained)
¹⁄₃ cup honey (or maple syrup)
1 egg
¼ cup egg whites (2-3 depending on egg size)
¼ tsp salt
½ tsp baking soda
1 tsp vanilla extract
1 ½ Tbsp cinnamon
½ tsp nutmeg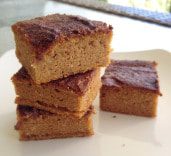 Topping
1 Tbsp Cinnamon
2 Tbsp stevia, nativa, or other granulated sugar substitute
Method:
Preheat oven to 350°F (175°C).
Mix pumpkin purée, chickpeas, and almond butter in a food processor and blend until smooth. Add remaining ingredients and blend again until the mixture is well combined and smooth.
Pour into a greased 8 inch x 8 inch baking dish.  Sprinkle with cinnamon-sugar topping.
Bake for 40 minutes, remove from oven, and let cool for 10-15 minutes in the pan.  Cut into squares and let cool further on a cooling rack (or eat straight away!). Store in an airtight container in the refrigerator.