I love fish, but don't think to make it very often! It's silly, considering how healthy and delicious it is, not to mention how quick it cooks. Fish is the perfect summertime fare. A couple weeks ago, I had a mini "day-cation" with my best friend in Sandusky, OH (yeah Cedar Point!). If you follow me oninstagram, you may have seen that we had the most AH-mazing fish tacos while we were there. They were seriously stellar. Once I got home, I found myself yearning for more, and that's when I remembered I had some frozen tilapia hanging out in the back of my freezer. These tacos did not disappoint! Honestly, the only thing I didn't like were the tortillas I bought. I don't have the desire to make them from scratch, and all the corn tortillas I buy at the store taste like cardboard (these were from Trader Joe's…ah well). I think I'll just go with flour tortillas next time. Problem solved!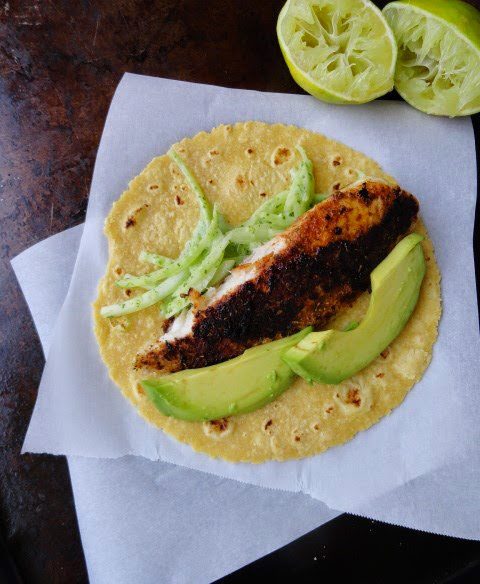 Blackened Tilapia Baja Tacos
Ingredients
1/4 cup low-fat plain yogurt (or reduced-fat sour cream, or plain greek yogurt)
2 tablespoons chopped fresh cilantro
2 tablespoon fresh lime juice
1 jalapeño pepper, seeded and chopped
1 cup thinly sliced white onion
1 1/2 teaspoons paprika
1 1/2 teaspoons brown sugar
1 teaspoon dried oregano
3/4 teaspoon garlic powder
1/2 teaspoon salt
1/2 teaspoon ground cumin
1/4 teaspoon ground red pepper
4 (6 ounce) tilapia fillets
Cooking spray (or 1 tablespoon canola oil)
8 (6-inch) corn tortillas (I'm going with flour next time..can't seem to find decent corn tortillas!)
1/2 ripe peeled avocado, thinly sliced
Lime wedges, to garnish (optional)
Directions
Combine first four ingredients in a food processor, and process until smooth. Combine jalapeño sauce and onion in a small bowl.
Combine paprika and next six ingredients (through ground red pepper), and sprinkle evenly over both sides of the fish. Spray a large cast-iron skillet over medium-high heat. Add fish to pan, and cook 3 minutes on each side or until desired degree of doneness.
Warm tortillas according to package directions. Divide fish, onion mixture, and avocado evenly among tortillas. Serve with lime wedges.