There is something refreshing about autumn.  It's not just the cute boots and the pumpkin lattes. Kids are starting a new school year. Hot, languid summer days are replaced by cool, fresh air.  Even the most mundane of routines is broken up with shorter days and crisper nights.  The little changes like an evening bonfire, opening up the windows, or sliding into slippers in the morning seem to make such a difference.
These muffins are one of those nice, little changes. They will certainly cozy up your morning.  Made with molasses, these babies come out of the oven warm and chewy despite being gluten-free, dairy-free, and egg-free.  Diced pears and a pinch of cinnamon add a rich, autumn-y flavor.  Millet flour and flax seed keep them on the healthy side of things. They are just one little way to embrace the new season.  Grabbing a pear and cinnamon muffin on your way out the door should definitely become part of your new routine.  And your house will smell so very fallish while they are baking.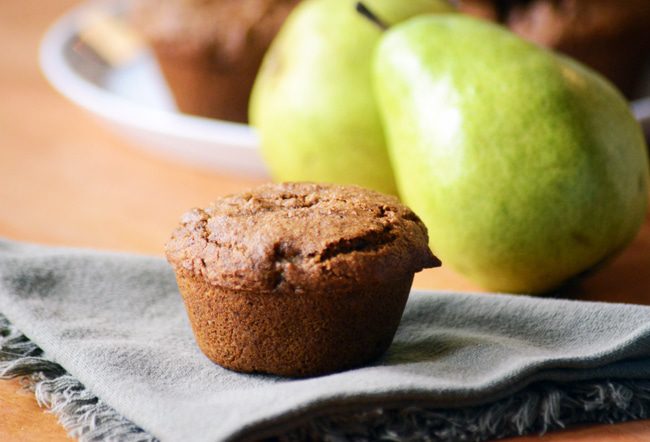 Pear & Cinnamon Muffins
Click here for a printable recipe!
Ingredients: 
1/4 cup canola oil
1 tablespoon vegetable glycerin
3/4 cup applesauce
Egg replacer for two eggs (Follow package instructions or if you aren't egg-free use two eggs)
1/2 teaspoon vanilla
1/4 cup molasses
1/4 cup almond milk
2 1/3 cup gluten-free flour
1 cup millet flour
1/2 cup flax seed
1 teaspoon baking soda
1 1/2 teaspoon baking powder
1 teaspoon zanthan gum
1 teaspoon cinnamon
1/4 teaspoon all spice
3/4 cup brown sugar
1/2 cup raisins 
1 pear, peeled and diced (about 1/2 cup)
Method:
1. Preheat oven to 350F.  Grease a muffin tin and set aside.
2. In a large bowl, combine flours, flax seed, baking soda, baking powder, spices and sugar. Set aside.
3. In a separate bowl, mix oil, vegetable glycerin, and applesauce until well blended.  Stir in egg replacer, vanilla, molasses, and almond milk.
4. Slowly add dry ingredients to wet until just combined.  Fold in raisins and pears.
5. Fill muffin cups 3/4 full with batter. Bake for 25 minutes or until a toothpick comes out clean.